Tickets to Taxes: Former Ticket Broker Finds A Front-Row Seat In Franchising
Heather Spell and her husband Gentry spent the last decade as ticket brokers, finding their customers the best seats for sports and entertainment events in the Sacramento area.

"It was a fun business, but as ticket prices continued to rise and the Internet began to change the market, we started looking around for other endeavors," says Spell. One of her ticket-buying customers was Roni Deutch, the high-profile tax attorney who was just starting her Roni Deutch Tax Center franchise. Heather, Gentry, and Lakota Verberne (Gentry's sister and Heather's close friend) jumped at the chance to try their hand at franchising. So far it's proven a good move.

They opened their first Roni Deutch Tax Center franchise near Sacramento in Roseville about a year ago, and Spell says they already have their eyes on a second location they'd like to open by summer. They also are the area developers for the Las Vegas market. Their goal in Sin City is to sell 50 units over the next 5 years.

"This is my first experience with franchising," says Spell. "I knew Roni and I knew that she had a great business and knew what she was doing."

Spell says that as a franchisee she has access to 24/7 help desk for support on all kinds of issues—and that her background in running and operating a business and knowing how to manage money was a big advantage coming into franchising.

"We're in a great location in a strip center with anchors like TJ Maxx and Panera Bread," she says. There's a lot of traffic and a busy interstate highway buzzing nearby. "I knew we would have a good location because when I was looking for real estate: Roni was riding along in the car with me." Spell and her partners didn't completely give up their ticket broker business and still conduct some of those transactions right out of their 825-square-foot Roni Deutch Tax Center store.

One of the challenges Spell has had to face is common to many franchisees—finding quality employees who will stick around. "I'd never really had to worry about that with the ticket brokerage business, but this has been different," she says. A seasonal part-time job that offers no benefits can be tricky to fill, but she says the great ones she has found have been real assets to the operation. "It's rewarding to find employees who work really hard just like me."

Right now there's one manager onsite, and during the busy tax season she has as many as seven full- and part-time employees. Spell and Verberne have both been certified to prepare tax returns and both spend time in the store. Spell handles the bookkeeping, payroll, and bill paying, while Verberne busies herself with the area development responsibilities in Las Vegas. Husband Gentry handles the store's unique out-of-state tax return business, a special niche market for the franchise.

Spell expects their first year of business to generate around $100,000 in revenue and says they've had in excess of 1,500 leads at their first center, just through May. "The conversion rate of those is probably 25 to 30 percent," she says.

As a young mom she says she initially thought that maybe she could expand to as many as three or four units, but after attending a recent industry conference (ours) she now believes "The sky's the limit. We could do 10, 20, or maybe more."


Name: Heather Spell
Title: Owner
Company: Roni Deutch Tax Center
No. of units: 1, opening a second by summer
PERSONAL
Age: 38
Family: Married, 2-year old daughter
Years in current position: 1 year
Years in franchising: 1 year

Key accomplishments: Opening a successful store.

Biggest mistake: Not knowing the personality traits needed to succeed in my office. In the beginning I hired too many people who could get through a tax return but couldn't communicate well on the phone. The majority of our clients are out of state, therefore engaging phone interaction and great customer service is a priority.

Smartest mistake: Deciding to open only one store my first year instead of two. A mistake because my first store went so well I wish now I already had two, but smart because the chaos I experienced learning about income tax returns and employee management would have been double, too much the first time around. But now I say, bring it on!

How do you spend a day, typically? Checking phone calls, emails, bookkeeping, keeping up on corporate events.

Work week: 5–6 days

Favorite activity: Helping someone get their tax returns from past years behind them.

Exercise: Chasing after my 2-year old daughter.

What do you do for fun? Dine out, visit my vacation home in Hawaii, and of course, work! If work isn't at least a little fun, then you probably shouldn't be doing it.

Books/magazines recently read/recommended: I have a whole bookshelf of brilliant self-help books and autobiographies I can't seem to get to. These days my spare time is reading to my 2-year old. I unwind with the Cat in the Hat children's dictionary and a deck of flash cards.
MANAGEMENT
Management method or style: I let my manager manage. I consult.

How close are you to operations? I am everything. As the owner and one of the first Roni Deutch Tax Center franchisees, I have to oversee all day-to-day activities, communicate with the corporate office, and give them feedback about what is working and what could be better.

Greatest challenge: Overcoming the jitters in my online Roni Deutch Tax Center experience, watchmefranchise.com. This website documented my whole franchise experience from the decision to buy one, to real estate selection, to putting the store together and more. I am a little on the shy side to begin with so this was great for me to practice speaking skills. It was interesting to share my triumphs and frustrations in a public way, hopefully to help other franchisees get an idea of what to expect.

Personality: Meticulous, agreeable, conscientious, methodical, serious.

How do you hire and fire? I am still learning. Now that I know what I need to look for in ideal tax preparers and receptionists, I will hire when someone fits this mold. If you mean how do I get the word out, it is through word of mouth, local newspapers, and craigslist. I haven't had to fire anyone. We are seasonal, so everyone knows that after April 15 it is probably over. However, we still have a lot of tax returns throughout the year so exceptional employees are invited to stay on with us.

Find good people? Recommendations/referrals, working in other jobs, and a process of elimination.

Train them? Roni Deutch has devised a system where our new employees can learn the software at home. There are sample tax returns of all difficulties and continual webinars throughout the year to sharpen skills and broaden tax law knowledge.

Retain them: Respect and reward those who are honest and work hard for you, that is, show appreciation for a job well done and the good ones will want to stay.

"Growth meter"—How do YOU measure your growth? Franchise development and franchise sales. Roni Deutch is a great friend and I admire everything she has done professionally. I want her passion to help people with tax-related issues grow to every state and internationally.

Annual revenue: First store, $100,000

2008 goals: Open a second store and get more stores open in Las Vegas. What an awesome city full of business opportunity.
Published: September 2nd, 2008
Share this Feature
Recommended Reading:
Comments:
comments powered by

Disqus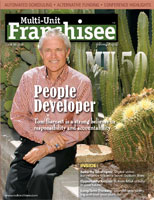 Multi-Unit Franchisee Magazine: Issue 3, 2008
Own a rewarding business and help children develop skills for life with The Little Gym, the world's largest children's motor skill development...
Cash Required:
$100,000
As a fast-growing concept dedicated to serving fresh, cooked-to-order cheeseburger sliders, the Smalls Sliders franchise opportunity brings real...