Trading Places: Former Del Taco Franchise Exec Now Excels At Franchising
Salt Lake City businessman Paul Hitzelberger was one of the owners of Del Taco for about 16 years. He'd also been a senior officer with General Mills and other large companies before retiring from Del Taco corporate in 2001.
His "retirement" plans?
"We went over to the franchisee side," he says with a laugh. "My idea was to take an area like the state of Utah and build it out with Del Tacos and own it personally. The only partner I have is my wife of 43 years."

The Chicago native, with 18 Del Taco units today, says he has an "outstanding" relationship with Del Taco. "The product is a great one. It's number one in its category."

Hitzelberger, who has a degree in accounting and an MBA from Loyola University, describes himself as "an operator and a marketer with a financial orientation" who loves what he's doing. And says he hasn't yet finished building out the brand in Utah. "We're going to do a lot more volume—there's a lot of growth to do in each store," he says. And when he's ready, he says he'll take on another state (or two) with Del Taco.

Hitzelberger knows that people—he has 460 employees—are key to his company's success. "I love people, I love our customers, and so I'm driven to have our people do their best. I want them [employees] paying cash for cars and buying nice homes. That's rewarding for me. And every day, I want to ask customers how we can do a better job. For me, it's fun," he says.

He has no doubt that this attitude and approach accounts for much of the company's success. "I'm told I have strong interpersonal skills. I listen to our team and our customers, and I respond," he says. "Taking action is part of success—I know how to produce top- and bottom-line results. By inverting the triangle and putting myself at the bottom, I'm helping our team do well for our customers."

Everyone in his company is an operator, with directors who focus on the different needs of the business, he says. "We have a director of operations, a director of restaurants, and of information technology and security, but these people also have restaurant responsibilities. Our training manager also has stores he's responsible for. We have a director of community development who works strictly on programs within each neighborhood, and a director of facilities, who makes sure everything works well in existing and developing restaurants."

Hitzelberger is pleased with his consecutive same-store sales increases, and his company has the highest average volume within the system. Good enough? Not yet. "Our volumes are impressive, but we can always do better," he says. And he will.

Name: Paul Hitzelberger
Title: President and CEO
Company: Utah Del Inc., Salt Lake City
No. of units by brand: 18 Del Tacos
PERSONAL
Age: 63
Family: Wife Jane, married 43 years, son Eric, and daughter Darlene
Years in current position: 8
Years in franchising: 30
Key accomplishments: Developing a powerful, successful, "can-do" team; consistently growing same-store sales annually; successfully opening new stores.

Biggest mistake: Not being a franchisee with a strong brand sooner.

Smartest mistake: Bringing my wife, Jane, into the business, where she took charge of HR and governmental relations.

How do you spend a day, typically? First thing in the morning, I deal with paperwork and emails. Then I'm out visiting locations—the four restaurants now under development, and our currently open restaurants—throughout the state of Utah.

Work week: When you own your own business, your work week is seven days for sure, but I try to keep it Monday through Saturday.

Favorite activity: One is eating out at different restaurants. I'm 6 feet 6 inches tall, and I like to eat. We also enjoy working with real estate.

Exercise: Walking and swimming.

What do you do for fun? Travel—I'm going to Ireland this month. And collecting classic cars. My favorite car is the '56 Cadillac El Dorado, which I don't have, but I do have a '56 Ford Crown Victoria coupe. It's a really great looking car. I also have a '47 Chrysler New Yorker.

Books/magazines recently read/recommended: Because of our upcoming trip, I've been reading Rick Steves' books on touring Ireland and England. On my desk you'd find Area Develope and some other restaurant and franchising magazines.
MANAGEMENT
Management method or style: I invert the triangle: I'm at the bottom and the customer is at the top, and we all work together. I'm a team person. I ask a lot of questions and I listen a lot. I've got an 85/15 mentality when I'm dealing with people on the team: 85 percent of the time it's not the fault of the individual—he just didn't get the right training or development; but 15 percent of the time it is.

How close are you to operations? I know every element and detail of the operation intimately.

Greatest challenge: Governmental issues and cost increases.

Personality: Positive, can-do, consistent, people-oriented.

How do you hire and fire? I hire carefully, and I fire carefully—but quickly—when it's not right.

Find good people? Our operations attract good people. The word gets out in the community who's good to work for. We have lots of applications.

Train them? We use certification programs for all areas of operations, then have the shift leader certify the employees. We conduct the classes for GM certification ourselves.

Retain them? We're not formal, we're all on a first-name basis in this company. We treat our people as part of the team. We want our people to have the best deals in their neighborhood. We pay above market and have the best benefits versus our competition, including strong profit-sharing, 401(k), health, life, dental, vision, and cafeteria plans.

"Growth meter"—How do YOU measure your growth? It's all about sales. Our average unit value keeps increasing over the previous year, and our traffic counts also increased over last year.

Annual revenue: A lot. I'm the largest franchisee in the Del Taco system.
2008 goals: First, growing sales toward double digits at comparable stores; adding two to three restaurants in the next 12 months; and managing every line of the P&L statement for improvement.
Published: October 20th, 2008
Share this Feature
Recommended Reading:
Comments:
comments powered by

Disqus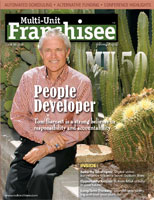 Multi-Unit Franchisee Magazine: Issue 3, 2008
Craveworthy Brands is a hospitality-first company with a portfolio of unique, engaging, and scalable brands dedicated to delivering truly CRAVEABLE...
With over 2,000 locations globally, Midas is the auto repair and service shop people know and trust. Multi-unit ownership with Midas is a terrific...