Trend Spotting: What Lies Ahead in the New Financing Landscape?
The historical consolidation of franchise finance sources (local and regional banks, and other institutions) has led to only a handful of major players financing franchised companies over the last several years. These institutions, all well-known household names, have dramatically decreased leverage multiples while increasing interest rates and, most importantly, are tightly preserving capital until general economic conditions show signs of stability. As these lenders limit the flow of debt capital to franchising (or shut off lending completely), there are some trends all franchise owners should consider to ensure their financing needs are met during this recession.

Several recent economic indicators were not as bad as many investors anticipated. Consumer confidence, housing sales, corporate earnings (particularly in the financial sector), and related stock prices have provided some buoyancy to the longer-term economic outlook. Many economists suggest we may have already reached bottom--while also warning that the economy will be slow to emerge from such a deep and widespread downturn.

Second, a rebound in the debt capital markets is likely to lag behind a more sustainable recovery in the broader economy. (Historically, these groups have been the first to contract and the last to expand once an economic rebound begins.) Given the challenges that many of the larger lending institutions are dealing with, we offer the following advice to franchise companies to best position themselves in a recovery.
Develop relationships with local and regional banks. While many local lenders may not have been as competitive as their larger counterparts in the last few years, many of these banks avoided the pitfalls now plaguing the nation's larger financial institutions. With a level playing field, where the advance rates have decreased across almost every industry, a local lender may provide competitive financing where old relationships cannot, providing a solution for a company in need of a refinancing or new unit development/acquisition capital. Reach out and develop a relationship with your local and regional banks. You may find them to be increasingly open to taking a place within your capital structure.
Initiate a franchisor-sponsored lending program. Whether you are a franchisor or a franchisee, encourage the use of resources to establish a franchisor-sponsored lending program. U.S. Bank recently announced a partnership with McDonald's to promote financing for the system's U.S.-based franchisees for a wide range of uses. Efficient access to capital can be a substantial determinant of overall system health, growth--and success in the next cycle. Franchisor participation in such a program can provide the necessary encouragement to banks and finance firms to distribute capital, where otherwise they might not.
Consider seller financing. If you have the flexibility, be your own bank. For business owners seeking an exit strategy, taking on some seller financing to help facilitate a transaction may mean the difference between success and failure. Sellers today are structuring such financing to match their risk tolerance. Given the lower levels of senior financing available, some sellers are structuring relatively secure second-lien financing yielding returns at a slight premium to senior debt. Others, with a higher tolerance for risk or a desire to take a "second bite of the apple," are structuring mezzanine-type securities with equity participation features. This enables a more substantial return on debt capital and the ability to participate in the upside of the business when conditions improve. Such creative structures also provide a solution to a variety of hurdles in this marketplace, including bridging the gap between buyer and seller valuation expectations, providing higher overall return levels for sellers, and giving the new buyer added confidence in the forward opportunities of the business.
Listen for new opportunities. Just like the economy, the finance industry has periods of contraction and expansion. Given the years of consolidation followed by the dearth in current activity, market conditions are ripe for new entrants. Consolidation typically gives rise to added market control, raising the barriers to entry, but with the current paralysis all bets are off. We have seen this in prior cycles and expect an increase in smaller, more-nimble finance companies designed to address the needs of franchisees and franchisors. We have also seen firms that were once solely focused on equity investments entertain debt financing. The number of franchise companies in need of debt capital is overwhelming. In this environment, don't hesitate to explore new relationships with groups you may not have heard of before, and continually talk with your industry resources to learn about emerging groups.

In summary, companies need to understand the current landscape and seek out potential financing alternatives, or wait for the market to return to some semblance of what it was before the recession. Companies that reach beyond familiar borders will be well-poised to take advantage of opportunities that arise in the early stages of an economic recovery.

Dean Zuccarello, CEO and founder of The Cypress Group, has more than 25 years of financial and transactional experience in mergers, acquisitions, divestitures, strategic planning, and financing in the restaurant industry. The Cypress Group is a privately owned investment bank/advisory services firm focused exclusively on the multi-unit and franchise industry for more than 17 years. Contact him at 303-680-4141 or dzuccarello@cypressgroup.biz.
Published: September 8th, 2009
Share this Feature
Recommended Reading:
Comments:
comments powered by

Disqus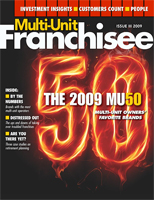 Multi-Unit Franchisee Magazine: Issue 3, 2009
With many attractive development territories available for multi-unit growth, there has never been a better time to become a Penn Station franchisee.
Cash Required:
$300,000
Ace is #1 for convenience hardware! You pay no royalty fees. Instead, Ace pays you a year-end rebate based on your annual purchases. Enjoy the...
Cash Required:
$250,000