Triple Player: Veteran Papa John's Franchisee Expands His Brands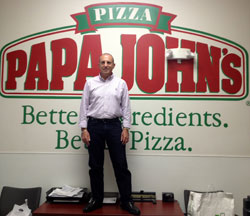 The last time we spoke with Ricky Warman, in 2009, he was pouring his blood, sweat, and tears into successfully operating 42 Papa John's units in Florida. The former Prudential Securities investment manager had left the corporate life behind in the early 1990s for the rough-and-tumble world of franchising. He liked what he found there, and he was good at it.
Early in his franchising career, before finding his real rhythm with Papa John's, he spent time with brands including Jenny Craig and Schlotzsky's. Papa John's turned out to be a good fit for Warman, and he eventually grew to 53 locations in various locales throughout Florida. Over the past four years, however, he sold off all the units outside his core areas of Miami, Dade, and Broward counties and redirected his focus to the remaining 31 units.
"I like to be near the stores and be able to concentrate on doing things really well right here in my own backyard," he says. But with his Papa John's territory now maxed out, and his desire to grow propelling him, he's turned his attention to additional brands.
"That's one thing I've learned from attending the Multi-Unit Franchising Conference," he says. "There are so many other good franchise opportunities out there that I have learned about."
His inquisitive nature led him straight to Genghis Grill, the build your own bowl stir-fry concept. "I talked to their representatives, and I knew some other Papa John's franchisees who had tried the Genghis Grill brand and liked it." So he joined in on the action, and last December opened his first Genghis Grill. He's since added a second.
"I'm very comfortable with Genghis Grill, it fits into my business. I already knew how to do fast food, and it has been similar doing fast casual," he says. He says the pizza business has always been resilient, and he expects Genghis Grill to be another home run for his organization.
There's been one more new wrinkle in his operation since 2009. Together with his wife Sarit, he's opened a South Florida territory for Homewatch CareGivers. Thanks to an aging U.S. population, the home care market is booming--a fact that hasn't been lost on Warman, who opened his Homewatch territory in late 2012. "I know how franchising works, and my wife has had experience in the past of taking care of family members," he says. "So we believe it's a natural fit."
Warman says his three brands are run as independent companies, all under one umbrella. "I have good people in place that I trust to make things run smoothly," he says. He oversees it all and still likes to be actively involved in the day-to-day operation. He's also proud to keep an open-door policy for any of his 850 employees.
So what's next for him? Warman says he has plans to continue to grow and sees himself adding more restaurant brands during the next five years. "I want to expand and become a bigger restaurant organization," he says.
Get ready, South Florida!
Name: Ricky Warman
Title: CEO
Company: Pizzerias, LLC
No. of units by brand: Papa John's, 31; Genghis Grill, 2; Homewatch Caregivers, 1
Age: 48
Family: Married 22 years, with twin 18-year-old daughters
Years in franchising: 22
Years in current position: 9
personal
First job:
Investment broker at Prudential Securities

Formative influences/events:
My parents always told me to do whatever I'm comfortable doing, but do it with passion.

Key accomplishments:
Working hard so that my daughters can go to the college of their choice.

Biggest mistake:
Growing the Papa John's business in 2006 at the beginning of the real estate and economic crisis. I was building a business in an area that was dependent on the growth of homes. I went out and did stores in other, smaller areas in Florida and they were all hit really hard with the economic and real estate turmoil, and the growth didn't happen.

Smartest mistake:
Constantly taking chances in business. Some chances work and some don't. But as long as you come out ahead and don't hurt anyone along the way, it is a smart mistake.

Work week:
I try to visit stores every week. We have 850 employees and I'm always very much available and open to them.

How do you spend a typical day?
I go to the office after I exercise. I look at the sales and compare them against last year for all of our restaurants. I look for the percentage of orders, and all the details: food, labor costs, and so on. I analyze data for all the stores and then I get in touch with the people who report to me. I get briefed on what we are doing that day, go to meetings, and participate in several conference calls. I visit the restaurants as frequently as I can. I like to talk to employees and customers.

Favorite fun activities:
Playing lots of tennis.

Exercise/workout:
Playing tennis with a coach so I can be pushed till I am really tired.

Favorite tech toys:
iPhone, iPad.

What are you reading?
Magazines, all kinds.

Do you have a favorite quote?
"The secret to success is to make a common thing, uncommonly well."

Best advice you ever got:
Be patient and think things through whenever possible.

What gets you out of bed in the morning?
I love the work I do.

What's your passion in business?
To be successful and to see everyone on my team grow and be successful as well. I am involved in businesses where the customer wants and desires my product. It is a good position to be in.

How do you balance life and work?
Both my wife and I work very hard 6 days a week, and we both make sure we spend time together on a daily basis. We see each other during the day for a few minutes and we almost always eat dinner together, even if it is late. Our kids are away in college and we talk to them daily and visit them often. We are a very close family, so I also constantly talk to and see my dad, brothers, and sister and their families.

Last vacation:
A cruise with all my extended family in the Caribbean.

Person I'd most like to have lunch with:
My brothers

.
Management
Business philosophy:
In running a multi-unit business, whether it's the same company or different restaurants, you have to be very organized and able to give clear responsibilities to everyone and expect everyone to implement them. The team needs to respond in the same manner with their people. I believe I've created a culture that does that very well. Delegating is crucial so you can have good time management. Accountability is then easily measured.
Management method or style:
I have a list of things I want to accomplish in a day. I delegate to the appropriate people depending on what task it is. I follow up by the end of the day, the following day, or the week.
Greatest challenge:
The restaurant business has many challenges, as other businesses do. However, in this business, it all starts all over again with every customer, as they expect and rightfully deserve, a perfect experience no matter what challenges we have in the restaurant. So whether employees show up to work or not, we have to make it smooth and perfect for them.
How do others describe you?
As very fair and available to reach in person.
One thing I'm looking to do better:
I need to become stricter.
How I give my team room to innovate and experiment:
My restaurant managers run their restaurant as if it was theirs. We share the full income statement so that they can see how everything they do benefits and/or affects the business. This way, they come up with suggestions as to how they can help the business do better.
How close are you to operations?
I am very close to my operations. I am at work every day.
What are the two most important things you rely on from your franchisor?
Advertising and quality of the food.
What I need from vendors:
Consistency delivering the contracted product.
Have you changed your marketing strategy in response to the economy?
I have not, but the franchisor has at a national level. That, in turn, changes what I do locally.
How is social media affecting your business?
It is mostly very good, as we have the best product in the market and word of mouth says so.
How do you hire and fire?
That I don't do personally. I have human resources people and my managers are in charge of their own people. Fortunately, I've been able to do it right the first time, and I don't have many changes. I've had the same management people for the last five years, and right below them for seven years.
How do you train and retain?
We have a training program run by the vice president of operations. We are constantly training.
How do you deal with problem employees?
Lots of additional training, writing them up, and measuring their improvement. If they don't improve, we need to hire those who do want to follow our team culture.
Fastest way into my doghouse:
Someone's lack of common sense.
Bottom Line
Annual revenue:
NA
2013 goals:
Get both new restaurants on a profitable growth pattern.
Growth meter: How do you measure your growth?
Growing net income and thus profitability.
Vision meter: Where do you want to be in 5 years? 10 years?
In 5 years, I want to double revenues and profits.
How is the economy affecting you, your employees, your customers?
All costs in my operation are higher, and it is very hard to increase prices.
Are you experiencing economic growth or recovery in your market?
Yes!
What did you change or do differently in this economy that you plan to continue doing?
Concentrate even harder on exceptional customer service.
How do you forecast for your business in this economy?
As long as you give good value, exceptional customer service, and a great product, the customers will continue getting your product.
Is capital getting easier to access? Why/why not?
Yes. Banks are more confident to lend. It is still not great though for those whose businesses are not strong and healthy.
Where do you find capital for expansion?
Private investors.
Have you used private equity, local banks, national banks, other institutions? Why/why not?
No. I prefer private investors.
What are you doing to take care of your employees?
Treat them as part of a team and constantly train them.
How are you handling rising employee costs (payroll, healthcare, etc.)?
It is very hard to deal with all rising costs that we are incurring in the restaurant business. It is taking a much bigger chunk of my profits.
How do you reward/recognize top-performing employees?
Bonuses.
What kind of exit strategy do you have in place?
By maintaining a positive EBITDA, the business is always interesting to a buyer who is looking for positive cash flow. One never knows when the right moment comes to sell, but you always have to be ready for it.
Published: July 17th, 2013
Share this Feature
Recommended Reading:
Comments:
comments powered by

Disqus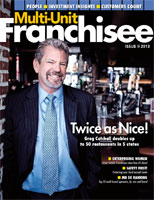 Multi-Unit Franchisee Magazine: Issue 2, 2013
Buddy's is one of the fastest growing rent-to-own franchises in America with 60 years of proven success. Franchise owners enjoy a 0% royalty fee the...
Cash Required:
$150,000
High AUVs + 8-hour operating days in a food category that's not oversaturated = an eggs-straordinary life.