Unique Opportunity--Act Today!
We are experiencing a rare alignment of stars in the franchise finance world right now, and it's essential that operators act quickly to take advantage of this situation, before the party's over. To understand the current financing environment, let's take a look at the economic "big picture."
Macroeconomic framework
Signals for overall economic recovery continue to be mixed. Households are deleveraging: the ratio of household debt service to income has reached a 30-year low. The housing market is on the rebound: inventory is down, prices are rising, and financing is cheap. Yet the latest figures show a negative GDP for the U.S. in the fourth quarter of 2012, and consumer confidence has begun to wane. Jobs reports seem to swing up and down. And as the Fed injects liquidity into the monetary system, the capital markets improve, creating a more favorable lending environment.
Budget quarrels in Washington, D.C., reached a short-term reprieve, but are looming once again. We expect battles over budget cuts and debt ceilings, taxes, sequestration, and Affordable Care Act implementation to continue over the next few years.
Capital market observations
The Fed continues to drive down interest rates by buying mortgage, asset, and Treasury securities. Lenders are expanding their underwriting criteria as improved balance sheets and competition spur lending activity. Interest rates are at 20-year lows. Junior capital is now widely available again. The number of senior lenders in the franchise space has increased dramatically, with at least seven new national lenders vying for business. Private equity and family offices have a strong appetite for franchised operations, and have a lot of pent-up equity capital to deploy.
One result created by this is an all-time high of new debt issued by companies. Rates are so low that every company is jumping on the debt-issuance bandwagon. In fact, at the beginning of 2013, the average yield for U.S. high-yield (aka "junk") bonds was below 6 percent for the first time ever. Prices for bonds themselves, which move inversely with interest rates, are at historically high levels. It's a great time to be a borrower, but not so much to be the ultimate bondholder.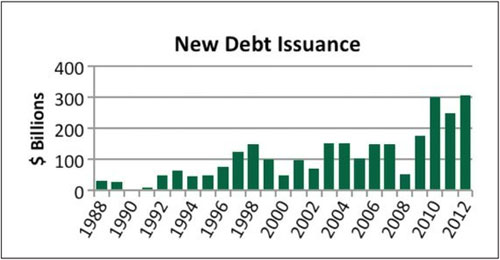 Opportunities
So just what kinds of opportunities does this environment create for the franchise operator? Let's address three:
Mergers, acquisitions, divestitures. The environment has created a perfect storm for transactions. We've mentioned the abundance of credit in the markets, and the new lenders creating competition. In addition, there are many motivated sellers, desirous to move on for any number of reasons: retirement, not wanting to weather another recession, concern over rising healthcare and commodity costs. And there are many motivated buyers: private equity, consolidation into mega-operator formats, and growth-focused operators looking to take advantage of low rates.
Refinancing. Similarly, there is an abundance of credit available today for refinancing. The same new lenders are building their businesses, and the established lenders are fighting back. Credit terms have eased, including rates, equity requirements, leverage ratios, prepayment penalties, and elimination of certain covenants. Financing is also more readily available for remodel and reimaging projects, new unit construction, and rebranding of closed units.
Dividend recapitalizations. Finally, there is more credit available for dividend recapitalizations. Performing companies with debt capacity are able to refinance and monetize equity. By making a payment to shareholders, companies can allow shareholders to realize value without selling any of their stake.
Action plan
So, what's the takeaway? Simple: it's time to act. We are currently in one of the most favorable debt financing environments in recent history. For sellers, valuation multiples are strong, pent-up equity is waiting to be deployed, buyers are looking to grow and build empires, and there is an abundance of financing. For buyers, there are many sellers on the market, franchisors are selling company stores, equity partners are available for the right operators, and there is abundant financing.
But this won't last forever! While we expect this favorable environment to be in place most of 2013, it will not last. Now is the time to create and execute on your action plan. Depending on your strategy, consider the following:
Growth strategy. If you are focused on growth, put yourself in a position to acquire bolt-on acquisitions, such as refranchisings, to bolster your current brand. Look at the acquisition of a new brand. Jumpstart organic growth through development. Repurchase underperforming franchisees or inferior operators. But before you start, make sure you are properly prepared in terms of your credit request: clearly show use of proceeds, outline growth expectations through projections, specify timing needs for funds, address a revolver if needed for remodels or new unit development, and be aggressive on your capital requirements.
Exit strategy. If your company has been contemplating an exit, are you aware that the timing could not be better? Buyers are sourcing favorable financing, which increases their motivation and ability to close on transactions. Private equity firms have pent-up capital to deploy, creating demand for performing companies. And lenders are facing competition, driving down the cost of borrowing, thus exerting upward pressure on valuation multiples.
Optimal capitalization strategy. An operating company should periodically check to see if its capital structure is optimized. Are your contract rates competitive with current interest rates? Have you quantified pre-payment amounts, swap breakage costs, make-whole provisions, and defeasance? Do you know your breakeven to refinance? How about your company's debt capacity? There may be enough to tap and deploy the capital to generate returns from your operations. In any case, the timing could not be better to consider a recapitalization.
Conclusion
The franchise finance environment created by this perfect storm of events is as common as a snowstorm in Miami. We won't see this again for a long time, and this window will not be open for long. Take advantage of this to improve your financial position by acting now. You'll look back on this time and be pleased that you did.
---

Dean Zuccarello, CEO and founder of The Cypress Group, has more than 30 years of financial and transactional experience in mergers, acquisitions, divestitures, strategic planning, and financing in the restaurant industry. The Cypress Group is a privately owned investment bank and advisory services firm focused exclusively on the multi-unit and franchise business for more than 22 years. Contact him at 303-680-4141 or dzuccarello@cypressgroup.biz.
Published: May 30th, 2013
Share this Feature
Recommended Reading:
Comments:
comments powered by

Disqus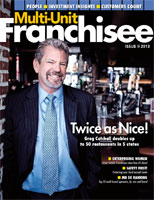 Multi-Unit Franchisee Magazine: Issue 2, 2013
Checkers Drive-In restaurant franchises are small but efficient making our restaurants easy to operate and typically reduced overhead costs.
Cash Required:
$250,000
Re-Bath is the nation's largest full bathroom remodeler. Customers know it as a one-stop shop, providing remodels from design to done.
Cash Required:
$50,000