Using Technology To Create Business Value in a Post-Covid World
Throughout the pandemic, technology has played a significant role in the survival of many small businesses and franchises. Early adopters of digital technologies were able not only to survive, but thrive during the uncertainties of 2020. With widespread government-mandated stay-at-home orders and restaurant owners trying to keep employees safe, digital applications and online capabilities became an essential part of daily operations.
Overnight, the pandemic created demands for a digital platform for ordering, payment, and contactless service. Franchises that had not invested in technology as heavily as some of their competitors were forced to take immediate action. Many groups had to quickly engage third parties for help and invest in off-the-shelf digital solutions to continue operating.
In addition to increased sales and better, more efficient operations, investments in digital technologies and infrastructure will also be essential to positioning and creating value as operators consider an exit from their businesses. Obsolete technology could affect valuation or even cause buyers to avoid certain concepts altogether. Many franchise leaders have made a digital-first culture a priority and credit their investment in technology as a significant contributor to their success in 2020.
Creating value through technology
The uses and applications of technology within franchising are limitless and will continue to evolve, with a focus on convenience, speed, and personalization. Below are some areas where brands and operators are already driving growth and value through technology.
Labor. In addition to creating value through increased sales and an improved customer experience, technology is also being leveraged to help operators manage labor more effectively. Solutions exist that allow employers to offer employees greater flexibility around when and where they work, and in the frequency and method by which they receive their paycheck. Finding better ways of attracting and retaining employees is now cited as the greatest challenge for franchise operators.
Data analytics. Technology is also driving returns and efficiencies in other areas such as inventory management, streamlined order and payment processes, and through back-of-house analytics and dashboards that allow operators to better manage their business. According to a study by the Boston Consulting Group, better analytics programs in franchises can potentially increase revenues by up to 10% and decrease operating costs by up to 15%. Increasing sales and margin improvement are especially important in today's operating environment where wage rate pressures are affecting profitability.
Integrated reporting and monitoring. Multi-unit operators also can leverage technology to better manage their networks. Through digital integrations, operators are able to monitor the performance and KPIs of every location, in real time, from anywhere in the world. With the availability, timeliness, and scope of data, operators can more easily spot trends and anomalies, forecast demand, and test new products efficiently. Operating a franchise business is becoming increasingly complex. Neither franchisors nor franchisees can rely on old, labor-intensive manual Excel models any more; instead, they must invest in the technologies that will enable them to compete in the future. The goal is not to inundate everyone with information. The goal is to provide everyone with the data they need to manage their businesses in a format that is convenient and easy to quickly understand and digest.
Customer data sourcing. Digital platforms and applications and the data that can be sourced from these tools hold the keys to consumers' ever-changing expectations. The data sourced from digital applications can be incorporated into marketing, new product development, targeted discounting, and personalizing the overall customer experience. When done successfully, the data you've sourced can create synergies between high-tech and high-touch to ensure every customer is satisfied.
Winners in the digital-first culture
2020 highlighted the winners of the technology race. Chipotle, for example, has continued to be a leader in the digital-first mentality. Their strategy through 2020 and beyond has been to leverage their digital capabilities to drive productivity and expand access through convenience and engagement. Chipotle continues to invest significantly to upgrade its digital platform's capabilities as it continues to be a strategic driver of growth, including devoting resources to expand digital make-lines in all of its restaurants, expanding partnerships with third-party delivery services, and building "Chipotlanes" (drive-thru lanes that allow for customer pickup of digital orders) at its restaurants. Chipotle's digital sales continue to grow and make up a larger portion of its business: digital sales accounted for 46.2% of 2020 sales, compared with 10.9% of total sales in 2019.
Wingstop, which also surpassed expectations in 2020, is another brand that made focused investments in technology to provide a better, more convenient, and engaging experience to its customers—with the goal of making every transaction digital. To this end, Wingstop developed a custom website and mobile ordering application that positions the brand well for future developments and digital applications. During Q4 2020, Wingstop's digital sales increased to 62.5% of sales, compared with 38.2% of sales the year before. Not coincidentally, over that same period, valuations for exiting Wingstop franchisees increased on average from an approximately 5x EBITDA multiple to more than 6x EBITDA, with some networks trading even above 7x .
Final thoughts
In summary, as franchising continues to adapt in a post-Covid world, franchises will have to keep pace with the ever-changing needs of their customers. A strong digital platform will be essential to driving profitability today and to creating and ensuring value for the future. The most successful concepts and operators will be those that continue to invest in technology and that can successfully leverage the data that comes with it to improve customer experience, operations, and profitability.
Carty Davis is a partner with C Squared Advisors, a boutique investment bank that has completed hundreds of transactions in the multi-unit franchise and restaurant space. Since 2004 he's been an area developer for Sport Clips in North Carolina with more than 70 units. Contact him at 910-528-1931 or carty@c2advisorygroup.com.
Published: June 30th, 2021
Share this Feature
Recommended Reading:
Comments:
comments powered by

Disqus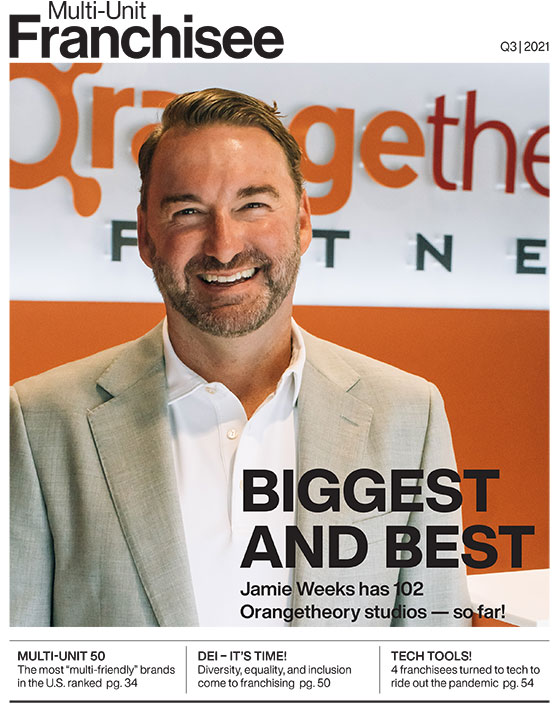 Multi-Unit Franchisee Magazine: Issue 3, 2021
With more than 300 active locations in 30 states and dozens more in development, American Family Care is America's #1 Urgent Care Franchise.
Cash Required:
$550,000
The hottest new franchise is here (literally 150°). Perspire has developed, formulated and tested the most superior infrared sauna studio model...