Well Compensated?
Paying your sales staff competitive rates pays off!
For more than a decade now, Franchise Update has been carefully monitoring the radar screen, gathering information on franchise lead generation and sales.

In the process, a tremendous body of data has been logged, sliced, diced, and prepped for industry executives and analysts to devour. Not surprisingly, executive compensation is one of the key categories continuing to drive franchise sales.

Each time our researchers shine a fresh light on the trends and best practices found in franchise sales and development, new and interesting details emerge.

Throughout the years, however, a number of consistent findings continue to hold true. When it comes to sales compensation, the size of a franchise organization plays an important role, as does how well-known the brand is.

Other factors playing a significant role in sales compensation include required investment level (generally, the higher the investment level the higher the compensation); industry category; number of years in franchising; and financial health of the company.

Some trends from this year's report are highlighted below. For comparison purposes, this year's study categorized all franchise organizations into four sectors: Food, Retail Food, Retail Non-Food, and Service.

Not surprisingly, the study continues to find that most franchises employ a top senior executive who is in charge of franchise sales. Sales teams in all categories need a motivator, manager, leader, and, sometimes, a shoulder to cry on. So what about pay?
Executives
Research indicates that the most senior franchise sales executives receive healthy base salaries:
In the Food sector, more than 27 percent earned between $101,000 and $125,000.
In Retail Food, about 45 percent of the top execs earned between $51,000 and $75,000.
In the Retail Non-Food category, almost 30 percent of senior executives earned between $51,000 and $75,000.
In the Service sector, 24 percent of the top sales execs pulled down anywhere from $76,000 to $100,000 in base pay.

As for commission and bonuses, at least 8 out of 10 of these executives in all four categories have these "standard extras" built into their compensation packages.
Sales staff
The study also examined the compensation levels of the sales staff —the women and men on the front lines. Some results from the data on this group:
Food: 9 out of 10 salespeople received a base salary, and two out of three received a commission from each sale.
Retail Food: 77 percent of salespeople received a base salary and again, two thirds received a commission.
Retail Non-Food: This category saw the highest level of salespeople earning a base pay—more than 92 percent; and 89 percent earned a commission on top of that.
Service: 80 percent of salespeople earned a base salary, and 93 percent earned a commission for each franchise sale. Across all categories, at least three out of four salespeople also received additional perks based on performance.
Longevity
The number of years a franchise salesperson has been in the industry also plays a role in compensation levels. For example, one third (32 percent) of franchise salespeople with fewer than five years of experience earned an average base salary in the $51,000 to $75,000 range. That compensation range rose to almost 46 percent for franchise salespeople with 5 to 10 years of experience, and to 48 percent of franchise salespeople with 10 to 20 years of experience. For franchise salespeople with more than 20 years of experience, in addition to the 37.5 percent earning in the $51,000 to $75,000 range, another quarter of the well-seasoned sales staff earned between $76,000 and $100,000 in base salary. Age—or at least years in the business—matters in the compensation game.

From talking with franchisors, it's clear that competition for salespeople remains stiff. Offering compensation packages that will attract, motivate, and retain the best individuals is a top priority across all categories.

More in-depth sales compensation trends, data, and analysis can be found in the Franchise Update 2008 Lead Generation and Sales Compensation Survey, available for purchase by calling 800-289-4232 x202.
Published: November 17th, 2008
Share this Feature
Recommended Reading:
Comments:
comments powered by

Disqus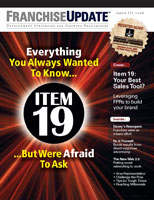 Franchise Update Magazine: Issue 3, 2008
The Titus Center for Franchising, one of Palm Beach Atlantic's Centers of Excellence, offers a concentration in franchising to business students.
April 25 - April 28, 2023, Caesars Forum, LV. The Multi-Unit Franchising Conference is the premier annual event for the country's leading...