West Texas Hotel'em: Patel Family Adds Bagel Chain to its Spread
Subodh Patel got his start in franchising during the great Texas downturn of the 1980s. By the late 1980s, the savings-and-loan debacle had spawned the federal Resolution Trust Corporation, which in turn became an overnight bazaar for cut-rate, distressed properties that had to be sold fast.
That's when Patel, his father, and two brothers, Mahesh and Henry, began to buy up local hotel franchises. Since then, the family business has pieced together a portfolio of 14 hotels in the Lubbock area. And this past November, they branched out, opening their first Einstein Bros. bagel shop. Two more Einstein Bros. locations are planned, and Patel has high hopes for creating the first chain of bagel spots in West Texas.
Each of the brothers brings a unique expertise to the table. Subodh is an accountant, while his elder brother Henry was trained in engineering, and his younger brother Mahesh entered the legal profession. Today they're also successful franchise veterans.
"Like a young boy being thrown into a swimming pool, we quickly learned how to swim," says Patel. Their first hotel franchise was a Days Inn. They now count Holiday Inn Express, Comfort Suites, and Red Roof Inn among their hotel brands. It was when he was building a Studio 6 extended-stay location near a medical district that Patel focused on Einstein Bros.
"I had a three-quarter-acre tract in front of the hotel," he says. His brother Mahesh, who works in the Dallas area, suggested he check out Einstein Bros., a bagel franchise he frequents with his family.
"Being in West Texas I had never even heard of Einstein Bros.," says Patel. "But I went and looked at the concept and liked what I saw. It fit in perfectly for what we wanted to do. It's open for breakfast and lunch, but not dinner."
Patel had originally planned to have his first bagel location open months ago, but the death of his father--whom he credits as one of the biggest influences in his life--last spring delayed the opening for several months. Now Patel says he's hunting for more locations in Lubbock and can see how a bagel chain could do extremely well in a place like Lubbock, home to Texas Tech and its nearly 30,000 students.
When Patel spoke with us, he was still counting the results from a record-breaking opening day. And he knows just what his father would have told him. He'd say not to get too exhilarated by the success, just as he would have encouraged him not to get too low in the event of a failure.
For the Patels, the best course is straight and steady, building success one day at a time, while making sure everyone in their organization is focused on providing each new customer with their best experience of the day.
QUESTIONS
Name: Subodh Patel
Title: President
Company: Bluebonnet Hospitality Management
No. of units: 14 hotels; 1 Einstein Bros. Bagels (2 more in development)
PERSONAL
Age: 49
Family: Wife and two children
Years in franchising: 18
Years in current position: 18
Key accomplishments:
Taking care of customers and personal involvement is number one.
Biggest mistake:
If anything, it probably was not growing fast enough.
Smartest mistake:
Einstein Bros. Because it's a new concept in West Texas and we were nervous as to how we'd do. Yesterday was opening day and I think we set the record so far for a first day.
How do you spend a typical day?
I get up at 5 in the morning and I'm home by 7 in the evening. I don't spend too much time in the office.
Work week:
I visit my locations and get feedback from employees and managers. Then there's community involvement or running into some new potential investment.
Favorite fun activities:
I can't think of anything. Work is fun to me.
Exercise/workout:
I recently started yoga.
Favorite tech toys:
My BlackBerry.
What are you reading?
I like to read news articles when I have the time, especially on the plane.
Do you have a favorite quote/advice?
Keep your emotions in check.
Best advice you ever got:
Don't get too high during the good times or too low in the down times. That was from our father.
Formative influences/events:
My father was a great leader and my biggest influence. Our parents' hard work and dedication to family and community was very important to me.
How do you balance life and work?
I take Sundays off unless I'm called upon; Sundays are my family days. And after 6:30 or 7, it's family time. Also, for the past 2 years I have left my phone charging on the kitchen counter as opposed to taking it into the bed.
MANAGEMENT
Business philosophy:
Treat employees and customers as you'd like to be treated yourself.
Are you in the franchising, real estate, or customer service business? Why?
I would say first customer service and second real estate. Customers are the ones who pay your bills. I am nothing but a manager.
What gets you out of bed in the morning?
Probably the key motivator would be faith in God. The second thing would be looking to see what lies ahead.
What's your passion in business?
Fear of failure.
Management method or style:
Empowerment. Let the employees make the day-to-day decisions rather than try to micromanage things.
Greatest challenge:
The uncertainty in the economy.
How close are you to operations?
I'm very close on a daily basis.
Have you changed your marketing strategy in response to the economy? How?
I'm very focused on taking care of everybody that comes through the door.
How is social media affecting your business operations?
Social media has an impact on every business, including ours. Guests express their opinions through those tools and that affects us greatly.
Personality:
I would say I'm very cheerful, a motivator.
How do others describe you?
Probably tense, rarely emotional.
How do you hire and fire?
I like to hire for attitude over anything else. We hire people with the right mental attitude and then groom them in their position so they know what to expect and I know what they're capable of handling. They normally figure their own way out of the company. They know when they are not performing or the contribution is not there.
How do you train and retain?
We do have our training in terms of whatever the particular franchise company offers on an annual basis.
How do you deal with problem employees?
We visit with them where they are and see if a resolution can be reached. If not, it's been nice having you. But we hardly ever have that because of our daily involvement. We're not absentee investors.
BOTTOM LINE
Annual revenue:
In excess of $10 million
2011 goals:
Hopefully, if the economy improves, we'd like it to be $15 million.
Growth meter: How do you measure your growth?
Revenue helps. But not the number of locations. We're too young to look at that.
Vision meter: Where do you want to be in 5 years? 10 years?
Five years ago, I said I'd retire in 5 years. But I'm having too much fun to do anything else. At this rate I'll probably be doing what I'm doing because I enjoy it. And hopefully we'll have a few more locations and other businesses.
How has the most recent economic cycle affected you, your employees, your customers?
In some cases employees have doubled their chores and taken on more responsibility. We're trying to take care of the customers who walk through the doors so we can retain them.
Are you experiencing economic growth/recovery in your market?
In some pockets of Lubbock we do, and in some we don't. With all our hotels in different parts of town, we see growth in some places and a decline in other parts. We also see new competition, and we do see the impact that has.
What did you change or do differently in this economy that you plan to continue doing?
We watched labor costs closely and give customers the value they deserve.
How do you forecast for your business in this economy?
You know, one month you see a 10 percent reduction and the next month it may be just 5 percent. Then it will grow 15 percent. It's very difficult to forecast based on the economy.
Where do you find capital for expansion?
It's basically two sources: our profits and our lenders. We have four lenders locally.
Is capital getting easier to access? Why/why not?
No, bankers are not lending.
Have you used private equity, local banks, national banks, other institutions? Why/why not?
All local banks.
What kind of exit strategy do you have in place?
We don't have one.
What are you doing to take care of your employees?
We take care of them in a number of ways. We give them family time off, bonuses at the end of the fiscal year, and we have events.
How are you handling rising employee costs (payroll, healthcare, etc.)?
In a limited service business, it's already in place.
How do you reward/recognize top-performing employees?
We reward all employees in a small way at the end of the year. We also reward top-performing employees based on their contribution to the bottom line.
Published: May 9th, 2011
Share this Feature
Recommended Reading:
Comments:
comments powered by

Disqus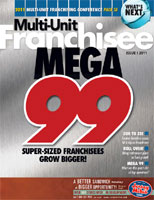 Multi-Unit Franchisee Magazine: Issue 1, 2011
Join one of the fastest-growing fast-casual restaurants with excellent financial potential, multiple business models to choose from, and an all-start...
Cash Required:
$100,000
At LeafSpring Schools, we differentiate ourselves by a proven approach to early childhood education, validated by more than 35 years of successful...
Cash Required:
$400,000