What's that Smell?: Customers Can Sniff Out a Bad Experience a Mile Away
Back in 1989, I had an experience that remains vividly clear even now. I was driving through the small town of Monroe, La. Even though my windows were rolled up, there was an awful stench seeping into my rental car.

At first, I just tolerated it, thinking it would pass--like when you drive by a cow pasture reeking of fresh manure at 60 miles an hour on the Interstate. But the closer I got to the center of town, the worse it smelled. My eyes started watering and I thought maybe there had been a chemical spill nearby.

Pulling up to a stoplight next to a police car, I rolled down my window and signaled to the police officer to do the same. I said, "Hey, was there an accident? Where is that smell coming from?"

She gave me a knowing smile. "No accident sir. That's just the smell of sulfur from the oil refinery."
"You're kidding me," I said as I put a handkerchief over my nose. "You mean it's always like this?"
"Guess so. I've been here so long I don't even notice."
"Don't people complain about the smell?"
"Just the visitors."
Customers notice
No one wants to go into a dirty, dingy, or smelly environment. But through some perverse law of nature, many operators and employees become immune to things that customers notice. Like cleanliness, orderliness, even lighting and noise levels. Not to mention customer appreciation and hospitable service.

When people are going to be spending less, customers become increasingly intolerant of subpar experiences. To win in this market with low or falling demand, it's crucial to be more attractive, interesting, and special to customers.

During the surging economy, many operators felt they were successful at getting customers to spend more and more each year. But in an economy that is contracting or that's slowed to a no-growth level, you find out how good you are at getting customers back in the door.

How do you think you rate in each of your locations? Do you know where your problems are? Every week, Service Management Group (SMG) asks more than a million people (customers of multi-unit companies) to rate their most recent experiences--including their likelihood to return.

Seeing how their customers answered these questions can be a painful process for unit managers, area developers, and franchisor executives, especially those who find themselves scoring poorly. Some of these operators have gotten so used to the sour smell of bad customer service that they don't even notice it is driving customers away.

During the boom times, many franchisees and managers questioned the need to measure customer satisfaction. They felt they already knew what their problems were, but that has been proven false. Good managers think they know where they need to improve, but they are wrong as often as they are right.

In one famous example at Enterprise Car Rental, managers and multi-unit operators were asked to predict, from their own experience, which of their locations would be above the corporate customer satisfaction average and which would be below. Their success rate was only 50 percent--so they were wrong half the time. Managing without facts is like guessing. Very risky. Data, including feedback data from your own customers, is crucial to keeping them.
Customer retention has never been so important
Survey results from operators in the National Retail Federation's last state-of-the-industry report show that the top five priorities in 2009 are:
Customer satisfaction/retention
Cost reduction/containment
Employee retention and development
Product differentiation
Supply chain optimization.

According to the study, 69 percent of business-to-consumer operators said customer satisfaction/retention is a top priority. To achieve that, you have to obsess about your customer. But sometimes we are so close to our own businesses that we don't notice little things that customers notice--or even big things.

It's a dismal time for many multi-unit operators. But those who have long invested in offering a "better and different" customer experience will actually increase their market share in this tough environment. Why? Because the strong get stronger and the weak get weaker in the unforgiving customer's mind.

Cutting back on service is an easy way to save a buck when things slow down, but it's also short-sighted. People aren't stupid. The question is where do you want to be positioned when things come back. Not in the customer's dog house, that's for sure.

Jack Mackey is vice president of Service Management Group. For information about accurately measuring customer satisfaction, email him requesting "Five Things We Learned from Talking to 100 Million People." jmackey@servicemanagement.com or 816-448-4556.
Published: September 21st, 2009
Share this Feature
Recommended Reading:
Comments:
comments powered by

Disqus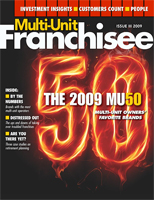 Multi-Unit Franchisee Magazine: Issue 3, 2009
Get A Piece Of The Booming Cannabis Market Without Headaches.
Cash Required:
$1,000,000
Founded in 2015 in a tiny grab-n-go and delivery location in Midtown Manhattan, Pokeworks® has quickly established itself as the nation's...
Cash Required:
$300,000