Women at The Top: Julia Stewart
Julia Stewart
CEO, DineEquity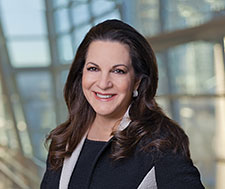 System revenue: $7.2 billion (Applebee's $4.2 billion, IHOP $2.7 billion, company units $292 million)
No. of units: 3,612 (2,010 Applebee's, 1,602 IHOPs)
Public or private: Public
Growth plans: Build on the iconic status of our brands through our culture, brand equity, and positioning, providing quality to our guests, and development. One of the tenets of our plan for continued growth is innovation--in our menu, guest experience, and our restaurants, domestically and abroad.
Year founded: IHOP 1958, Applebee's 1980 (Following the acquisition of Applebee's in November 2007, the name was changed to DineEquity, Inc., effective June 2, 2008.)
Began franchising: IHOP 1960, Applebee's 1985
Years with company: 15 years in the Applebee's and IHOP brands, the past 12 as CEO of IHOP/DineEquity
Years in franchising: 30-plus
Number of international locations: Applebee's, 150; IHOP, 51
Questions
How has your life experience made you the leader you are today?
My very first experience in the restaurant industry was a job as a server at my local IHOP, which began a lifelong love affair with the restaurant industry. I found it fun, exciting, and extremely rewarding to be able to be part of a team providing so many people with a warm, hospitable, and enjoyable place where they could come to find good service and good food. And all these years later, I still do.
Role models?
First and foremost, I'd have to say my father. He was a teacher, and he taught me the value and the joy of learning: the importance of being open and constantly seeking new information, and the knowledge there was always something more to learn from all different types of people. That's a critical skill in any company. I also saw how rewarding it was to teach and share what you know, and that has also been a huge part of what I love about my job--using what I've learned from my experience to lead and help others.
Management gurus or books that have deeply affected you:
I don't particularly subscribe to one philosophy of business or management. Instead, I think I've learned best by watching those around me who lead by example. There have been a number of people I've encountered throughout my career who have shown me the importance of communication throughout your organization at every level, and how critical it is to the success of your business to foster an atmosphere where people can feel empowered, valued, and involved. And I have to say I learned that from people who embraced that philosophy--as well from people who did not!
Has mentorship made a difference in your professional and personal life?
I have been fortunate to have some wonderful mentors. One of my main mentors in this industry was a man named Bob Leonard who started in the restaurant industry when he was 14 and spent his career at both IHOP corporate and as a franchisee, so he knew this industry backward and forward. Bob was a generous, kind man in both his personal and professional life and always willing to offer his perspective and share his experience. He was very encouraging and supportive and, equally important, frank and honest with me and everyone around him. I learned a tremendous amount from him about the business and how to treat people, and I've tried to pay that forward. Bob also made time to give back to his community and support charitable organizations, and I've tried to emulate that as well.
Female leaders you admire:
First of all, I have to say I admire any woman who is trying to achieve her business goals and contribute to her industry and society while maintaining a work/life balance. It isn't easy. Trust me, I know. But if I picked just one example, I'd say Anna Maria Chávez, CEO of the Girl Scouts of America, an organization very dear to my heart. As a Girl Scout myself (one is never a "former") and the mother of a Girl Scout, I appreciate all she is doing to bring a modern sensibility to this organization, and her ability to use it to help our young women confront problems and issues they face today while building their skills, self-confidence, and sense of empowerment.
Advice for young female CEO aspirants:
Believe in yourself and your abilities (while continuing to add to them and improve them). Don't let a fear of being perceived as pushy or aggressive stop you from speaking your mind and giving your opinion (provided it's well thought out). And, conversely, don't let the fear of being perceived as passive keep you from listening... really listening.
Describe your leadership style:
In a word, inclusive. While I am definitely responsible for making the final decision and acting on it, I am always cognizant of the fact that everyone on my team has something to offer, and I try to make sure they are aware that I know that too, and that their contribution is both valued and appreciated. In my career, I've earned the nickname "the Velvet Hammer." I like to think it's because I make my decisions firmly, but with respect for others.
Was becoming CEO of an organization part of your professional plan?
Yes, actually, it was. I felt strongly that loving this industry as I do, I could make a valuable contribution toward leading a company to fulfill the very best it has to offer. But I also realized I had to prepare and work at learning everything I needed to know. That's why, after many years as a marketing executive, I left and took a job as a general manager in a restaurant so I could learn the operations side of the business as well. And in retrospect, while not a logical career move up the ladder, it was invaluable to me.
What do you love most about being CEO?
I always tell my franchisees that "their success is our success," and I mean it, not just in a commercial sense. I love being a part of what enables them to grow their businesses and provide for their families and create jobs for others. IHOP has been around 55 years and Applebee's more than 30, and at both brands we've seen generations of families work at building a successful enterprise and pass it on. We also have some franchisees who began as cooks or team members in a restaurant and now own multiple units--it's truly the American success story. How gratifying is that! I also love to lead. I believe it is an honor and a privilege, and one I take very seriously.
How much of your time do you spend at that, and what are you doing to spend more?
I spend a great deal of time working to ensure that both our brands remain current and sensitive to the needs and wants of our guests, and making sure we continue to deliver on our promise of excellence--which, in turn, helps our franchisees succeed, both on a national, and increasingly, an international basis. And I lead from the front, so I spend a great amount of time engaged with our teams at all levels.
What do you like most about what your brand/legacy represents?
Both Applebee's and IHOP are firmly established as a part of American culture--what a wonderful heritage to build on! We're the only restaurant company in the world with two number-one brands: IHOP in family dining and Applebee's in casual dining, and both brands have guests who trust us to deliver an experience with a level of excellence and hospitality they can depend on. To know that you are part of so many people's lives--that so many memories are being made in your restaurants--is thrilling.
What role does diversity play in your management team?
It plays an enormous part, not just in our management team, but throughout our company. At both brands, we serve a widely diverse demographic, and it is invaluable to have the input and experience of people with different experiences and backgrounds to help steer the brands and their appeal to different groups. Yet, while as a woman who faced a certain amount of stereotyping in my career I am sensitive to the issue, the bottom line as a CEO is that your success depends on having the most capable person in every position. With that as your standard, you will automatically have diversity.
If you are expanding overseas, does being a woman affect growth?
I honestly haven't found that to be a factor, and we have franchises throughout the world, including areas where women traditionally have less presence in business, such as the Middle East. But the franchisees we work with are smart business people, and they recognize that our ability to help them achieve success with our brand in their country is far more important than whether the CEO is wearing a dress. I will say, though that it is important to recognize and respect cultural differences while still striving for excellence.
Published: July 3rd, 2014
Share this Feature
Recommended Reading:
Comments:
comments powered by

Disqus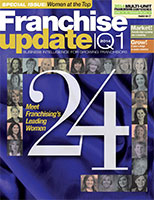 Franchise Update Magazine: Issue 1, 2014
Atmosphere TV is the world's leading cable alternative, providing free streaming TV for businesses.
From lead generation to increasing sales, Hot Dish Advertising is the pro at getting your message in front of those who matter most--consumers...