You Are What You Do: The New Regulatory Threat to Franchising
State regulators across the country are out to blur the distinction between franchisors and employers. If they succeed, they could crimp the growth of one of the franchise industry's hottest segments: franchise providers of janitorial, security guard, industrial gardening, delivery, and other services to commercial clients.

Regulators say that the providers of such services, who sign on as "unit franchisees" under master franchisees, are really employees of the master franchisees—and they want the master franchisees to withhold payroll taxes, obey state labor laws regulating wages and overtime, provide workers' comp insurance, and take on all the other legal responsibilities of employers.

Given the often unique franchising relationships among operators in the industries under scrutiny, the regulators may have a point, making it necessary for the companies operating in these fields to step carefully. How can companies protect themselves? We are most familiar with California trends and will focus on those. But where California goes, many others follow.

The problem stems from the special nature of the franchise relationship itself, and from the practices of many franchise operators in these fields. In many states, the law carefully defines the franchise relationship, and if a business arrangement fails on one or more points, it is not a franchise relationship. Under California franchise law, for example, a franchisor is one who offers, sells, or distributes goods or services through one or more "substantially associated" business enterprises following a marketing plan "prescribed in substantial part" by the franchisor in exchange for a fee collected directly or indirectly from those enterprises.

What makes one business "substantially associated" with another? The test is whether a business uses another's trademark to identify its business. If so, the two are substantially associated, and if not, not. A business may also qualify as a franchisor if it allows the associated enterprise to use its trademark and if it:
provides the associated enterprise with advice and training;
retains significant control over the conduct of the associated enterprise;
grants the associated enterprise exclusive territory rights; or
requires it to purchase or sell a specified quantity of its goods or services.

In the eyes of state regulators, whether the master franchisees in the janitorial and other industries under scrutiny meet these tests with respect to their unit franchisees is not clear, given the differences between their relationships and those common in the franchising industry as a whole.

Under arrangements typical among franchise providers of janitorial services, for example, a franchisor sells territorial rights to provide janitorial services in a specific geographical area—say, an entire county—to a master franchisee. The master franchisee in turn contracts with the owners of high-rise office buildings in that county to provide janitorial services to all tenants. Rather than provide these services itself, however, the master franchisee offers the rights to service one or more floors in specific buildings to unit franchisees who do the work in exchange for part of the revenue. The master franchisee commonly handles all relations with its customers, negotiating contracts and schedules and the scope of work to be performed, and collecting all revenues, from which it deducts certain fees before parceling out the rest to the unit franchisees.

State regulators argue that these arrangements step over the line, creating employer-employee relationships between master and unit franchisees. Among other things, regulators argue that the unit franchisees in such arrangements do not operate as independent businesses, as they would in a true franchising arrangement, because master franchisees collect revenues and control the day-to-day servicing of the customer. This makes master franchisees really employers who should follow laws applicable to any employer, including those governing wages and hours and workers' comp, regulators say.

By itself, however, the fact that master franchisees collect revenues does not make them employers, or even unique among franchise businesses. Among franchisor retailers of flowers and other goods, for example, franchisors follow the identical practice, taking orders from Internet or in some cases telephone buyers, collecting revenues directly, deducting fees, and parceling out the balance to franchisees who fulfill the orders. In addition, franchisors in other industries commonly exercise significant control over how and when franchisees provide services to their customers; and although some of the other practices to which regulators object may not be common elsewhere in the franchising industry, they do occur.

Whatever the merits of the regulators' arguments, the business practices of many unit franchisees in the janitorial and other industries under scrutiny are such as to make government officials at all levels wary. Some unit franchisees, for example, fail to register their business names, pay local business taxes, or even, in many cases, obtain federal employer numbers for tax purposes.

Some master franchisees court trouble on other grounds as well. Some fail to buy adequate liability insurance coverage, thus inviting litigation should a unit franchisee worker driving from one job site to another cause an auto accident, injuring someone who might claim that the unit franchisee worker is really the master franchisee's employee. Some master franchisees may also leave themselves open to litigation from disgruntled workers claiming status as employees entitled to overtime pay and other rights.

In California, the pressure on master franchisees in the industries under scrutiny comes in part from the State Fund, which supplies workers' comp insurance to half of the state's employers and wants master franchisees to buy coverage for unit franchisee workers. It also comes from the Franchise Tax Board and the state Department of Labor, which respectively want to collect payroll taxes and ensure that employers abide by wage and hour laws. CalOSHA, which oversees workplace safety, could also join the effort to crack down on franchise arrangements, given its interest in seeing that employers train workers in proper safety techniques and provide them with goggles, gloves, and other protective clothing when handling hazardous substances including cleaning materials, fertilizers, and the like.

Meanwhile, in a brochure entitled "Buying a Janitorial Services Franchise," available on its website (www.corp.ca.gov/pdf/janitorial.pdf), the California Department of Corporations warns potential unit franchisees against the pitfalls in the franchisor-franchisee relationship.
What master franchisees should do
To counter the pressure from state regulators, franchisors and master franchisees should start by making sure that they comply with all requirements of state and federal law governing disclosure, registration, and other matters concerning franchisors—a potential minefield for the unwary. Such requirements apply to master franchisees because they commonly recruit and negotiate contracts with unit franchisees and thus qualify as franchisors in the eyes of the law.

In addition, master franchisees should carefully review those provisions in their contracts seeking to establish a franchisor-franchisee relationship between themselves and their unit franchisees. The key is often the independence of the two enterprises—or the lack thereof. Does the master franchisee grant the unit franchisee exclusive territorial rights? Does the unit franchisee rely on the master franchisee for advertising and marketing support? For training, supplies, or billing services? Does the unit franchisee have the right to use the franchisor's trademark? To what degree does the master franchisee control relations with the customer?

Master franchisees might also make the billing and other services they provide to their unit franchisees optional, not mandatory. Regulators argue that making the provision of such services obligatory gives master franchisees control over their unit franchisees that is tantamount to the control exercised by an employer over an employee. Making the provision of such items optional, on the other hand, puts distance between master and unit franchisee, thus buttressing the independence of the latter.

Last, but not least, master franchisees should review the ways in which they encourage unit franchisees to expand their businesses. The contracts between these parties typically allow the latter to drum up business on their own—one sign of an independent operation—but in many cases, master franchisees do all the prospecting for new customers, in effect telling unit franchisees that they have clients wanting service and that the limits on unit franchisee income depend only on how many territories the unit franchisees can afford to buy up and service.

Regulators say this practice amounts to nothing more than an employer providing leads to its employees—as, for instance, an insurance agency might supply leads to its agents. In most cases, regulators say, unit franchisees actually provide services only to clients of the master franchisee, no matter what the agreement between the parties says.

A big challenge in reviewing these contractual and practical arrangements is that not all agencies in a given state test for franchisor-franchisee relationships in the same way, irrespective of the provisions of state law. Indeed, many agencies look for different signs of the relationship and rule accordingly, the result being that one agency may deem a particular relationship to be that of a franchisor and franchisee where another sees an employer-employee relationship. To make matters worse, because case law holds that such rulings by one state agency are not binding on others, this can leave companies in a kind of legal limbo.

Even more ominously, in several states including California, franchisors of all kinds now face the threat of litigation from the plaintiff's bar under new provisions of state law allowing plaintiffs' attorneys to bring suit against private businesses for violations of employment law—in the past the job of state regulatory agencies only. The incentive in these new provisions of state law is that the penalties for such violations may flow not to the state, as in the past, but to the attorneys themselves.

Clearly, franchise operations in the industries under scrutiny face threats on several fronts, and they must step carefully if they are to thrive. This will not be easy, given the traditional informality of business arrangements among many operators in the industries now under scrutiny, among them their tendency to hire unskilled, often illegal immigrant laborers who do not speak English and know nothing of American franchise and labor law. But the alternative is worse.

Barry Kurtz, a specialist in franchise law, is of counsel to the Encino, Calif., law firm Greenberg & Bass. He may be reached at (818) 728-9979 or bkurtz@barrykurtzpc.com.

Richard Rosenberg is a partner in the Los Angeles labor and employment law firm Ballard Rosenberg Golper and Savitt. He may be reached at (818) 508-3702 or
rrosenberg@brgslaw.com.
Published: August 29th, 2006
Share this Feature
Recommended Reading:
Comments:
comments powered by

Disqus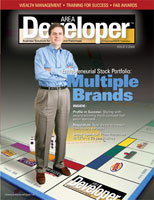 Multi-Unit Franchisee Magazine: Issue 2, 2006
The #1 fast casual Mexican franchise in the industry offering flexible formats with ample white space to grow.
Cash Required:
$350,000
MassageLuXe® is a fast-growing massage franchise providing massage services to clients, primarily through multi-unit area developers & single...
Cash Required:
$100,000