2022 Multi-Unit 50
Top 50 Brands by Number of Multi-Unit Franchisees
| RANK | BRAND | MULTI-UNIT ZEES | SINGLE-UNIT ZEES | TOTAL | DATA YEAR |
| --- | --- | --- | --- | --- | --- |
| 1 | SUBWAY | 3,472 | 3,313 | 6,785 | 2020 |
| 2 | MCDONALD'S | 1,792 | 333 | 2,125 | 2020 |
| 3 | THE UPS STORE | 924 | 2,306 | 3,230 | 2020 |
| 4 | AFC | 837 | 1,929 | 2,766 | 2020 |
| 5 | DUNKIN' | 797 | 4,918 | 5,715 | 2020 |
| 6 | ACE HARDWARE | 601 | 2,411 | 3,012 | 2020 |
| 7 | RE/MAX | 580 | 764 | 1,344 | 2020 |
| 8 | GREAT CLIPS | 574 | 243 | 817 | 2020 |
| 9 | HEALTH MART PHARMACY | 556 | 3,190 | 3,746 | 2020 |
| 10 | DOMINO'S PIZZA | 535 | 229 | 764 | 2020 |
| 11 | H&R BLOCK | 522 | 624 | 1,146 | 2020 |
| 12 | LIBERTY TAX SERVICE | 484 | 675 | 1,159 | 2020 |
| 12 | LITTLE CAESARS | 484 | 264 | 748 | 2020 |
| 14 | FIREHOUSE SUBS | 465 | 22 | 487 | 2020 |
| 15 | VISION SOURCE | 416 | 2,068 | 2,484 | 2019 |
| 16 | DQ GRILL & CHILL | 407 | 1,080 | 1,487 | 2020 |
| 17 | HISSHO SUSHI | 375 | 494 | 869 | 2020 |
| 18 | BURGER KING | 368 | 353 | 721 | 2020 |
| 19 | JACKSON HEWITT TAX SERVICE | 351 | 164 | 515 | 2020 |
| 20 | JIMMY JOHN'S | 347 | 770 | 1,117 | 2020 |
| 21 | CHICK-FIL-A | 336 | 1,555 | 1,891 | 2020 |
| 22 | TACO BELL | 333 | 278 | 611 | 2020 |
| 23 | ANYTIME FITNESS | 331 | 1,502 | 1,833 | 2020 |
| 24 | CENTURY 21 | 316 | 639 | 955 | 2020 |
| 25 | JERSEY MIKE'S | 296 | 222 | 518 | 2020 |
| 26 | KELLER WILLIAMS | 293 | 474 | 767 | 2020 |
| 27 | BASKIN-ROBBINS | 292 | 1,421 | 1,713 | 2020 |
| 28 | SPORT CLIPS | 280 | 112 | 392 | 2020 |
| 29 | SERVPRO | 262 | 694 | 956 | 2020 |
| 30 | PAPA JOHN'S | 261 | 367 | 628 | 2020 |
| 31 | SUPERCUTS | 259 | 103 | 362 | 2020 |
| 32 | KFC | 250 | 339 | 589 | 2020 |
| 33 | SONIC DRIVE-IN | 237 | 174 | 411 | 2019 |
| 34 | MASSAGE ENVY | 230 | 213 | 443 | 2020 |
| 35 | EDIBLE | 214 | 279 | 493 | 2020 |
| 36 | COLDWELL BANKER | 206 | 423 | 629 | 2020 |
| 37 | SMOOTHIE KING | 204 | 239 | 443 | 2020 |
| 37 | WENDY'S | 204 | 113 | 317 | 2020 |
| 39 | PAPA MURPHY'S TAKE 'N' BAKE PIZZA | 192 | 207 | 399 | 2020 |
| 40 | HUNTINGTON LEARNING CENTER | 185 | 41 | 226 | 2020 |
| 41 | DQ TREAT | 183 | 725 | 908 | 2020 |
| 42 | WINGSTOP | 181 | 77 | 258 | 2020 |
| 43 | COLD STONE CREAMERY | 175 | 384 | 559 | 2020 |
| 44 | PIZZA HUT | 173 | 123 | 296 | 2020 |
| 45 | EUROPEAN WAX CENTER | 172 | 97 | 269 | 2020 |
| 45 | CLUB PILATES | 172 | 126 | 298 | 2020 |
| 47 | TROPICAL SMOOTHIE CAFE | 168 | 289 | 457 | 2020 |
| 48 | CULVER'S BUTTERBURGERS & FROZEN CUSTARD | 167 | 293 | 460 | 2020 |
| 49 | POPEYES LOUISIANA KITCHEN | 164 | 647 | 811 | 2020 |
| 50 | ARBY'S | 156 | 250 | 406 | 2020 |
Top 50 Brands by Percentage of Multi-Unit Franchisees
| RANK | BRANDS | % MULTI-UNIT ZEES | MULTI-UNIT ZEES | SINGLE-UNIT ZEES | TOTAL | DATA YEAR |
| --- | --- | --- | --- | --- | --- | --- |
| 1 | PANERA BREAD | 100.00% | 28 | 0 | 28 | 2020 |
| 2 | FRESHII | 98.15% | 53 | 1 | 54 | 2020 |
| 3 | FIVE GUYS | 97.96% | 96 | 2 | 98 | 2020 |
| 4 | DUTCH BROS. | 96.15% | 50 | 2 | 52 | 2019 |
| 5 | FIREHOUSE SUBS | 95.48% | 465 | 22 | 487 | 2020 |
| 6 | JACK IN THE BOX | 94.23% | 98 | 6 | 104 | 2020 |
| 7 | PALM BEACH TAN | 93.10% | 27 | 2 | 29 | 2020 |
| 8 | SMARTSTYLE | 92.31% | 108 | 9 | 117 | 2020 |
| 9 | MIRACLE-EAR | 91.20% | 114 | 11 | 125 | 2020 |
| 10 | APPLEBEE'S | 87.50% | 28 | 4 | 32 | 2020 |
| 11 | MCDONALD'S | 84.33% | 1,792 | 333 | 2,125 | 2020 |
| 12 | HUNTINGTON LEARNING CENTER | 81.86% | 185 | 41 | 226 | 2020 |
| 13 | FRONTIER ADJUSTERS | 79.07% | 102 | 27 | 129 | 2020 |
| 14 | VALVOLINE INSTANT OIL CHANGE | 76.47% | 52 | 16 | 68 | 2020 |
| 15 | CARL'S JR. | 75.70% | 81 | 26 | 107 | 2020 |
| 16 | GODFATHER'S PIZZA | 75.53% | 142 | 46 | 188 | 2020 |
| 17 | COST CUTTERS FAMILY HAIR SALON | 75.28% | 67 | 22 | 89 | 2020 |
| 18 | FREDDY'S FROZEN CUSTARD & STEAKBURGERS | 75.00% | 36 | 12 | 48 | 2020 |
| 19 | SIMPLE SIMON'S PIZZA | 73.13% | 98 | 36 | 134 | 2020 |
| 20 | BLAZE PIZZA | 73.02% | 46 | 17 | 63 | 2020 |
| 21 | MICHELIN COMMERCIAL SERVICE NETWORK | 72.73% | 24 | 9 | 33 | 2020 |
| 22 | SUPERCUTS | 71.55% | 259 | 103 | 362 | 2020 |
| 23 | SPORT CLIPS | 71.43% | 280 | 112 | 392 | 2020 |
| 24 | BOJANGLES | 70.31% | 45 | 19 | 64 | 2020 |
| 25 | GREAT CLIPS | 70.26% | 574 | 243 | 817 | 2020 |
| 26 | WINGSTOP | 70.16% | 181 | 77 | 258 | 2020 |
| 27 | DOMINO'S PIZZA | 70.03% | 535 | 229 | 764 | 2020 |
| 28 | SOLA SALON STUDIOS | 69.77% | 90 | 39 | 129 | 2020 |
| 29 | CAPTAIN D'S | 69.57% | 64 | 28 | 92 | 2020 |
| 30 | HARDEE'S | 69.31% | 70 | 31 | 101 | 2020 |
| 31 | JACKSON HEWITT TAX SERVICE | 68.16% | 351 | 164 | 515 | 2020 |
| 32 | PACLEASE | 67.86% | 38 | 18 | 56 | 2020 |
| 33 | PLAYA BOWLS | 66.67% | 20 | 10 | 30 | 2020 |
| 34 | PENN STATION EAST COAST SUBS | 66.23% | 51 | 26 | 77 | 2020 |
| 35 | SOTHEBY'S INTERNATIONAL REALTY | 65.94% | 91 | 47 | 138 | 2020 |
| 36 | ROSATI'S CHICAGO PIZZA | 65.79% | 25 | 13 | 38 | 2019 |
| 37 | LITTLE CAESARS | 64.71% | 484 | 264 | 748 | 2020 |
| 38 | WENDY'S | 64.35% | 204 | 113 | 317 | 2020 |
| 39 | EUROPEAN WAX CENTER | 63.94% | 172 | 97 | 269 | 2020 |
| 40 | AVIS | 63.89% | 23 | 13 | 36 | 2020 |
| 41 | BUDGET | 62.86% | 22 | 13 | 35 | 2020 |
| 42 | HOMESMART | 62.71% | 37 | 22 | 59 | 2020 |
| 43 | PANDORA | 62.22% | 28 | 17 | 45 | 2020 |
| 44 | RALLY'S | 61.90% | 26 | 16 | 42 | 2020 |
| 45 | FREEDOM BOAT CLUB | 61.22% | 30 | 19 | 49 | 2020 |
| 46 | BARBERITOS | 60.53% | 23 | 15 | 38 | 2020 |
| 47 | SMASHBURGER | 59.52% | 25 | 17 | 42 | 2020 |
| 48 | TWO MEN AND A TRUCK | 59.29% | 83 | 57 | 140 | 2020 |
| 49 | PIZZA HUT | 58.45% | 173 | 123 | 296 | 2020 |
| 50 | FUZZY'S TACO SHOP | 58.33% | 28 | 20 | 48 | 2020 |
SOURCE: Frandata. Brands with 25 or fewer franchisees were excluded.
Published: September 24th, 2022
Share this Feature
Recommended Reading:
Comments:
comments powered by

Disqus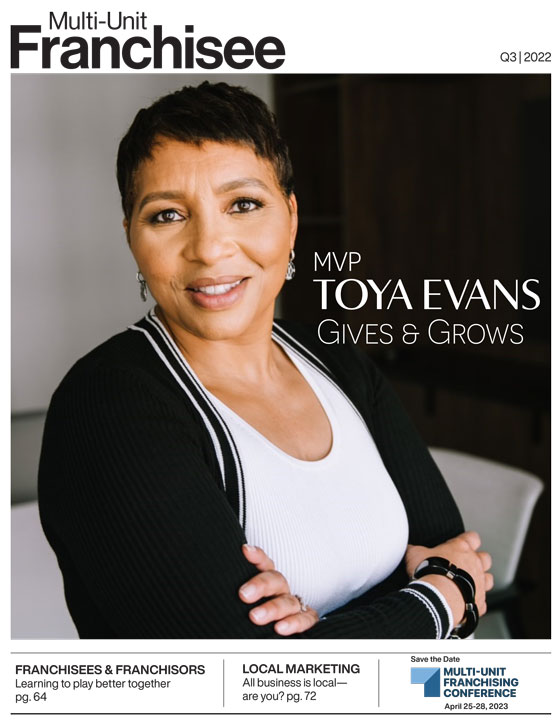 Multi-Unit Franchisee Magazine: Issue 3, 2022
With more than 100 locations open or in development across the United States, Robeks continues its strategic franchise growth with single and...
Cash Required:
$100,000
Ace is #1 for convenience hardware! You pay no royalty fees. Instead, Ace pays you a year-end rebate based on your annual purchases. Enjoy the...
Cash Required:
$250,000