28 and Thriving: Hard Work and Long Hours Pay Off for Chelsea Segura
Chelsea Segura signed her first franchise agreement with The Little Gym two months before she graduated from Louisiana State University with a degree in kinesiology. At the insistence of her hard-working, entrepreneurial parents, she'd worked during high school and throughout college.
In 2010, Segura successfully launched her first business on her home turf in Lafayette, La., with her parents as partners. Five years later, she opened a second location, The Little Gym of the Northshore, in Covington, La., just above Lake Pontchartrain. In addition to expanding her business, her goal was to offer her loyal employees the opportunity to move up.
Segura, who is getting married in May, recently joined her brand's Executive Advisory Committee. She also participates in The Little Gym's charitable Big Hearts board and sits on the Reunion Committee.
She may often be the youngest seated at the table at executive meetings, but the energetic, hard-working 28-year-old with the "service heart" has no doubt that being a franchisee can be the perfect career for young entrepreneurs willing to work hard and put in the time. She's also certain that younger franchisees can bring a lot to the table, especially when it comes to leveraging social media to grow and expand the business.
"I work a lot with potential franchisees for The Little Gym, and I meet young franchisees who really have it together," she says. "They also recognize that, through franchising, they don't have to reinvent the wheel. So much has been done that makes our lives easier."
But that doesn't mean franchisees for The Little Gym can't be creative, she adds. "What I love about The Little Gym is that they have recommendations and they have guidelines. You can put your own spin on certain things, but not on others, for good reason. That trial and error is why I trust them."
Segura, who was introduced to The Little Gym when she took a part-time job there in college, says she actually fell into her perfect career. And, in an industry not always quick to use technology, she credits social media for much of her company's success.
"Social media is really fabulous for our business, especially with the reviews and referrals from clients. Instagram has been great because it allows our members to follow us and us to follow them. For example, if a parent posts about a child who made great grades, we send them a congratulatory postcard in the mail. It brings our relationships to another level," she says.
And Facebook has been a great advertising tool, she says. "We see people talking us up on Facebook, and we watch and boost the posts. You can see the results live, so it really makes us feel like our money is being well spent."
Her best advice to young people who want to own their own Little Gym is, "Go there, work there, take your kids there. The big advantage is the room to grow. It'll be sad for me when my team members move beyond our franchise, but I'm happy for them because they're getting greater opportunities."
Finding the right franchise is vitally important, says Segura, who has nothing but praise for the 40-year-old educational and fitness gym for children and parents. In college, when she met with the owner at the Baton Rouge gym about a job, she was stunned. "I couldn't believe what I was seeing. It combined all my gymnastics, cheerleading, and movement studies in one place. It was perfect for me!"
Segura says she's been lucky to have had the complete support of her parents throughout the venture and still counts on her mom to give her the occasional tough pep talk. After her wedding next month, Segura says she'll get back to work on adding a third location. For now, she's staying steady and maintaining her company's signature family environment.
Alex Bingham, COO of The Little Gym, says Segura is a young franchisee to watch. "Chelsea is one of our most passionate and driven franchisees. Her success derives from her dedication to making the lives of children and families in her community better, which aligns extremely well with The Little Gym's overall mission," he says. "We are so proud of Chelsea's growth, and look forward to her continued success in our system."
Name: Chelsea Segura
Title: Co-owner
Company: Segura's Prosperity Investments
No. of units: The Little Gym, 2
Age: 28
Family: Fiancé Tren LeBlanc; parents and business partners Ronald and Tina Segura; brother and sister-in-law Tyler and Lauren Segura
Years in franchising: 7
Years in current position: 7
Personal
First job:
Babysitting.
Formative influences/events:
Being the first person in my family to graduate from college! I am also thankful my parents made me get a job at such a young age, and then keep one throughout college.
Key accomplishments:
Being nominated to take part in The Little Gym's Big Hearts board, Reunion Committee, and being voted onto the Executive Advisory Committee most recently.
Biggest current challenge:
Getting team members to be more sales-oriented.
Next big goal:
Reaching 400 students at each location.
First turning point in your career:
Opening up The Little Gym of Lafayette. The community really accepted, loved, and supported us. (They still do!) It gave me the confidence I needed to take my business, and eventually businesses, to the next level.
Best business decision:
Opening up our second location in Covington, La.
Hardest lesson learned:
I can't do everything myself, or expect everyone to be perfect. Learning to delegate and not micro-manage really made my life much easier.
Work week:
I teach classes Monday and Tuesday mornings in Lafayette and Thursday evenings in Covington. Much of the business side of work is done at home on Wednesdays and Fridays.
Exercise/workout:
Walking 4 miles a day and taking occasional Lagree Fitness classes.
Best advice you ever got:
Hire slow, fire quick. It's important to be mindful of your team and who you bring on.
What's your passion in business?
The outcome. With The Little Gym, it's so rewarding to watch the children grow and learn and to celebrate them.
How do you balance life and work?
I think the biggest key to having a work/life balance is having a great, reliable team in place. When I am not at the gyms, I don't worry any more. I really trust and empower my team.
Guilty pleasure:
Binge watching Netflix shows.
Favorite book:
The Bible.
Favorite movie:
"The Lion King."
What do most people not know about you?
I love to go to bed early!
Pet peeve:
Bad manners.
What did you want to be when you grew up?
My own boss.
Last vacation:
Seaside, Fla.
Person I'd most like to have lunch with:
Jimmy Fallon.
Management
Business philosophy:
Love what you do.
Management method or style:
Hands-on, but I don't like to micro-manage. It's much easier to have people do things for me--something I've learned over time.
Greatest challenge:
To train and retain good people. It's disappointing to train someone, only to have them quit.
How do others describe you?
Organized, persistent, enthusiastic, and goal-oriented.
One thing I'm looking to do better:
Help my managers and employees grow in their personal lives.
How I give my team room to innovate and experiment:
If they have an idea, I love telling them to go for it! I also like to let them feel like they can't completely fail or mess things up. We all make mistakes and everything is a learning process. "What's the worst that could happen?" is something I often say, followed by "It's all good!"
How close are you to operations?
I am at each location 1 to 2 days per week.
What are the two most important things you rely on from your franchisor?
Curriculum and our point-of-sale program.
What I need from vendors:
Things to make our daily operations more efficient.
Have you changed your marketing strategy in response to the economy? How?
We put the majority of our advertising budget toward online marketing.
How is social media affecting your business?
It's really beneficial. We love the ratings, referrals, and the results from social media marketing. It also allows us to reach out to our families and potential members on a personal level outside of the gym.
How do you hire and fire?
As mentioned earlier, I hire slowly and fire quickly. You have to make sure you are bringing on dedicated team members who are passionate and willing to put in the time to grow and learn.
How do you train and retain?
The Little Gym International has training systems that are incredibly efficient. We truly appreciate and value our employees. To retain employees, we work with them to set goals and offer incentives when those goals are reached.
How do you deal with problem employees?
We have a "See it, say it, move on" motto. When there is a problem, we address it and then move on with a positive attitude.
Fastest way into my doghouse:
Not following through with something, and not being professional and considerate.
Life Under 30
How did you get into franchising at such a young age? I worked at The Little Gym of Baton Rouge throughout college at Louisiana State University, and I just knew this franchise concept was made for me. I wanted to bring it to my community at home.
Was becoming a franchise something you'd planned on? It was not. I knew I wanted to be a business owner, and I could not imagine the challenges of doing it all on my own from scratch. I am very thankful for the support and rapport that TLG provides.
Did you have a mentor or inspiration for getting into franchising? My mom has always been a small-business owner and entrepreneurial spirit. I have always admired this in her. I was lucky enough to have TLG fall into my life.
What jobs, skills, and experience have helped you operate a franchise business? I would say my outgoing personality and big heart. I'm a people person, and adore the families that walk through my gyms' doors. These traits have allowed me to grow not only in my professional life, but also in the franchise world. I want to help the families we serve, the communities in which I belong, and other franchisees in The Little Gym system.
What kinds of obstacles did you face in franchising at such a young age? Definitely a lack of experience in the business world. However, with the TLG training they were able to walk me through every step.
How would you describe your generation? I think the people of our generation have a big heart and care about the well-being of other people. I believe that we also value ourselves and the importance of a life/work balance. Our generation is all about the experience: we want to enjoy life and be successful in our careers.
Do you see franchising as a stepping stone or a career for you? Career--it was made just for me.
Bottom Line
Annual revenue:
Approx. $670,000 (both locations)
2017 goals:
$375,000 at each location.
Growth meter: How do you measure your growth?
Revenue is an obvious sign of growth. However, enrollment plays a major role as well. We like to see a 10 percent growth in revenue and enrollment each month compared with the previous year.
Vision meter: Where do you want to be in 5 years? 10 years?
I would like each location to be a 500-child, $500,000 gym within 5 years. In 10 years, I hope to step back a bit more from teaching to focus all my efforts on operations.
How is the economy in your region affecting you, your employees, your customers?
The past two years have been tough for south Louisiana. This part of the state is filled with oilfield workers, and with the oilfield being down and many people jobless, we have seen a rather large drop in enrollment, especially at our Lafayette location. Covington is experiencing a similar economy, though not as severe.
Are you experiencing economic growth in your market?
We started out 2017 very strong and are ahead at both locations compared with last year. People around here seem to be hopeful that the economy is on its way back up.
How do changes in the economy affect the way you do business?
We are much more conservative than we have ever been. We cut back on some small things like offering free t-shirts and providing balloons at birthday parties. We use less-expensive options for party goods. We also had to discount the program for a certain period of time, which is not something we do too often.
How do you forecast for your business?
We shoot to grow 10 percent each month and each year, looking at enrollment and revenue.
Experience with private equity, local banks, national banks, other institutions? Why/why not?
We are from a small town and started with our local bank, which ended up being purchased by a national bank. The technology upgrade through that acquisition has been great.
What are you doing to take care of your employees?
We like to provide bonus opportunities each month by setting and achieving goals. We often cook for our team and provide team outings to let loose and bond. We create an inclusive family environment. It's something that we are very proud of.
How are you handling rising employee costs (payroll, minimum wage, healthcare, etc.)?
We've always been super-conservative, but we continue to cut back in little ways. Keeping good employees is a blessing, but it also means they need raises every year. We have to make that a priority because we want to keep them for as long as we can.
How do you reward/recognize top-performing employees?
During key enrollment periods we have competitions and cash prize incentives. We try to do things year-round that let our staff know how much we appreciate them. We do gumbo for the annual Christmas party, and every May we have a crawfish boil where everyone gets a certificate of service and a personalized memento to make them feel special.
What kind of exit strategy do you have in place?
I'm too young to think much about it at this point!
Published: July 6th, 2017
Share this Feature
Recommended Reading:
Comments:
comments powered by

Disqus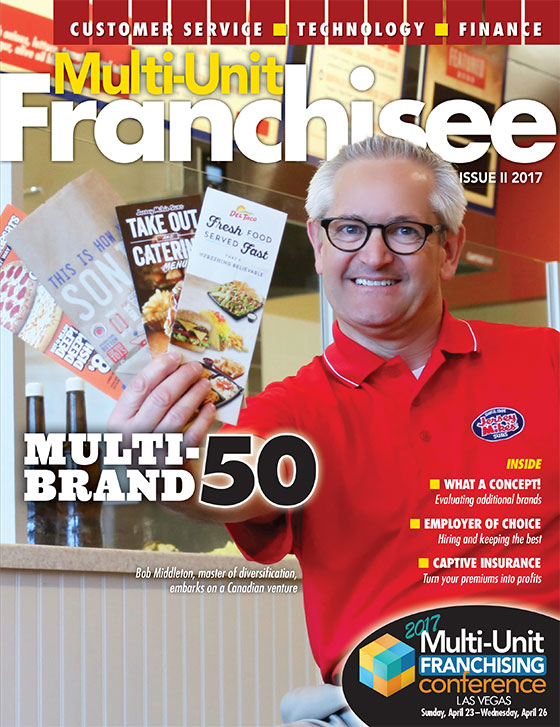 Multi-Unit Franchisee Magazine: Issue 2, 2017
Make your mark on the billion-dollar esports industry while making a positive impact as a franchise owner!
Cash Required:
$50,000
MOOYAH Burgers, Fries & Shakes (MOOYAH) is a fast-casual concept committed to providing the best-tasting burger experience possible by specializing...
Cash Required:
$500,000