A Culture of Giving: The Saxton Group is Committed to its Communities
When an EF4 tornado ripped through the northeastern Dallas suburb of Rowlett the day after Christmas last year, the people at a McAlister's Deli a mile away knew just what to do.
"Our manager was feeding first responders free, handing out food to anyone who needed it," says Adam Saxton, chief business officer at The Saxton Group. "He knew it was the right thing to do and that the company would support that decision without question. You can't do that if your people don't know your culture."
Employees of The Saxton Group, the country's largest McAlister's Deli franchisee, are card-carrying members of the company's culture--literally. Every employee receives a business-sized laminated card that outlines the franchisee organization's vision, mission, and values--with a special emphasis on contributing to the communities where they operate.
"We call them culture cards," says Saxton, who co-owns the Dallas-based company with his father Kelly Sexton, founder and CEO, and younger brother Matt, chief operating officer. Saxton, who has been with the company for 13 years, says it's really been a lot longer than that. "Since this is a family business, I feel like I have been in it all my life. I was never that kid in school who didn't know what his father did at work. We talked restaurants at home as long as I can remember."
The Saxton Group, which operates 67 McAlister's Deli restaurants with 10 more in the pipeline, was honored with the MVP Award for Community Involvement Leadership for their thoughtful approach in giving back in ways big and small, and serving as a role model not only for the brand but for franchising itself.
As chief business officer, Saxton focuses on growth, development, new business opportunities, marketing, and legal issues. In other words, he says, "all the things that happen outside of a restaurant that it takes to make a company of our size grow and thrive."
Saxton says community giving is a very important element of how he leads. All the company's charitable efforts are designed to keep the money local, even when it goes to national charities. For example, company hosts fundraisers every single week in all of its locations. In 2015, these hyper-local fundraisers raised more than $90,000 for small, local organizations.
With The Saxton Group planning to top the 100-store mark in the next few years, Saxton expects to seek bigger ways to give as the company grows--while never taking his eyes off the customers they serve.
"It's really the cornerstone of who we are. One customer at a time, one community at a time, one successful restaurant at a time. That's how we built our business," he says. "The restaurant business is a relationship business, and we want to know our customers and understand the needs of the places they live."
Name: Adam Saxton
Title: Chief business officer, co-owner
No. of units: McAlister's Deli, 67
Age: 34
Family: Wife Sarah, 2-year old twin boys, Patrick and Harry
Years in franchising: 13
Years in current position: 2 (previously vice president)
Personal
Formative influences/events:
I grew up in the restaurant franchising business. I remember once, when I was 12, eating at one of our pizza restaurants--it had a salad bar. At the table, my parents were discussing the fact that the salad bar really needed cleaning and that my Dad would need to talk with the manager about how to make that an area of focus. Well, my 12-year-old self thought I could take action right away. I went up to a young team member and told her in my sternest pre-teen voice that the salad bar was unacceptable. My parents were mortified. The team member was confused and embarrassed--after all, who was this kid? I think I learned pretty quickly that how you treat your people matters. I've thought of that often as we try to build a people-first culture.
Key accomplishments:
Just recently I was proud to help lead our team to open four restaurants in four weeks, back-to-back, in four different states. That was a record-opening cadence for both The Saxton Group and the McAlister's brand. Growth and opportunity are key values in our company, and it was such an accomplishment to bring those values to life in a really tangible way.
Work week:
I work all the time, but I have a lot of flexibility too. That's being a part of the modern, connected workforce! I've always been an early riser so I do some of my best work very early in the morning. I travel frequently, visiting new markets and finding ways to grow our brand.
What are you reading?
I read the New York Times, Wall Street Journal, and parts of The Financial Times every day, and because I'm a Millennial I read them on my phone. I started that habit about a year ago and felt that was the best combination of news to give me a wider perspective. I keep up with restaurant industry news by following trade blogs and love seeing what articles others in our industry are sharing on LinkedIn.
Best advice you ever got:
A high school teacher of mine--and I don't know why he even did this--encouraged me to look at colleges in Texas and move to Texas after I graduated from my high school in a small town in Mississippi. That's what led me to SMU. Moving myself to Texas--and eventually our business and family to the state--opened up a world of opportunity and success for The Saxton Group. I'm a firm believer in that saying, "I wasn't born in Texas, but I got here as soon as I could!" It's an amazing place to live, work, and grow a company and I'm forever grateful for the advice that brought me to Dallas.
What's your passion in business?
Growth! I am most gratified when we bring the brand to a new market that has never experienced McAlister's before. When done properly, growth fuels opportunity for advancement for our people, creates new jobs, provides our shareholders with fantastic returns, and gives our company something to rally around. Really, nothing is more exciting than opening a new restaurant.
Management
Business philosophy:
Really happy customers will solve at least 90 percent of any business challenge.
Management method or style:
You have to give people room to let their talent shine, but with balance. Too much oversight will stifle the individual drive to succeed inside of top performers, but too little will leave them feeling neglected and on an island. I try to give people plenty of rope, but also an anchor.
Greatest challenge:
People.
How do others describe you?
I hope that people believe I have genuine passion for the McAlister's brand, its inherent strength, and its huge runway of opportunity.
How do you hire and fire, train, and retain?
We are looking for people who first and foremost are passionate about service--and not just our restaurant staff. When I hire for the corporate office, I want that person to provide world-class customer service and support to our restaurants. I believe service can be trained, but only to a degree. There is a natural inclination in everyone to either serve or not, to put the needs of others above themselves, or not; and if you have those qualities you will stand out at The Saxton Group. We can train job skills, but we can't teach you how to have a genuine smile, anticipate needs, or care about your customers and your co-workers.
Bottom Line
Annual revenue:
$140 million.
2016 goals:
9 new McAlister's Deli locations.
Growth meter: How do you measure your growth?
40-plus additional McAlister's Deli locations in the next few years. We talk a lot about the 1.2.3. plan. For us, that means 100-plus McAlister's locations, $200 million-plus in revenue, in about a 3-year time horizon. I like to put big goals in front of our teams that all levels of the organization can engage in to help make happen.
Vision meter: Where do you want to be in 5 years? 10 years?
See above.
What are you doing to take care of your employees?
We provide a competitive and comprehensive benefit package, but what keeps our employees around is our culture. We treat people well. Happy employees make for happy customers. Our employees are our first customers. We are growing and provide a ton of opportunity for advancement. In fact, the majority of the senior directors and vice presidents started as hourly employees in the restaurants.
What kind of exit strategy do you have in place?
I believe that if you build a business with really strong fundamentals--consistent sales growth, strong profitability, proven ability to open and grow, and a culture in place to continue to do all of that in the future--then the opportunity to make an exit will always be there. Strong businesses attract buyers.
Community Involvement Leadership Award
Why do you think you were recognized with this award?
We have found ways to give back to the community both big and small, and I think that is why we were recognized. We have a comprehensive approach that covers everything from small, local fundraisers to big, company-wide charity programs. However, I think the most important thing is that we empower our employees and managers to take action on their own. If they see a need in their community, they have the ability to step up and do their part to help.
How have you raised the bar in your own company?
We have always believed in building a culture that is separate from the brand we operate. Often, restaurant franchisees can get lost in the culture of the brand they franchise, when ultimately you don't own that brand. We own The Saxton Group brand and want our people to think of us as their employer first. By creating a culture of excellence we are able to turn that to any brand we may be operating.
What core values do you think helped you win this award?
We believe in giving back to the communities in which we operate. In addition to the economic impact we have in our local communities through operations, we also give back with our time, talent, and treasure. Every single employee carries a card in their pocket that says this, because community is part of who we are.
How important is community involvement to you and your company?
I believe the success or failure of a business depends on the community's support of that business, and you can't ask for support if you aren't also willing to give it. I also believe that for anyone interested in community involvement or philanthropy that the first dollar you give should always be local; start at home before looking elsewhere. There are great needs in every town. Two recent examples: 1) Our McAlister Deli's locations sold pink sugar cookies last October as part of Cookies for a Cause, with a portion of the proceeds split among 13 local Susan G. Komen affiliates. In 31 days, 63 stores sold 36,105 treats, resulting in a donation of $18,052.50. The project was incredibly successful, highlighting just how powerful cause marketing can be. 2) In December, I helped lead an iniative for first responders and emergency personnel, less than 24 hours after an EF4 tornado touched down in Rowlett, Texas, about a mile from one of our stores. Those involved with disaster relief were encouraged to come into our Rowlett store to rest and were served a free meal. The social response was electrifying and quickly went viral. The opportunity to provide meals for first responders helped re-establish and strengthen the relationship we already had with the Rowlett community.
Published: August 29th, 2016
Share this Feature
Recommended Reading:
Comments:
comments powered by

Disqus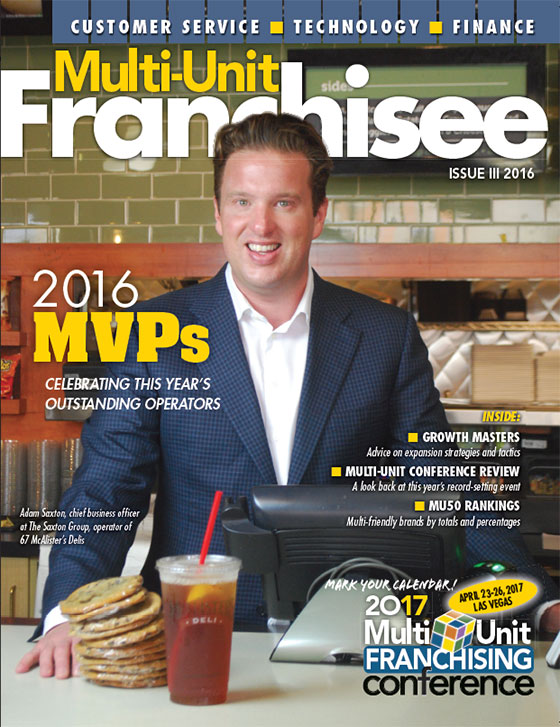 Multi-Unit Franchisee Magazine: Issue 3, 2016
Build a Future with the Computer Service Industry Pioneers. NerdsToGo is paving the way as innovators, entrepreneurs, franchisees, and successful...
Cash Required:
$70,000
There's nothing quite like the perfect cup of coffee. It wakes you up and gets you on the right path. Now, you've got the chance to build a lifestyle...
Cash Required:
$150,000