A Winning Combination: Veronica and Tyler Jordan Pair Up for Success
Veronica Jordan was determined to trade in her 9-to-5 desk job for something more creative and profitable. In 2012, after searching for 3 years, she came across a Facebook ad that inspired her to unleash her inner entrepreneur.
"I was so determined to find something else. When I saw the ad for Wine & Design, I told Tyler, 'This is it. We're going to do this,'" she says.
Now with three studios, 15 employees, and top sales bragging rights for the franchise nationwide for the past two years, Veronica and her husband Tyler have found a winning combination in Wine & Design, a paint-and-sip franchise with 70 locations. For $35, patrons take a two-hour class and learn how to paint a predetermined masterpiece. Wine is sold for $5 a glass or $16 a bottle.
"This community is so hungry for things to do that are new and different," she says, and chalks up a lot of their success to "location, location, location."
Their first studio is located in Leonardtown in St. Mary's County, Md., near the Patuxent River Naval Air Station, about 45 minutes south of Washington, D.C. Tyler says being near a military base provides a stable economy and a strong customer base of young working families, defense contractors, and civil servants with disposable income.
"Our customers are age 35 to 50 working professionals looking for a night out or a fun place to have a kid's birthday party," he says.
The Jordans say they were attracted by the brand's nontraditional approach to franchising, which allowed them to start with a low-cost investment as an "on wheels" operation for six months. As young, inexperienced entrepreneurs, the couple had a hard time finding capital and decided to self-fund the $15,000 for the franchise fee and materials for their launch.
"We had bought some land and were going to convert an old tobacco barn into a studio, but we got a call from the former mayor of Leonardtown, and he wanted us to open a studio in their town," says Tyler.
By the time the couple opened their first studio, they'd built such a huge following that they were able to open another studio in Annapolis in October 2015, then another in Calvert County in May 2016.
A key to their success is selecting artists who deliver a first-rate experience. "If someone has a bad time, they will tell 10 people. If they have a good time, they might tell one. We have to go above and beyond to make sure they have a good night," says Tyler.
While Veronica doesn't see herself returning to a 9-to-5 job and Tyler is keeping his for now, the couple is looking forward to learning how to better enjoy the fruits of their labor and striking a better work-life balance.
"We aspire to other local business endeavors, but with Wine & Design full-time for Veronica and two young children, we simply do not have the bandwidth to take on some of these aspirations," says Tyler. "We have talked about becoming less involved by adding a general manager to oversee the three locations, or eventually selling."
Name: veronica jordan, tyler jordan
Title: Multi-studio owners
Company: wine & design
No. of units: 3
Age: 27 (both)
Family: Married with 2 children
Years in franchising: 4
Years in current position: 4
Personal
First job:
We both started working in high school, where we met. Veronica worked part-time for a small insurance company as an office assistant and Tyler worked for his family business, which also happened to be a franchise.
Formative influences/events:
The largest influence on both our lives was becoming parents. That defining accomplishment caused a drive and focus on providing the best future possible for our children and our family's future generations.
Key accomplishments:
2014 and 2015 top franchise sales for our St. Mary's County location.
Biggest current challenge:
Managing three locations is quite challenging, especially when Veronica is so involved with the day-to-day operations and customer interfacing for all three studios.
Next big goal:
To open a new events-style business in our hometown in St. Mary's County.
First turning point in your career:
For Veronica, making the jump from a 9-to-5 financial analyst position to being a small-business owner. Tyler was the opposite, leaving his family business to start working in skilled IT positions.
Best business decision:
Opening our first studio in Leonardtown, Md. When we started, we operated totally on wheels, traveling to bars, restaurants, and homes. Having a physical location in an up-and-coming town allowed us to become the top-producing franchise in the country.
Hardest lesson learned:
We feel like we are continually learning hard lessons. The constant lesson that personifies our lives, both personally and in business, is having a backup/alternative strategy. Life can be random and sometimes unfair, and not keeping an open mind to unplanned change and an inability to adapt goals will likely lead toward failure and discontent.
Work week:
Tyler still works a 9-to-5 job with a defense contractor. Veronica's work week generally is 24/7, though she tries to take time off some weekends and most Mondays.
Exercise/workout:
Does chasing kids and opening wine bottles count?
Best advice you ever got:
I think something that has stuck with us and should be enforced in today's youth is to aspire to careers that suit what you are talented in, and to hone the skills required to succeed on that path. It can be very easy to chase a dream or career that you love the idea of, but lack any talent in. Modify your dreams to fit your strengths.
What's your passion in business?
To ensure that the product is always of the highest quality and that customers are so thrilled with the experience that they decide to come again with a friend.
How do you balance life and work?
It can be extremely difficult at times. We often would stay on our work computers until past 1 a.m., to the point where we were so consumed with maximizing growth and revenue that it began stressing our relationship. We both have decided to make a greater effort to spend more time together (non-work related), with our children, and with friends, and focusing less on having absolute control over every situation.
Guilty pleasure:
We both binge watch "Game of Thrones," "Stranger Things," and now "Westworld."
Favorite book:
Tyler's favorite book, The Hobbit by J.R.R. Tolkien, is one he read countless times in his childhood/young adulthood. Veronica's is Big Magic by Elizabeth Gilbert.
Favorite movie:
Tyler's favorite is "The Godfather." Veronica's is "Mamma Mia!"
What do most people not know about you?
With social media and our outgoing personalities, most people know mostly everything about us. We both tend to be very transparent.
Pet peeve:
Tyler absolutely hates when people leave a shopping cart in the middle of the parking lot. Veronica's pet peeve is being asked what her pet peeves are (because she couldn't think of one!).
What did you want to be when you grew up?
Tyler wanted to be a video game developer, Veronica a wedding planner.
Last vacation:
February 2016 to visit Tyler's younger brother in Los Angeles.
Person I'd most like to have lunch with:
Tyler would like to have lunch with Nick Offerman to discuss carpentry and Ron Swanson (his fictitious character for "Parks & Recreation") to see if they could eat all of the eggs and bacon. Veronica would like to have lunch with Ash Ambirge from the Middle Finger Project (a creative woman-oriented small-business support/empowerment blog).
Management
Business philosophy:
We think small-business owners find themselves in a niche where community interaction and involvement are of the utmost importance. Giving back to community groups and providing for worthy local and national nonprofits provides us with a sense of purpose and often rewards us with loyal customers later.
Management method or style:
We both believe that you should lead by example, meaning ensuring that staff sees you are willing to put forth the effort to succeed daily. We also strive to make ourselves approachable and available to handle concerns or crises on a personal basis.
Greatest challenge:
We have a large group of creative professionals who work at our three studios (many as subcontracted artists). Managing customer demand with availability of our staff can be difficult. Also, balancing the mindsets of business owners and creative artists can sometimes be a challenge.
How do others describe you?
Veronica is fun, resourceful, hard-working, outgoing, and a little bubbly. Tyler is passionate, confident, relatable, loyal, and a touch nerdy.
One thing I'm looking to do better:
Time management. There never seem to be enough hours in a day. We have been getting better at delegating tasks and duties to others, but we are always looking to improve.
How I give my team room to innovate and experiment:
Our business model thrives on creativity, so we often allow our staff to generate new concepts and class models to provide for our customers.
How close are you to operations?
Veronica is directly involved with day-to-day operations with the customer. Tyler offers support with simplifying business processes, IT, and navigating state and local law with business expansion.
What are the two most important things you rely on from your franchisor?
Branding and suppliers/vendors.
What I need from vendors:
Art materials (canvas, easels, paint) and studio furniture.
Have you changed your marketing strategy in response to the economy? How?
We have not changed our strategy. Traditional media has not done as well for our localized business. Customers typically live within 10 miles of the studio. Small dollars spent on ensuring social media impressions on existing and potential customers is always money well spent. Customers love seeing pictures of class and typically share with friends how great the experience was!
How is social media affecting your business?
Social media has been vital to the growth and exposure of our business. We have to stay active on Facebook and Instagram to ensure that we interact with and inform our customer base.
How do you hire and fire?
Our staff is made up entirely of creative people who not only can create amazing works of art, but who also can teach others how to create their own masterpieces.
How do you train and retain?
We have senior-level artists who can inform new or unsure artists with the steps, approaches, and methods to complete any piece. Keeping our artists in communication with each other creates a social atmosphere where they can support and push one another.
How do you deal with problem employees?
It's few and far between, but we both try to have an honest and open discussion with our staff to give them the opportunity to fix/adjust the problem. If the problem continues, we will hold a person-to-person meeting again to inform and reinforce why they are being terminated.
Fastest way into my doghouse:
Dishonesty.
Life Under 30
How did you get into franchising at such a young age?
Veronica discovered the business model through social media and brought it to Tyler's attention. She felt it would be a smashing success in their hometown, and though Tyler had early reservations, he soon found out that Veronica was right.
Was becoming a franchise something you'd planned on?
No, it happened very fast.
Did you have a mentor or inspiration for getting into franchising?
Not particularly. Tyler's family had two decades of success with a hardware store franchise model so we had seen franchising work.
What jobs, skills, and experience have helped you operate a franchise business?
Veronica had held several detail-oriented positions in defense contracting finance. These positions, combined with her event planning and community outreach efforts with organizations like Hospice, created a mindset/skillset needed to become a successful small-business owner.
What obstacles did you face in franchising at such a young age?
We started this journey at 23, and many people did not take us seriously. It was difficult at times navigating relationships with local officials, banks, etc.
How would you describe your generation?
Goal-oriented. The Millennial generation does not share the clock-watching mentality of previous generations. Our generation does best when they are provided with tangible and measurable goals in the workplace that they can complete, rather than ensuring eight clocked hours are worked daily.
Do you see franchising as a stepping stone or a career for you?
Yes. We aspire to open another, non-franchised community-based business in the near future.
Bottom Line
Annual revenue:
$600,000.
2017 goals:
To boost our newest studio's revenue by 20 percent by grassroots marketing and heavily promoting our divisions. Growth meter: How do you measure your growth? We have experienced physical growth, opening two more studios in the past year. But we also measure growth tangibly in overall revenue.
Vision meter: Where do you want to be in 5 years? 10 years?
Debt-free would be a great start! We could see ourselves opening another studio, but we also want to place focus on opening a community-based business we feel would be in demand.
How is the economy in your region affecting you, your employees, your customers?
We are quite fortunate to live in an area that has had a very stable economy because of a nearby military base (Patuxent River Naval Air Station) and its proximity to Washington, D.C.
Are you experiencing economic growth in your market?
The area our primary studio, in St. Mary's County, has had stable growth over the last two decades because it's a headquarters for Naval Air. Our Calvert studio, in North Beach, Md., is in an area that is trending up as well.
How do changes in the economy affect the way you do business?
We have been extremely fortunate to have locations in areas with stable economies. We are busiest in late fall to early spring and slower in the summer.
What are the best sources for capital expansion?
We have had terrific success with payment processing-based capital loans (PayPal and Square). The awards are quick and the fees are minimal.
Experience with private equity, local banks, national banks, other institutions? Why/why not?
When we started, we did have trouble with both local banks and national banks, so we started entirely self-funded. During our second studio opening, after being established for 2 years, we had great success with a small local bank.
What are you doing to take care of your employees?
We offer a unique job type that is not only creative, but also flexible in schedule. Most our instructors are subcontracted part-time, as many are working professionals during the day. Teachers are a large portion of our instructor staff.
How are you handling rising employee costs (payroll, minimum wage, healthcare, etc.)?
This has been one of the hardest adaptations with opening multiple locations. As we have grown, the need for more staff has increased, obviously resulting in higher employee costs. We have had to re-evaluate how we are spending and distributing hours among our studios to find balance between what would be ideal to make the locations perfect and what is financially feasible.
How do you reward/recognize top-performing employees?
We often run incentives/bonuses for artists who effectively promote our products and who create "sell-out" works of art for future classes.
What kind of exit strategy do you have in place?
We are still figuring this out!
Published: March 27th, 2017
Share this Feature
Recommended Reading:
Comments:
comments powered by

Disqus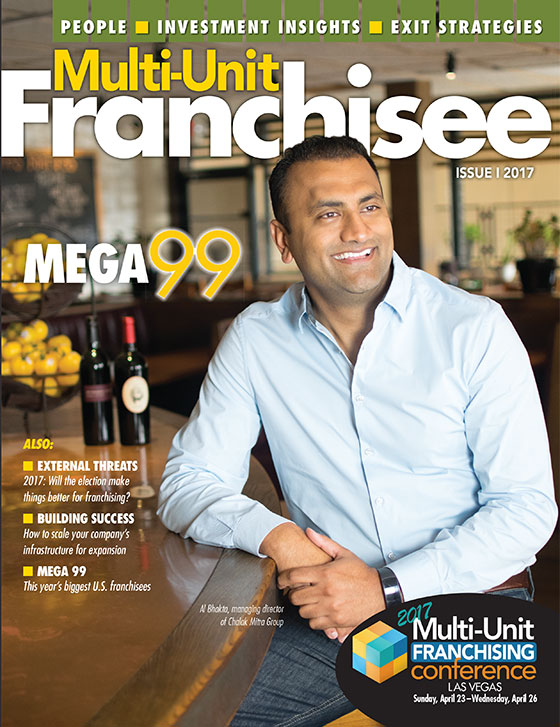 Multi-Unit Franchisee Magazine: Issue 1, 2017
Get A Piece Of The Booming Cannabis Market Without Headaches.
Cash Required:
$1,000,000
If you are looking for a business that is meaningful and fulfilling, you should take a closer look at Bruster's® Real Ice Cream Franchise!
Cash Required:
$125,000