Adding a New Brand: 6 franchisees tell how they did it
For some franchisees, it was simply more practical. Others were looking at their family's future. Still others were following the business world's version of avoiding placing all their eggs in one basket. Motivations aside, the process of branching out from focusing on a single franchise brand to operating another or more requires a sensible, well-considered process. Here are the stories of single-unit operators who have successfully added a new brand… or two.
Jeff Burroughs was quite happy with the 29 Sport Clips salons he, along with his wife Robyn Hanson and their son, had acquired in Maryland and two other states over the past few years. By 2019, however, he was paying more attention to something else. "'What's your exit plan?' is always in the back of your mind," he says—even as his wife was holding firm to a "Why would we do anything else?" approach.
This meant Burroughs would need to find a second brand that would, ideally, complement his Sport Clips salons and provide cross-marketing opportunities. For Burroughs, with his son in mind as part of the company's long-term future, it meant finding a brand that was family-friendly, fun, and involved in the communities where it operates. And it would have to be a brand, like Sport Clips, where the quality of the experience was paramount.
Territorial imperatives
Like Burroughs, Olon Hyde was satisfied with the growth of his Office Pride Commercial Cleaning Services franchises in Florida. However, as vice president of operations, he was coming up against a common problem among franchisees seeking to grow. There are only so many locations of a single brand one can open in a territory before cannibalizing sales and profitability. Expansion outside one's territory requires travel to those new locations—which not only takes time away from family, he says, but also can make it harder to manage and maintain quality in your current operations. For Hyde, adding a second brand to the same territory made practical sense given his priorities. "We didn't want to have to continue stretching," he says. "We wanted to grow where we live and work."
Territory also was a key factor in Craig LeMieux's decision to start branching out with a second brand. He and his wife Dianne joined Tropical Smoothie Cafe in 2004 and have built territories in Michigan, Colorado, and Northern Ohio. "Tropical Smoothie Cafe had sold all available locations in Michigan, which is the market we wanted to expand in the most," he says. Also, he adds, "We wanted to get involved in non-food brands."
More investment baskets
Two longtime Texas franchisees, Justin Sharbutt and Austin Hester, were thinking early on about diversifying as a good business move. "From the beginning, we were in the restaurant business, but we knew we did not want to have all of our eggs in one basket," says Sharbutt. And Hester was thinking about the phenomenon of brand weariness and hoping to find a second brand as a hedge against it.
Once they decided to find a second brand, the next question was where to find one that would work alongside their first brand, existing infrastructure, and personal and business goals.
Franchisee Christopher Klebba, founder and president of Northern Diamond Management, was looking for a brand that, he says, "would match our passions and align with how we run our companies." He turned to a reliable source.
"One of the things I'm most grateful for in business is my network. We stay very close to fellow friends and leaders in the spaces we are in. It is so valuable to have a robust group of like-minded entrepreneurs who look at and vet potential businesses similarly to how we do. People make the brands we are in; it all comes down to alignment. Knowing the quality of folks entering and working in a brand is a massive factor."
Hyde also turned to his franchise business network, understanding that his criteria for that second brand might make the search more of a challenge. "Having been in franchising already and understanding the value in it, we naturally began our search in that network," he says. "We knew it had to be something where we could be absentee or semi-absentee to make sure our current successful business didn't suffer. We also looked for existing businesses that might be for sale in our area."
Gatherings of franchisees at conferences proved highly effective for LeMieux and Sharbutt. LeMieux made good use of his time at one of Franchise Update's Multi-Unit Franchising Conferences in Las Vegas by connecting and sharing his goals with other franchisees in attendance. Sharbutt was headed to a convention and happened to pick up a copy of the latest <Entrepreneur> magazine. "There it was: Tide Dry Cleaners was now franchising. We made the call and got the ball rolling immediately," he says. Someone he knew made another connection for him. "One of our friends met and became friends with the owner of a BurgerFi at the time. We all went and tried his restaurant in West Palm Beach and were hooked from there."
Choose carefully
When it comes to evaluating available options, franchisees must be meticulous and thorough to improve their odds of succeeding with a new brand. "The first criteria we had was that it couldn't require us to be involved full-time in the business for it to be successful," says Hyde. "We could be more involved on the front end to get it open, but it would need to be able to run without our daily attention within 6 months of opening." Hyde and his team also looked at opportunities likely to have a more stable employee base.
Last, he says, "We looked deeply into the financial sustainability of the opportunities—meaning how quickly they would reach profitability, and how quickly they could be scaled through additional locations or territories."
Klebba wanted to reinforce what he already had with something similar. "We analyze every detail available to us, but the most important decision points are those around culture, alignment, and the quality of the teams behind the brand and working in the brand," he says. "You have to be in lockstep in your views of where the business stands today and your vision of where the brand needs to grow and what that looks like into the future. A history of team-building in the corporate office, robust communication networks in every direction, and ability to scale are also extremely important to us."
Hester knew he had to consider other elements. "Parking was a critical piece," he says, "and whether a site would draw the same type of consumer." His first purchase was a shopping center. Then came a hotel with a restaurant on-site. Those two purchases expanded his partnerships into an area he'd wanted to go.
At some point, however, the choice may be as much about emotions as anything else. A brand must have the right unit economics and be profitable and scalable, but, says LeMieux, "You need to love your brands." And, adds Sharbutt, "believe in them."
Lessons learned
After going through the process once, franchisees learned lessons they could apply the second (or third) time through. "Having a lot of clarity on exactly what we wanted in the next brand opportunity made the search much easier," says Hyde. "However, we are moving from a service-based brand to a brick-and-mortar brand and didn't understand the challenge that site selection can be. There are so many great locations, but getting it across the finish line to break ground is a grueling process."
Sharbutt advises a slightly different go-slow technique. "Once you have one model store you are happy with, open the following two stores to ensure that you can handle being a multi-unit operator and that you have the infrastructure for growth," he says. "Make sure the first store is what you want before opening the next one."
Klebba is pragmatic about the next brand—and the next and the next. "The power and importance of alignment has only become more and more relevant," he says. "We are going to have difficulty at some point, be it internal, external, environmental, etc. It's a matter of finding the team of people you want to fight with."
LeMieux, who owns units of four different franchise brands and has invested in three others, has learned that "not all franchise concepts know who they are or where they should and should not grow. Not all brands work in every market."
As he has diversified his holdings, Hester has had to learn to trust and delegate. "I can't be everywhere every day, so I'm learning to be involved at a different level." He hasn't changed his basic ideas about how to do business, however. He still believes in being very cautious about pulling out large amounts of cash.
And what of Burroughs and his plan to add a second brand to the family's 29 Sport Clips? He's still happy with his first brand—and just as much with his new brand, Rita's Italian Ice. "It's the type of brand where you can make an impact in the community. It's a brand that's all about the community. My goal is to own all the Rita's in Southern Maryland, and if I find another brand that I think is good for the community and we can make a difference with, then I am willing to make a difference."
Published: January 14th, 2022
Share this Feature
Recommended Reading:
Comments:
comments powered by

Disqus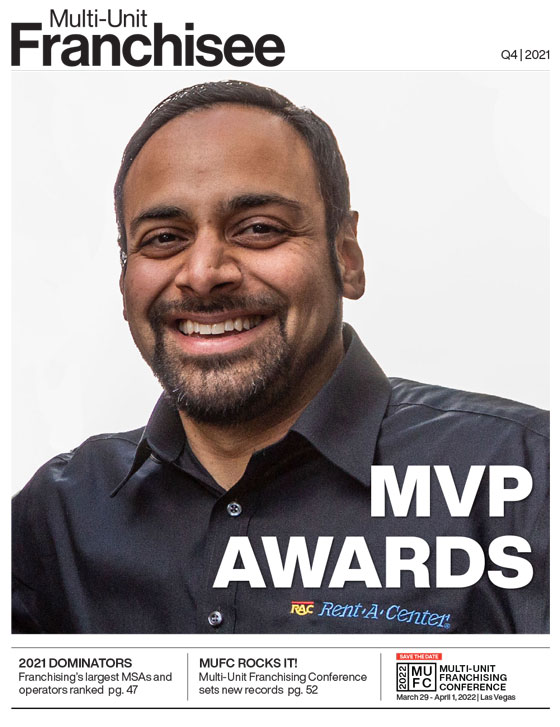 Multi-Unit Franchisee Magazine: Issue 4, 2021
Since 1962, customers have trusted Big O Tires for all their tire and automotive service needs. Today, we have over 465 locations across the country,...
Cash Required:
$50,000
Unlock success with Payroll Vault! A proven franchise offering top-tier software-based payroll & HR services. Your opportunity to lead in the...
Cash Required:
$100,000