It's a Job Candidate's Market: 4 factors driving labor shortages and how to address them
The restaurant industry has been on an erratic ride over the past 18 months—and we've been acclimating to each new high and low in real time. We're presently confronting our greatest test to date: the labor shortage and retention crisis.
The Bureau of Labor Statistics recently reported that job openings increased by 749,000 to 10.9 million at the end of July, the fifth consecutive month job openings hit a record high. The largest increases included health care and social assistance and accommodation and food services. There are approximately 70% more job vacancies now than pre-pandemic across all industries and 10% fewer people looking for work—the greatest gap in recorded history.
Adding to the issue, turnover rates have spiked and voluntary quits are at an all-time high—leaving restaurants scrambling to retain the staff they do have. Hourly turnover in restaurants has risen above pre-pandemic levels.
To put it simply, it's a job candidate's market and many are rethinking when, how, and where they want to work. Here are four factors driving the restaurant labor shortage along with advice on how to address each issue and stay competitive.
1) Wages and benefits. For the first time in decades, the U.S. hourly worker has the upper hand in compensation conversations. In response, many restaurants are offering better compensation packages and unique incentives to attract employees. BlackBox Workforce Intelligence data reported that in Q2 2021, limited-service hourly wages increased by 10% year over year, the highest increase the industry has seen in years (increase in Q1 was 4.1%). Another example: line cooks in full-service restaurants saw a 6% increase in Q2, almost 3% higher than the increase they saw in Q1. Large employers like Target pledged to pay 100% of tuition and textbook costs for more than 340,000 employees, and CVS announced an increase in hourly wages and elimination of education requirements.
How to address it. As the employer, your primary job right now is to empower your workers from the start. Consider the five most important things restaurant workers are looking for: 1) starting wage (87% of respondents would rather have a set liveable wage than rely on tips), 2) promotion opportunities, 3) flexible schedules, 4) health benefits and paid time-off policies, and 5) company culture/work environment. Be sure to advertise any of the hiring incentives and benefits or perks your business offers loud and clear in job postings and on OOH media and street signage.
2) Childcare. Many daycares are short-staffed, and hourly restaurant workers with children are unable to rejoin the workforce because of a lack of childcare options. The caregiving crisis is affecting restaurant operations and companies' bottom lines.
According to Snagajob data, 35% of current hourly workers and job seekers are parents, and 18% of unemployed hourly workers had to leave their job to take care of family or children. In the second half of April, a U.S. Census survey found that nearly 1 million households had at least one adult who could not look for work because they needed to look after their children. Restaurant workers with children often rely on affordable childcare options like daycares, which are limited because of the pandemic.
How to address it. Within your job description, highlight any flexibility you offer that would be helpful to working parents. Talk to your staff and find ways to support them if they are struggling to juggle childcare responsibilities and work. It may be as simple as adjusting their hours.
3) Opportunities in other industries. When restaurants closed in the early days of the pandemic, many workers turned to other sectors that were thriving, such as warehousing and logistics. Many workers cited higher pay and the need for consistent schedules and incomes. More than half (51%) cited higher pay or the need for consistent schedules and income as their top reason for switching industries.
How to address it. Focus on retention. Build a culture that workers want to be part of and that meets their needs so they will stay. Foster a sense of community and encourage open communication with your staff before it's too late. If there are things being offered by other employers that have them looking, maybe you can offer them to your team too.
4) Concerns about mental and physical health. Employees are dealing with everything from working overtime and dealing with the stresses of living and working through a pandemic to having to take on additional responsibilities at home and at work. These past 18 months haven't been easy; now, more than ever, people are prioritizing their mental health.
How to address it. If you are asking workers to enforce mask or vaccine mandates, provide support and ensure they are comfortable with taking on this additional responsibility at work. Create an open dialogue between staff and managers to get ahead of any potential issues that could hurt retention.
Conclusion
With all of this in mind, it's important to implement changes to attract and retain dependable workers. By addressing the issues head-on, you can effect real change to increase your bottom line, boost customer service, and create a more rewarding workplace.
Mathieu Stevenson is CEO of Snagajob, the country's largest platform for hourly work, with 100 million registered job seekers and job opportunities at 700,000 employer locations in the U.S. and Canada.
Published: December 3rd, 2021
Share this Feature
Recommended Reading:
Comments:
comments powered by

Disqus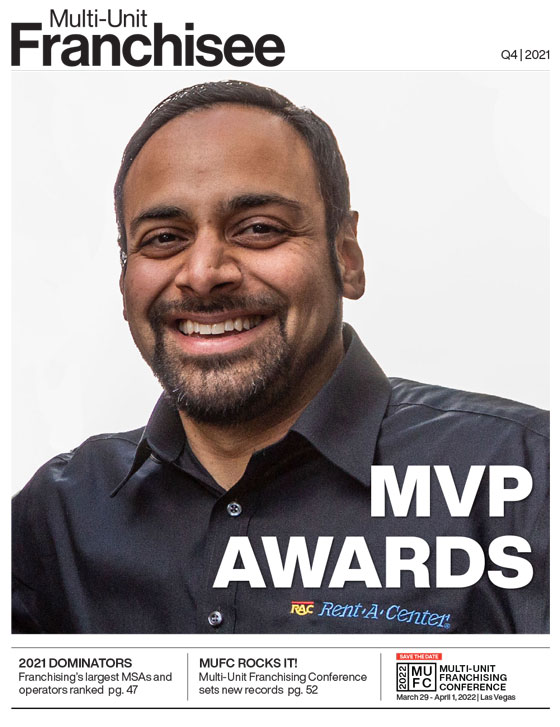 Multi-Unit Franchisee Magazine: Issue 4, 2021
Checkers Drive-In restaurant franchises are small but efficient making our restaurants easy to operate and typically reduced overhead costs.
Cash Required:
$250,000
Cicis is an iconic, modernized restaurant that pushes the limits of the regular family dining experience. With unlimited opportunities for revenue,...
Cash Required:
$250,000