At its best, news is a participatory activity
I remember the first budget I ever did for a business - for a newsroom where the previous year's budget had been about $3 million (and 30 years ago, that was some real money). The boss just handed the spreadsheets to me and said, "We need this in a couple of days."

Since I was new to everything about business, I didn't know (hard to believe) that people usually just took the previous year, added 3 percent to everything and had done with it. So I agonized over every item, talked to people, and got a lot of funny looks. I even remember puzzling over how many pencils to budget.

Before you laugh too much, I have to tell you that our newsroom was pre-computer. Editing in those days was done with very soft, very fat pencils on very soft paper. We cut stories apart, glued them back together (another budget item), and put them on conveyer belts down to the composing room. Sometimes the glue would stick the paper to the belt and it would come back up again, causing a variety of remarks (most of which were older than I was). So the pencil budget wasn't trivial.

Anyway, the point was that I was doing zero-based budgeting without knowing it - a practice now widespread in all kinds of industries. I guess it was a kind of ignorant trendiness.

Unfortunately, we went to computers six months later, which shot my pencil budget all to heck. The lesson, however, has stuck with me, and ever since I have looked at budgets in what I think is the right way: a way of matching your resources to your plans.

Now, planning shouldn't be entirely zero-based.

Here at Area Developer and our sister publication Franchise Update, we do a different kind of budgeting: stories ("content," for you youngsters out there). We try to anticipate the kinds of things you'll be interested in and map out a story budget for the year. This requires a fair knowledge of the community, its various industries, and the current business climate.

And a fair amount of guesswork.

After the process is done comes the hard work of putting magazines together in the new year.

In doing that, we like very much to hear from you about what you're up to. Too many business people think that only public relations firms, slick press releases, or a major news event can get them featured in a publication, but that's just not true. We like to include or feature companies that take the time to let us know they are there, and what their stories are.

Not everything will get in, of course, given the constraints of space and time, but don't let that hold you back.
Published: October 12th, 2007
Share this Feature
Recommended Reading:
Comments:
comments powered by

Disqus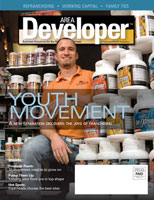 Multi-Unit Franchisee Magazine: Issue 4, 2007
With more than 100 locations open or in development across the United States, Robeks continues its strategic franchise growth with single and...
Cash Required:
$100,000
At LeafSpring Schools, we differentiate ourselves by a proven approach to early childhood education, validated by more than 35 years of successful...
Cash Required:
$400,000