Biggest and Best: Largest Orangetheory operator takes care of his people
Name: Jamie Weeks
Title: Founder/CEO
Company: Honors Holdings
Units: 102 Orangetheory Fitness Studios
Age: 46
Family: Wife Ragan, children Maggie 14, Charley 12
Years in franchising: 7
Years in current position: 7
Jamie Weeks launched Honors Holdings in 2014 with two primary objectives: to create and sustain rapid growth, and to serve the members and employees of his Orangetheory Fitness studios. He's succeeded at both.
In 7 years, Honors Holdings has become the largest Orangetheory multi-unit operator in the system—and that was before the company acquired 24 more studios across 6 states this past May. Today, the Atlanta-based operator owns and operates 102 studios and employs more than 1,000 people in Georgia, Kansas, Massachusetts, Nevada, New York, Oregon, Pennsylvania, Rhode Island, South Carolina, Tennessee, Virginia, and Washington state. The company also serves as an area developer for the brand and supports more than 50 subfranchisee locations in other markets.
Beyond all the growth of physical locations, Weeks has been dedicated to taking care of his people, even through the pandemic.
"Our growth can't be achieved without focusing on the health of our members, employees, and local communities," says the 46-year-old founder and CEO. "We were fortunate to weather the pandemic while still paying our employees, and we've remained focused on providing tools to help our team, studio members, and local communities grow."
Weeks offered his employees mental and physical health resources, including free Headspace subscriptions; integrated AIRPHX's proprietary air and surface disinfection technology in all his studios; and committed to providing memberships for 3,600 nurses in Metro Atlanta as a way to recognize essential frontline workers.
You can be certain there's more growth ahead for Honors Holdings. As well there should be:, Weeks has the backing of equity partner Prospect Hill Growth Partners, and more recently, received a preferred equity investment from an affiliate of Denver-based KSL Capital Partners.
That backing will come in handy since his next big goal is to double to 200 locations. Still, he says, "My focus is to continue to grow the business and make sure my employees are happy."
PERSONAL
First job: Golf course cart boy at Smithfields Country Club.
Formative influences/events: At each stage of my career I can point to one person who has had a huge impact on me and taught me almost everything I know: Brent Krause, Barry Mandinach, Hunter Hamm, Matt Carey, and Jeff Teschke. As you go through your career holding onto these people and staying in touch with them to continue to mentor you, you will keep you growing.
Key accomplishments: In business, it's keeping employee turnover below 20% annually, including through the pandemic. This has been a tremendous accomplishment and one I'm most proud of.
Biggest current challenge: Keeping a small business culture as we grow to over 1,200 employees.
Next big goal: 200 studios.
First turning point in your career: Making the decision to be an entrepreneur.
Best business decision: Making the decision to be an entrepreneur.
Hardest lesson learned: Giving people the benefit of the doubt will burn you one out of 10 times. While it's the right thing to do, it hurts when it happens.
Work week: I'm so glad I can't answer this. I have no clue what each day or week brings. It's always an adventure, and I think that's why I hope to keep doing it for a long time.
Exercise/workout: Orangetheory Fitness, obviously.
Best advice you ever got: Care more about others than you do for yourself and you won't believe how much others will start caring for you.
What's your passion in business? My employees. I work for them every day. If I keep them happy, we all win.
How do you balance life and work? Adventures with family. We plan amazing adventures and trips. Looking forward to those times keeps me pushing through.
Guilty pleasure: Tequila? (Do I have to be guilty?)
Favorite book: by the Editors of Garden and Gun.
Favorite movie: "Almost Famous."
What do most people not know about you? I can quote every episode of The Gilmore Girls. (Actually, a lot of people know that.)
Pet peeve: Green text messages.
What did you want to be when you grew up? Stockbroker.
Last vacation: Blackfly Lodge (one of my 5 places to reset).
Person I'd most like to have lunch with: Jim Shockey, world-class outdoorsman. I have to meet him! I would cry and it would be really embarrassing.
MANAGEMENT
Business philosophy: Everything is a people business and our #1 asset is our people.
Management method or style: Overcommunication is the key to growth and shared vision. Then take care of people. It will all work out.
Greatest challenge: Not focusing on me when things are bad. Have to focus on others.
How do others describe you? Passionate, intense, loyal. A lot of confidence.
One thing I'm looking to do better: Create a model for fitness professionals to have a career for decades that allows them the same type of growth that others have in Corporate America or on Wall Street.
How I give my team room to innovate and experiment: Reward people for sharing opinions. When your team feels like they can share opinions, then you experience real growth.
How close are you to operations? Too close at times. Sometimes I need to back off and let my team be the leaders. But there is also a balance to show the teams that I'm not above any task. I've worked the front desk, I've coached classes, I've deep cleaned many studios.
What are the two most important things you rely on from your franchisor? The franchisor has been one of the keys to our success. They have helped with the direction of the business and opportunities we should be considering. The executive team at Orangetheory have been some of the most dedicated professionals I've ever worked with.
What I need from vendors: Innovation.
Have you changed your marketing strategy in response to the economy? How? Less social media and more community involvement. We just recently gave 3,000 memberships to nurses in the Atlanta area for the Summer of More Life. I'd rather give the money to nurses, teachers, and frontline workers than to ads on Facebook.
How is social media affecting your business? We use it to motivate and showcase, but that's about it.
How do you hire and fire? Quickly... for both.
How do you train and retain? Our management training program is something we've had in place for years now. It's proprietary to us and is the #1 reason for our success in retaining the best talent in the fitness industry.
How do you deal with problem employees? I don't. We don't. Remember the previous question. "Quickly."
Fastest way into my doghouse: 1) Act entitled. 2) Care about you only. 3) Lack of appreciation.
COVID-19
What are the biggest impacts of Covid-19 on your business? With owning studios in 7 states (now 11), the challenge of state-by-state regulations was difficult. But the pandemic will be the single best thing that has ever happened to the company. The focus will be health and wellness for a long time, and will be more important than ever. That's our business and we are some of the best in the world at it.
How have you responded? We paid our employees through the pandemic, even hourly people. We did their average comp and continued to pay them. We then began acquiring studios over the last 90 days and have grown our portfolio of studios by 40% in 2021 and have no plans to slow down.
What changes do you think will be permanent? I think the focus on fitness is about to be as permanent as any aspect of your life. Cleanliness will be paramount for all fitness studios going forward. Again, this is great news for us as we are known to have the cleanest facilities in the world.
BOTTOM LINE
Annual revenue: I can't answer this, I'll just say well in excess of $100 million.
2021 goals: Have the highest compensated studios managers and head coaches in the industry who are on a career path that puts them and their families in an unbelievable position. This is how we will build Honors for 10-plus years. We have to have employees who never want to leave. That's up to me to continue to put in place.
Growth meter: How do you measure your growth? Depends on who I'm talking to. With my CFO, it's revenue and EBITDA. With my regional managers, it's studios owned. With my executive team, it's all the above. With myself personally it's how happy I am.
Vision meter: Where do you want to be in 5 years? 10 years? I have no clue. I've learned that life has a plan and you're not allowed to plan it or know it. That comes with age and experience of seeing how my plans always change and never remain the same.
How do changes in the economy affect the way you do business? The economy is still strong, and we hopefully make changes before the economy changes. We have ways to track the local economies to make sure we are always a step or two ahead. Obviously we aren't always ahead, but we are very closely aligned to the local economies.
How do you forecast for your business? Doing this for 7 years now, we've gotten a great feel for the seasonality, which has become less and less.
What are the best sources for capital expansion? I can't answer that as I have an amazing sponsor in Prospect Hill Growth Partners that continues to lead us down the right path at every major decision. Jeff Teschke, a partner at PHGP, has been an amazing mentor the last 3-plus years.
Experience with private equity, local banks, national banks, other institutions? Why/why not? See above.
What are you doing to take care of your employees? We have more than 100 employees who own equity. I can't ask my team to think like an owner if they don't own a piece of the business also.
How are you handling rising employee costs (payroll, minimum wage, healthcare, etc.)? We've always overpaid employees (within reason), so we've been prepared for this.
What laws and regulations are affecting your business and how are you dealing with this? Not seeing any non-pandemic regulations that affect us.
How do you reward/recognize top-performing employees? Compensation, fun trips either for them or with the team, and constantly recognizing personal success within our teams.
What kind of exit strategy do you have in place? Hard to think about this right now. My focus is to continue to grow the business and make sure my employees are happy. If we do that, the exit will be rewarding for all, and that is all I care about right now.
Published: July 23rd, 2021
Share this Feature
Recommended Reading:
Comments:
comments powered by

Disqus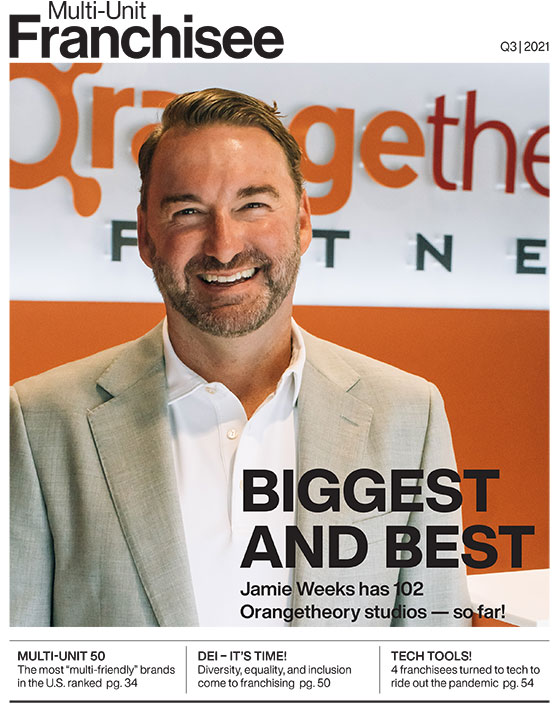 Multi-Unit Franchisee Magazine: Issue 3, 2021
Signage has never been more important. Right now, businesses are looking for new and better ways to compete.
Cash Required:
$80,000
Starting your own Snapology education franchise is affordable, flexible, and provides a great opportunity for success. Find out more today on how you...