Three's Company: Bryan Frnka is building his empire with 3 distinct brands
Name: Bryan Frnka
Title: Managing member
Company: HS Ventures
Units: 11 Amazing Lash Studios; 1 Palm Beach Tan; 1 Scissors & Scotch
Age: 45
Family: Tye Frnka, son
Years in franchising: 19
Years in current position: 19
Bryan Frnka didn't know he would become a successful franchisee when he started his own business nearly 20 years ago. In 2002, he opened the first of what would become five tanning studios of his own in Austin, Texas. He did so well that he was approached by Palm Beach Tan in 2007. He liked their pitch and converted three of those tanning studios to Palm Beach Tan franchises and got his first taste of franchising success.
Frnka was doing well with Palm Beach Tan when he went looking for the next big opportunity. This time he found it with Amazing Lash Studio. He liked the business model and thought it would blend well with his organization.
"I opened the brand's first Austin location in 2012," he says about getting in on the ground floor of an emerging brand. "I later sold that location and took on the San Antonio and New Braunfels markets where I have eight locations open today." He's also added Amazing Lash Studios in Las Vegas, Reno, and Denver, and is an area developer for Nevada and Oklahoma.
When Frnka got ready to bring Amazing Lash to the San Antonio market, he turned to a couple of innovative strategies. "Rather than waiting to hire staff just before the studio was ready to open, we hired them as soon as we began construction," he says. He also launched a digital lead-generation campaign more than 2 months before the soft opening. The staff worked the leads and had 1,200 customers ready to be booked on opening day. The result? His first month's revenue was more than four times the average studio's first 30 days.
Following his success with Amazing Lash, Frnka was eager for his next move. That turned out to be Scissors & Scotch. "I learned of the brand through their operators in Omaha," he says. The brand was looking to expand and open a location in Texas when they heard about Frnka, and a partnership was born.
"We opened the first Scissors & Scotch in Austin in February 2020, great timing, huh?" says Frnka. "We had to close 30 days later but even still, we had a successful year there in spite of Covid."
Frnka's franchise success hasn't gone unnoticed, and along the way he has picked up some accolades. He's been recognized as the 2017, 2018, and 2019 Franchisee of the Year at Amazing Lash Studio, won the brand's Trailblazer award in 2019, and was most recently recognized as a Multi-Unit Franchisee MVP by Multi-Unit Franchisee magazine. He also serves as vice president of Amazing Lash Studio's National Regional Developer Advisory Council, and his studios are consistently ranked as some of the highest-performing in the nation.
Frnka says he's not done growing. In addition to always being open to opportunities, he's says he's already working on adding Scissors & Scotch locations to the Austin market and is considering two other Texas markets.
PERSONAL
First job: HVAC technician.
Key accomplishments: 2017, 2018, 2019 Franchisee of the Year Amazing Lash Studio; 2019 Trail Blazer Amazing Lash Studio; Multi-Unit MVP Award for Brand Innovation 2020.
Biggest current challenge: Recruitment staffing.
Next big goal: Development of San Antonio and Houston for Scissors & Scotch.
First turning point in your career: In 2013, purchasing Amazing Lash Studio in San Antonio.
Best business decision: Purchasing the entire San Antonio market (10 locations) rather than just one location.
Hardest lesson learned: Rapid expansion while undercapitalized.
Work week: 35 hours.
Exercise/workout: 5 days a week.
What's your passion in business? Building teams.
How do you balance life and work? Not as well as I'd like.
Favorite book: Simple Numbers, Straight Talk, Big Profits!: 4 Keys to Unlock Your Business Potential by Greg Crabtree and Beverly Blair Harzog.
Favorite movie: "Forrest Gump."
What do most people not know about you? Generous.
Pet peeve: People who are late.
What did you want to be when you grew up? Firefighter.
Last vacation: Cabo.
Person I'd most like to have lunch with: Richard Branson.
MANAGEMENT
Business philosophy: Hire qualified people and give them the resources they need to be successful.
Management method or style: Coaching, affirmative.
Greatest challenge: Moving too fast.
How do others describe you? Visionary.
One thing I'm looking to do better: Communication.
How I give my team room to innovate and experiment: Require it.
How close are you to operations? Daily.
What are the two most important things you rely on from your franchisor? Success of each franchisee and partnership.
What I need from vendors: Consistency.
Have you changed your marketing strategy in response to the economy? How? No.
How is social media affecting your business? Positive.
How do you train and retain? Training and investment never ends.
Fastest way into my doghouse: Being late on tasks.
COVID-19
What are the biggest impacts of Covid-19 on your business? Staffing.
How have you responded? Constant recruitment to counter attrition.
BOTTOM LINE
Annual revenue: $7.2 million.
2021 goals: $9 million.
Growth meter: How do you measure your growth? Top-line revenue.
Vision meter: Where do you want to be in 5 years? 10 years? I'm always open to opportunities. I'm looking at some acquisition opportunities right now with some other brands. I'm planning to add two more Scissors & Scotch locations in the San Antonio market.
Do you have brands in different segments? Why/why not? No.
How is the economy in your regions affecting you, your employees, your customers? Staffing shortage while demand is up.
Are you experiencing economic growth in your market? Exponential.
How do changes in the economy affect the way you do business? Training and recruitment expenses will increase.
How do you forecast for your business? For 2021, 18% plus over 2019.
What are the best sources for capital expansion? Conventional.
Experience with private equity, local banks, national banks, other institutions? Why/why not? Local banks.
Published: July 26th, 2021
Share this Feature
Recommended Reading:
Comments:
comments powered by

Disqus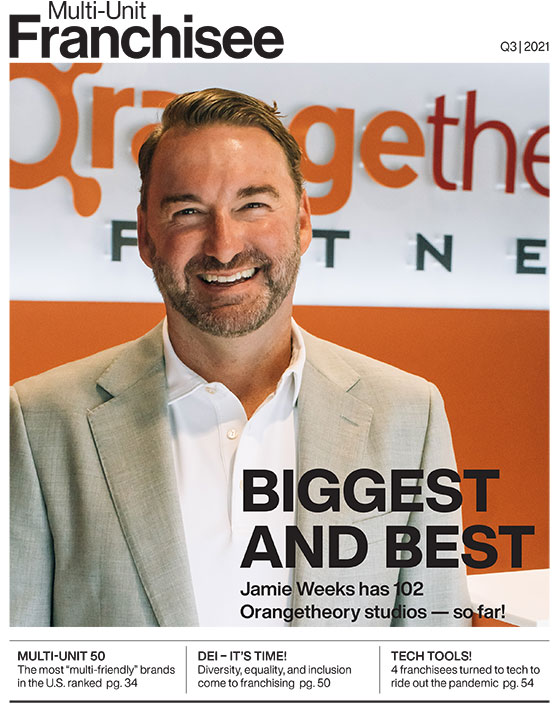 Multi-Unit Franchisee Magazine: Issue 3, 2021
Genghis Grill, the nation's leading create-your-own bowl concept, offers guests broad appeal and caters to various flavor preferences and...
Cash Required:
$750,000
Class 101 college planning franchise helps high school students get into better colleges and qualify for higher amounts of scholarships and financial...
Cash Required:
$50,000