Recipe for Success: NFLer Transitions to Franchising with Jamba Juice
When Vernon Davis isn't catching footballs as a tight end for the NFL's Washington Redskins, he's busy with his 5 Jamba Juice locations in Northern California. His franchising career began 6 years ago during his playing days with the San Francisco 49ers.
Last year, Davis teamed up with Atlanta Falcons wide receiver Mohamed Sanu in an agreement to open and operate six Jamba Juice locations in the Northern Virginia/DC metro area. Davis says he's excited about partnering with Sanu and "bringing more of the fresh fruit and vegetable goodness of Jamba to the region." Think of them as a couple of smoothie operators.
It's a homecoming of sorts for Davis, who grew up in Washington, D.C., and played college football at the University of Maryland before the 49ers drafted him sixth overall in 2006. He racked up nine seasons with the 49ers before being traded to the Denver Broncos, where he won a Super Bowl ring. In 2016, Davis came home to play for the Washington Redskins.
Operating Jamba Juice stores from the other side of the country requires belief and trust in his people, and Davis says that's just what he has. "I'm close to operations still, but I know my people are good at what they do and can handle the stores without me," he says.
It's not lost on him how essential good employees are to his operation. And while he relies on Jamba Juice's corporate training materials, he also puts his own spin on hiring, welcoming, caring for, and retaining great employees. "I have my own videos where I speak to new hires with a special Vernon Davis welcome," he says. "And I hold quarterly calls with my team where we connect and stay in touch on business."
Davis says his life in athletics taught him how to face adversity and dedicate himself to the cause--a skill set that transfers directly to the world of business. Looking to the future, Davis says he wants to continue growing and adding more stores, and someday sees himself becoming a franchisor.
Name: Vernon Davis
Title: Multi-unit franchisee
Company: Jamba Juice
No. of units: 5 in Northern California, plans to open 6 more
Age: 35
Family: 3 children, Jianni, Valeigh, and Vallaughn; fiancee Kayla
Years in franchising: 6
Years in current position: 6
Personal
First job:
Quiznos.
Formative influences/events:
My grandma.
Key accomplishments:
Getting drafted, having kids, winning a Super Bowl, meeting my fiancee.
Biggest current challenge:
Raising my children to surpass me as a professional, a philanthropist, and most of all, as a person.
Next big goals:
Hold a business empire and develop an acting career and produce films.
First turning point in your career:
When Mike Singletary sent me to the locker room during a game.
Best business decision:
Working with like-minded people who share the same interests and values.
Hardest lesson learned:
Putting trust in someone I didn't really know.
Exercise/workout:
Lift 3 days a week and run 5 days.
Best advice you ever got:
Learn as if I'll live forever.
What's your passion in business?
I like making deals and investing in things I believe in, from technology to real estate.
How do you balance life and work?
I understand that family comes before work. If you keep that in mind, you'll naturally have the balance you need to make a living and give love and energy to your family.
Guilty pleasure:
Brownies.
Favorite book:
Rich Dad, Poor Dad by Robert Kiyosaki.
Favorite movie:
"Save the Last Dance."
What do most people not know about you?
I'm a pretty good dancer.
Pet peeve:
The sound of chalk being used on a chalkboard.
What did you want to be when you grew up?
Police officer.
Last vacation:
Brazil.
Person I'd most like to have lunch with:
Will Smith.
Management
Business philosophy:
Learn a little bit about everything.
Management method or style:
Nice, but firm.
Greatest challenge:
Staying consistent.
How do others describe you?
Encouraging.
One thing I'm looking to do better:
Marketing and advertising.
How I give my team room to innovate and experiment:
I let my GMs take control of their locations and come up with solutions.
How close are you to operations?
Very close.
What are the two most important things you rely on from your franchisor?
Marketing and cutting costs.
What I need from vendors:
Fresh product and accountability.
Have you changed your marketing strategy in response to the economy? How?
Yes, by giving the consumer what they want. At the moment discounts are good, especially during this season.
How is social media affecting your business?
It brings instant awareness.
How do you hire and fire?
The district manager conducts an interview along with viewing resumes. Fire the same way you hire, with hospitality and benevolence.
How do you train and retain?
We use the corporate-mandated training for all of our employees. However, I put my own personal touch to how I present it. I have created videos where I am speaking to new hires so they feel like they are getting a special Vernon Davis welcome. I like to hold quarterly calls with my Jamba team to go over all updates and hot topics. It also gives them a time to connect with me and provide the excitement of meeting with a boss who happens to be a celebrity.
How do you deal with problem employees?
Problem employees need constant communication.
Fastest way into my doghouse:
By stealing.
Sports & Business
What skills/experience from sports have carried over to operating a business?
Ability to rise above adversity and dedicate myself to the craft.
Which do you find more competitive, sports or business?
For me, they are the same.
Why did you choose franchising as an investment option?
Because the manual has been created. I just have to get the key and turn it.
How did you transition from sports to franchising?
It was a way I could continue to compete in a way other than running and making contact with football equipment.
What was your greatest achievement in sports, and what has been your biggest accomplishment as a franchisee?
Winning a Super Bowl, and sustainability.
Bottom Line
2019 goals:
To exceed goals set in 2018.
Growth meter: How do you measure your growth?
Bottom line, expansion, and percentage turnover.
Vision meter: Where do you want to be in 5 years? 10 years?
In 5 years I want to own more stores, and in 10 years I want to be a franchisor.
How is the economy in your region affecting you, your employees?
Being that the stores are in the Bay Area, more specifically Silicon Valley, the economy has a positive effect on my business.
Are you experiencing economic growth in your market?
Yes, incrementally.
How do changes in the economy affect the way you do business?
At times it pushes me to manage my overhead much more closely than during peak, strong seasons of economic growth.
How do you forecast for your business?
We keep a close look at the weather believe it or not. The weather plays a big role when creating a sales plan.
What are you doing to take care of your employees?
I make sure to give them some one-on-one time with me every year during the NFL off-season. I do not want them to feel like I'm not accessible and do not care about them simply because I'm a professional athlete. I also incorporate bonus plans and internal competitions among our Jamba stores with prizes. I try to make the atmosphere as enjoyable as possible.
How are you handling rising employee costs (payroll, minimum wage, healthcare, etc.)?
At times we have made slight increases to the cost of our product to help with increasing labor costs.
Published: May 10th, 2019
Share this Feature
Recommended Reading:
Comments:
comments powered by

Disqus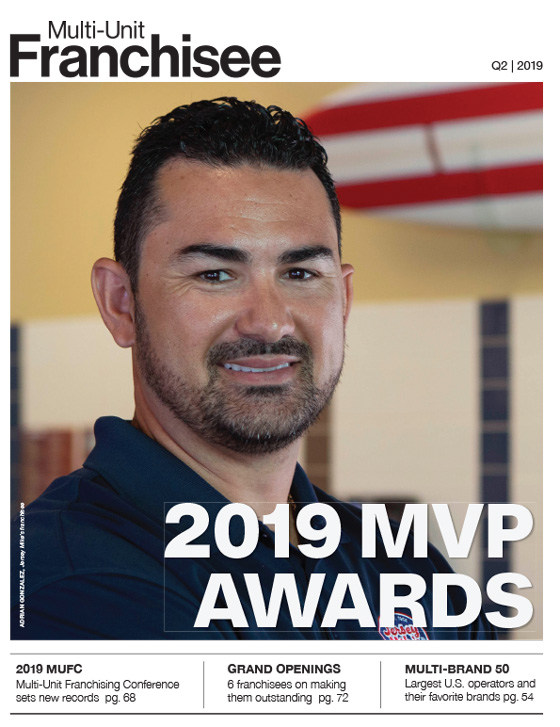 Multi-Unit Franchisee Magazine: Issue 2, 2019
Bonchon is an internationally recognized Korean Fried Chicken concept. Bonchon means "my hometown" in Korean, and represents our...
Cash Required:
$250,000
Join one of the fastest-growing fast-casual restaurants with excellent financial potential, multiple business models to choose from, and an all-start...
Cash Required:
$100,000