British Brothers Take Illinois, Virginia
"I don't quite understand why people eat what they eat in the U.S."
Glenn Miller's first look at the franchising business came in the early 1990s, when the British Chartered Accountant's brother, an attorney, wound up with six Arby's in Central Illinois. It didn't take a rocket scientist to see some of the problems that needed fixing.
"It was wrongly structured," recalls Miller, who says two loans had been taken out that charged 15 percent and 13 percent, and the debt payments were dragging down the operation.
"It took about two years," he says. "The loan was paid off and we refinanced with a local bank when I came on board three years down the line." The local Busey Bank was able to restructure the debt, and in 1996 Miller left the U.K. and made the trip to the U.S., where he gradually took over the operational end of the business and later turned his thoughts to expanding it.
"I came on to do some consulting at the end of '96 and got into it more deeply in '97. We knew what we needed to do by the end of '97, and I took over the running of it in '98." And there was more work to be done.
"When I came on board in '96, I started with a five-year analysis with expenses and revenue," says Miller, the managing partner. "We were advertising free food. Plot number one: Let's stop advertising free food. The gals who ran the company said that was what Arby's wants us to do. I said to have faith in the product and earnings started moving up."
Once the existing operations had been restructured, Miller turned his attention to growth. "My first act when I took over was to sign a five-store development agreement with Arby's. We added three more in the September of the same year and then two more after that. We built it to 18 stores. That took eight years."
By the time 2007 rolled around, Miller and his brother had reached the end of their development agreement with Arby's, as well as the end of their growth opportunities for Central Illinois. By then they had already started looking around to see how the second act of their franchising saga should begin.
"We needed to go to the next stage," he says. That entailed trips to inspect Asian fusion concepts, chicken operations, and more.
"We went through quite a number of other franchises we were considering," says Miller. "I was in Richmond, Virginia, and went into a local Jason's Deli one day and said, 'Blimey, this place is packed!' I found out that McAlister's was available in Virginia, and that was a very healthy option. We went to a day of discovery at McAlister's, liked the food, and said we would go for this. The majority of Virginia was open so we signed up."
Now the plan is to open up at least 15 more stores in their territory in the state, with a potential to expand to a total of 30 to 35 locations. Along the way, Miller can take time to see how a possible third act of his U.S. franchising career might play out.
QUESTIONS
Name: Glenn Miller
Title: Managing partner
Company: Miller Group LLC
No. of units: 4 McAlister's Delis in Virginia with a fifth opening this spring; 18 Arby's in Central Illinois
PERSONAL
Age: 58
Family: Wife and three children
Years in current position: 15
Years in franchising: 15
Key accomplishments:
Bringing the discipline of a London blue-chip firm to a funny industry like franchising. You take a lower-risk business like franchising and then you make the capital work hard. For most mom-and-pops, if they made money they would spend it and not reinvest it. I'm doing the things you learn in Citibank and Deloitte and applying it to franchising. It's all about following your numbers and keeping your ratios in line. It's not about making money; it's about making the right money, to improve the quality of earnings.
Biggest mistake:
Probably listening too much to people without operational market knowledge. If I made mistakes, it was making some hiring decisions that we had to fix later. Remote management is very difficult.
Smartest mistake: Never made a smart mistake, only dumb ones.
How do you spend a typical day?
We're constantly refining what we do--whether that entails replacing the central accounting system or improving our bench. I look for any systemic issues arising from guest feedback and how we respond to feedback, from our guests or our employees. I discuss the relative success of LTOs or new products and personnel issues with area directors. With opening new stores and replacing and remodeling stores in Illinois there are a lot of calls to architects, GCs, and kitchen and décor suppliers. We talk a lot about our people and processes and how well we are positioned to meet future need.
Work week:
We have started using GoToMeeting at least once a week. I find that we can cover a lot of preliminary work before quarterly meetings in Illinois and in Virginia. If I'm going to Illinois I try to time it for an anniversary with one of the long-term employees and visit the stores. I sit on the Franchise Advisory Committee for McAlister's and some subcommittee working groups. GoToMeeting is becoming more widely used by McAlister's and helps eliminate some business trips. We are close with our management teams and invariably entertain sometime in a visit. Last year my schedule included 14 business trips. You never get away from the business. It's always at the back of your mind, but I'm lucky to be able to choose the time to work hard and then ease off.
Favorite fun activities:
Skiing once or twice a year. My brother and I tend to go golfing in Scotland once a year. And I have a sailboat for weekends.
Exercise/workout:
Oh, heck, you've got to do that. I go to a local gym three days a week for an hour and a half--45 minutes weights, 45 minutes cardio.
Favorite stuff/tech toys:
I'm an Apple man. I have the Mac Air and my G5 and iPhone. I don't need the iPad, but the Mac Air is the best product on the market.
What are you reading?
I relax by reading novels and they tend to be whodunits. Usually authors of Celtic or Scandinavian noir and also Walter Mosley and Elmore Leonard to improve my understanding of parts of the U.S. Then I listen to podcasts of the Economist, BBC4's Analysis, and NPR's Fresh Air and Car Talk.
Do you have a favorite quote or advice you give?
My father's favorite: If at first you don't succeed, try, and try again. (Robert the Bruce)
Best advice you ever got:
One of my bosses told me to learn how to say no. You have got to learn how to delegate, and if you can delegate you'll be promoted. Otherwise you get burned out.
Formative influences/events:
I got a terrific put-down at age 16. I was a conceited prig who failed almost all of my exams. I have never forgotten that lesson in humility.
How do you balance life and work?
I have such a fantastic life and wife and family. It's easy. I love working with our people and it couldn't be better right now. Technology enables life and work to blend together.
Management
Business philosophy:
We tend to run our company with the ideals of our Scottish socialist father, who believed in a fair day's work for a fair day's pay. No prejudice, no bias. Our obligation is to our employees, who take care of our guests.
Would you say you are in the franchising, real estate, or customer service business? Why?
We are in the customer service business. I think you can use a lot of the educational skills you've learned in formal education and deploy them running something better than anyone else. Our motto is to hold ourselves to a higher standard. Hopefully we have an open-door policy.
What gets you out of bed in the morning?
Competing. We want to build a better mousetrap.
What's your passion in business?
My passion is being the best husband and father possible.
Management method or style:
Integrity and honesty.
Greatest challenge:
I don't quite understand why people eat what they eat in the U.S. I wasn't raised in this culture. I don't understand the appeal. I have no natural affinity for some of the things we sell.
How close are you to operations?
I think I've got a lot closer in the last three years and I enjoy it. It just means you want more and more control. Franchisees are always disappointed with franchisors. You think you know how to run the franchise better than the franchisor. That's a source of frustration. When it's your money on the line, you have to have a lot of faith, particularly now that Arby's has been thrown on the block.
Have you changed your marketing strategy in response to the economy? How?
The economy has driven complacency out of our attitudes towards our guest. Our four walls marketing must emphasize what is important to the guest: great food, well served in a comfortable environment.
How do others describe you?
He laughs.) I would think "odd," because of my accent. I talk about politics too much.
How do you hire and fire?
I'll hire and fire the director of operations. I will have some opinions on internal promotes. I do inspect all of the formal appraisals that the area directors do for the general managers. We want to make sure the language is the same for all employees.
How do you train and retain?
In terms of training, there's seven weeks training in McAlister's and six weeks training in Arby's. In Arby's the DO assigns mentors to newer general managers who they can rely on. We meet as frequently as we can with our managers in Virginia. Retention, I think, goes directly to the culture. This is a small company, still growing, financially secure, and we like to have fun. If you want to be a general manager, we provide the mechanism get you there.
How do you deal with problem employees?
Our policy and procedures manual is pretty strict. If there's no call, no show, you get written up. The second time you're dismissed. We also do a newsletter once a quarter. And employees can raise concerns and complaints to the director of human resources.
Bottom Line
Annual revenue:
On a full-year basis, $5 million for McAlister's; $14 million in Arby's Illinois.
2011 goals:
To open the new store in Short Pump, Virginia. We think it's going to be successful. We'll be settling new employees into our corporate culture and then we'll look for new locations. In Illinois, we've got to replace one of our stores, and receive handover on August 1. Keep trying to increase our bench strength.
Growth meter: How do you measure your growth?
We are poised for some very positive changes in the McAlister's lineup this year. In Arby's we don't know where the recent change will take us. Thinking positively, if Arby's has a new management direction and a new menu, we could see positive comps on both brands.
Vision meter: Where do you want to be in 5 years? 10 years?
Play a bit more golf and probably take a time share in Scotland. I have no intention of retiring and going slow. What I would like to see is a much brighter economic future. I'd like to see the uncertainty go away. And we plan to open more stores in Virginia and remodel in Illinois.
How has the most recent economic cycle affected you, your employees, your customers?
We've taken care of our employees. We kept our pay increases, paid bonuses, and we've seen a reduction in traffic. We've had poor leadership in Arby's. We had to give up our 401(k) because government requirements were too expensive to comply with.
Are you experiencing economic growth/recovery in your market?
We're going to get a bounce in Arby's and a bounce now in Virginia. Last year we had the 100-year snowstorms in Virginia, and that didn't help. Now everybody is being a lot more positive.
What did you change/do differently during the recent tough economic times that you plan to continue doing into the future?
People are working harder for less money, which is just the state of the nation.
How do you forecast for your business during trying times? Can you even forecast at all?
It's not the economy, it's the food. We're in the food game and the quicker we can have better food, food people want to eat and can afford, we'll see recovery.
Where do you find capital for expansion?
I don't see us needing more capital for expansion for some time. We don't carry a whole lot of debt.
Is capital getting easier to access? Why/why not?
No, not really. The federal government has tightened down on bank lending contrary to what is said publicly.
Have you used private equity, local banks, national banks, other institutions? Why/why not?
We've stuck with Busey Bank for 15 years and we don't go anywhere else.
What kind of exit strategy do you have in place for your business?
My brother is happy that he and I are looking at 15 more years. Other than that, I don't particularly want to exit. One option is to eventually create a board of employees and they will run the company.
What kinds of things are you doing to take care of your employees?
Now our directors of operations are looking at individuals and saying, How are you growing a specific part of the business? What are you doing for the local store? How deeply are you getting into the local community? We want you to change your behavior. Smile more and do more and I think that will be more effective.
How are you handling rising employee costs (payroll, healthcare, etc.)?
Waiting for the federal government to establish the rules--much uncertainty.
How do you reward/recognize top-performing employees?
Top employees could earn 10 to 15 percent of their pay from bonuses.
How is social media affecting your business operations?
Investment in social media needs to be permanent and sustained to ensure quality. We have yet to determine the appropriate level of commitment necessary to support a launch. When we do it, we will do it right.
Published: May 23rd, 2011
Share this Feature
Recommended Reading:
Comments:
comments powered by

Disqus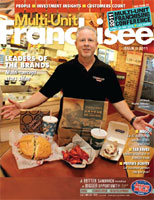 Multi-Unit Franchisee Magazine: Issue 2, 2011
Cicis is an iconic, modernized restaurant that pushes the limits of the regular family dining experience. With unlimited opportunities for revenue,...
Cash Required:
$250,000
The Joint® Chiropractic is reinventing chiropractic care. Our vision is to become the largest, most respected provider of chiropractic services...
Cash Required:
$100,000