Capital Ideas: How to Get Lenders to "Yes"
In his late 20s, Glen Johnson fell in love with the Tropical Smoothie Cafe brand. He moved quickly, and in just a handful of years expanded to 26 Tropical Smoothie locations. This winter, he merged with Nick Crouch, another Tropical Smoothie franchisee, to create the DYNE Hospitality Group, where the partners now serve as co-CEOs.
With 41 units in 5 states (Florida, Georgia, Texas, Oklahoma, and Arkansas) and more than 700 employees, DYNE is now the largest Tropical Smoothie franchisee. The newly merged company plans to reach 100 restaurants in "a few short years" through new builds or acquisitions, says Johnson.
Not a bad growth trajectory for the 35-year-old. He knew he could expand by a small number of locations without debt, but his goals were more ambitious. "I wanted to grow quickly," he says. "It was a big challenge to find money for that growth."
Standard procedure for obtaining capital for franchise growth typically includes a visit to a bank loan officer, armed with a strong presentation of your financial track record and operational acumen. This builds trust and earns the lender's confidence they will be paid back in a timely manner.
Johnson, however, went to the bank with a little extra something in his pocket: backing from the Henry Investment Group. How did he get that? "Talking about it," he says. "They found me because they knew a friend of mine I'd been talking to about growth. I just got a call from them one day. They started asking questions, they chipped in, and that made it a lot easier to get bank financing in place."
Johnson obviously did an effective job of broadcasting his needs to improve the odds that an unexpected funding resource might find him--but he also did a good job at the basics. Those basics may be obvious, but they are worth doing right.
The basics
Johnson's serendipitous route to private equity investment can be hoped for, but it can't be counted on or planned for, so it makes sense to start with the absolutes. Ron Feldman is chief development officer at ApplePie Capital, an early online lending pioneer dedicated solely to franchising. ApplePie's client history includes Jimmy John's, Jersey Mike's, and Marco's Pizza, among others. Feldman, who joined ApplePie after serving as chief development officer for FRANdata and principal and co-founder of Franchise America Finance, suggests starting your search for growth capital by looking close to home.
"Your franchisor may have a list of lenders familiar with your brand. That familiarity can help expedite the process," he says.
SBA loans, Feldman says, are more onerous in terms of documentation and time to approval than conventional bank loans, but they do allow more flexible credit criteria, which may mean a greater chance of success for a first-time franchisee or someone seeking to add a second or third unit. "Look for a Preferred Lender within the SBA network," he says.
Online lenders can work well for first-time franchisees or franchisees expanding at a pace faster than traditional lenders may be comfortable with, as well as for franchisees looking for a simpler and faster process. Additional leverage may be found with franchisors who have established relationships with lenders. And some banks have special groups or departments specializing in franchise lending, where the loan officers understand the franchise business model. If you're an experienced multi-unit operator, your track record should carry sufficient weight with conventional bank loan officers, or perhaps you already have established a trusting relationship with your own preferred lenders.
Home equity or a securities-backed line of credit may also be tapped for funding, but if you have no experience in business finance, Feldman believes that intermediaries or brokers could be useful in securing the growth capital you're seeking.
As a further alternative, Feldman suggests looking into the pros and cons of ROBS (Rollovers as Business Startups)--a specialty finance vehicle that allows entrepreneurs to capitalize their business using funds from their 401(k) or IRA. Several companies specialize in this lending niche, with a focus on franchising. However, Feldman cautions, do not use your local CPA or attorney for this unless they specialize in structuring ROBS, or you may find yourself in trouble with the IRS.
Regardless of who you are or where you are seeking capital from, says Giovanna Koning, CFO of Falcon Holdings, the largest franchisee of Church's Chicken, another important factor plays a role in a successful working relationship with a potential lender: familiarity. "Know who you are working with," she says. "You want people who are in the loop, who are knowledgeable."
Be prepared
Jeff Davis is Arby's largest franchisee, with more than 365 Arby's spread across nine states in the Midwestern and Western U.S. While his perspective on financing growth is that of a large operator, he says many of the same disciplines and practices apply to both large and small operators seeking funds.
"When we begin laying the groundwork for financing, we have a regimen we go through that helps us be ready for those initial meetings with our lenders," says Davis, chairman of U.S. Beef, a family-owned business established in 1969. That regimen covers three areas essential to convincing a lender that you're a trustworthy investment, even at the size and stage of a company like U.S. Beef.
First, says Davis, if you're a franchised business, understand your brand's potential, the strength of your franchisor, and the unit economics of your brand.
Second, prepare a commentary on the state of your business and why you want to borrow. "We're very aware going in of how this incremental borrowing will help grow our business," he says.
And, finally, "Make sure your financial statements are current and accurate. Generally, three years of financial statements will be required." Aspiring franchisees seeking to fund their first unit will have to provide other evidence of their ability to repay the loan.
Feldman offers specific advice for these first-timers: have a loan application package that is accurate, complete, and that you understand 100 percent. Your business plan and projections will be reviewed in minute detail, and you must be able to defend them to a bank underwriter.
If you are borrowing with the help of an SBA guarantee, it's best to embrace the process rather than resist it, he says, paperwork and all. You will be given a complete financial physical and may be asked to pledge personal assets as collateral. "Those are the rules," says Feldman, "and they cannot be waived by individual lenders."
Even if you are an experienced franchisee, some of those basic preparations do not change: you must have clear financials and tax returns for your current units ready to present to a potential lender. If there have been unusual expenses or market trends, include explanations with the loan submission up front. Also be sure to include a business plan that not only highlights your current success, but also your plans for future growth. And as you grow your number of units and begin the transition from business operator to business leader, it's important to highlight your plan for overseeing the continuing success of your existing units as you add new ones.
Honesty is best
Be ready with specifics that include an explanation of downturns your business may have experienced and how you've addressed them, says David Harrison, a multi-unit franchisee of RNR Tire Express & Custom Wheels and the brand's first area developer. "Have a solid business plan with projections showing your timeline for reducing debt and/or growth that increases your net worth, reducing your debt-to-equity position," he says.
Yaron Goldman has been through the expansion process many times. He's the CEO of SD Holdings, a franchisee of McAlister's Deli and MOD Pizza that acquired 64 Sonic Drive-In restaurants last August. He's also opened his first Fuzzy's Taco Shop, a brand acquired by NRD Capital in early 2016. SD Holdings' portfolio now includes more than 100 locations in seven states.
"Make sure you have your financials in good order and can easily explain any non-recurring expenses or income," Goldman says. "This will save a lot of time during the underwriting process."
That willingness to disclose doesn't change based on how many franchise locations you have. "The only material difference is the size of the banks you will be dealing with," says Goldman. "At the end of the day, all lenders just want to be assured there is a strong financial case to approve their loan and that the collateral behind the borrowing entity can step up if there is a default."
What else do lenders want?
A down payment is a familiar concept, but its size will vary depending on who is lending you the money. "SBA has its own rules," says Feldman, "but down payment and credit criteria are set by individual lenders." He says a down payment can vary from 10 percent to 40 percent for the same loan with different lenders, and that online lenders typically require a 20 percent to 30 percent down payment for first-time franchisees. For existing franchisees, he says, "They can offer 100 percent financing using embedded equity of the business."
Online lenders are more data-driven and do a significant amount of due diligence on a brand before they create a financing program. Conventional lenders generally want 3 years of performance data before considering a loan to a franchise operator, Feldman says. In that case, expect a personal guarantee at a minimum.
"Generally, depending upon the size of your business, most require personal guarantees," says Davis. "Of course, leverage and debt coverage covenants are also required." Reporting covenants have also increased, adds Goldman.
The big picture
"Your past performance will speak volumes about your ability to operate a profitable business," says Davis. However, he adds, if you've had a difficult year, or even a string of less-than-stellar years, "Have a very good understanding of why your results have not met your expectations and projections--and have a realistic and executable plan to achieve better results in the short and long term. Lenders to our industry generally have a good understanding of the negative influences that can affect our business, but they also have an expectation that you have the knowledge, talent, and track record to turn things around."
Goldman knows the value of a strong narrative. In creating trust with a lender, sometimes a good story is as powerful as good numbers. "Beyond the financial case for your business," he says, "make sure to have a good operating story and really leverage the strength of the brand you are franchising."
Building relationships based on mutual trust also can make the difference in your loan proposal being accepted or rejected. "Lenders are looking at your financial condition, which is basically simple," says Harrison. "The most important thing is their confidence in you as the owner-operator. Lenders back people as much as they back assets."
And while you're focused on how to find capital to start or expand your franchise business, Feldman says, don't forget about the rest of your life. "You need to be sure that you have enough personal liquidity--cash--to continue your life until your projections show the cash flow needed to provide income to you," he advises.
The advantage of history
For Harrison, finding willing lenders has become easier as he's expanded--not surprising, as he's become larger and can provide a track record that inspires confidence and trust in potential lenders. "As we have grown, financing has become much easier. The lenders have changed, but the process is basically the same. It's still people and assets," he says. "Earlier we dealt with multiple banks. Now there are participating lenders and single relationships."
"If you are a 100-unit operator, lenders are all calling you," says Feldman. "You are probably in maintenance mode and should be able to borrow on very favorable terms, many times without a personal guarantee."
Getting to this level of maturity isn't easy, and some of the details can still seem daunting. Feldman offers up one more piece of advice for borrowers. "Many operators get caught up on interest rates being higher for them as growth operators, when in fact an aggressive lender that happens to be more expensive in terms of rate is actually cheaper than not having the funding to grow."
In addition, he says, it might be worth considering taking on an outside investor to fund growth or acquisitions. But don't give away the farm. "Your business will also be attractive to private equity for investment. That is a tool you can use to take some of your equity off the table, but still operate your business and offer some liquidity to your management team." After all, they're the ones who have been with you as you expanded.
Full Disclosure
Be ready to answer any and all questions from your potential lenders. And don't try to hide anything (they eventually will find out anyway).
"Borrowers want to know everything," says Glen Johnson. In his experience with the financing process, he says, "There was nothing they didn't want to know." This taught him the valuable lesson that understanding every detail of his business--and how to share that knowledge with a loan officer or other potential lender--was his best defense against the inevitable (and necessary) barrage of questions he had to answer.
"If you don't know your business, they won't lend you the money. I knew everything, but I couldn't articulate the details very well," he recalls. That meant having to return more than once to lenders. By the time he was ready for the merger to create DYNE, he had hired a financial consulting company with experience in putting loan packages together. (See page 68 for how to create a loan proposal your banker will love).
Published: May 31st, 2018
Share this Feature
Recommended Reading:
Comments:
comments powered by

Disqus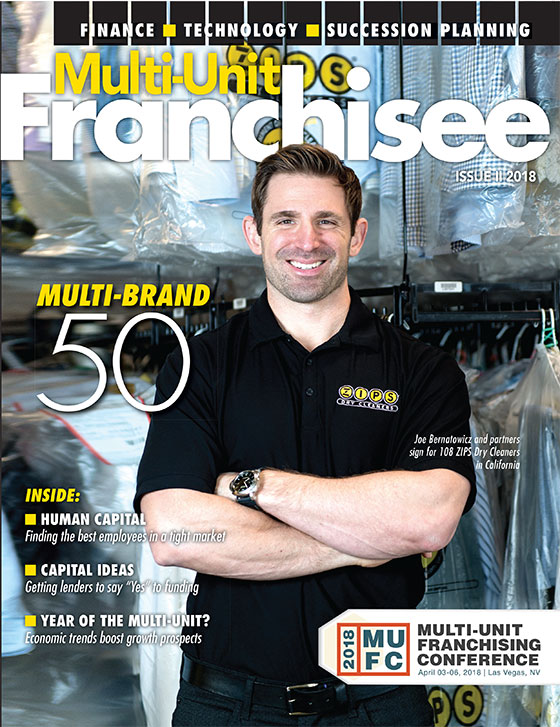 Multi-Unit Franchisee Magazine: Issue 2, 2018
When simplicity is the essence of your business model, clients and owners benefit. Clients want a predictably wonderful experience with every visit....
Cash Required:
$100,000
If you are looking for a business that is meaningful and fulfilling, you should take a closer look at Bruster's® Real Ice Cream Franchise!
Cash Required:
$125,000