Looking for Workers?: Hiring the Best in Today's Tight Job Market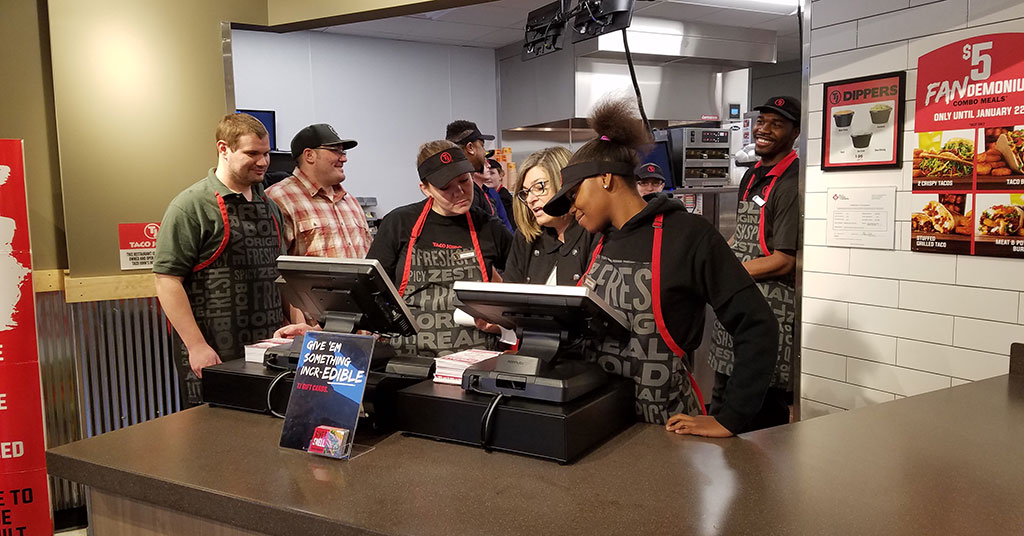 Low unemployment and rising minimum wages are making it difficult to find and keep quality employees in 2018. Increased labor costs are also having an effect on the bottom line, even as many franchisees increase their sales or raise prices. This trend also is slowing expansion plans for some as they struggle to find qualified staff for proposed new locations. We asked three franchisees with six different brands what they are doing to become the employers of choice in their markets.
Unemployment's effects
"The single biggest topics of discussion in our restaurant business are centered around quality staff--not just the number of quality staff, but how long we can keep them," says Tamra Kennedy, a Taco John's franchisee who employs 150 people in her 9 restaurants. Eight are in the Twin Cities and the other is in Iowa.
"Our stores are located in a cross-section of communities, so we have rural, urban, and high-density stores. We're seeing the same thing across all of them. No one store is having any better luck hiring," she says.
Kennedy sees this as the "new normal" for today's workforce challenges, particularly for the fast food industry, which has long provided a first job to many young people. What's also different today, she says, is that young people are entering the workforce at a later age than they used to.
"Even 5 years ago, we had quite a few more applications and interest in starting positions at a younger age," she says. "We do hire young people at 15 years old and give them a chance to start learning the basics of employment within their limited hours. Even 16- and 17-year-olds are applying less."
Anecdotally, she says, the starting age is moving up. "I would suggest we did well as a generation of parents to offer the conveniences of being a young person who doesn't have to go to work. Our generation has done well to provide for our children." But from an employer's point of view, that reduces the pool of unskilled entry-level workers. And with demand for good employees high, it means job-hopping is easier.
"More and more our focus today is on retention so employees don't leave as frequently and so that we become known as an employer of choice," says Anne Lalinde, vice president of human resources at LSGF Management in Norcross, Ga. "Having a good and strong onboarding process is something we are becoming focused on, as those first impressions are so critical to long term-retention."
The company has 154 units spread across three brands: T-Mobile, Great Clips, and Smoothie King, and employs about 950 people. The hiring situation is different at each of the company's brands.
Great Clips, she says, has the most specific hiring needs because applicants need a cosmetology license, resulting in a limited group of potential employees. "So we have to go about recruiting differently and are more focused on building relationships with people in our market who are licensed cosmetologists," she says. "Employee referrals are increasingly important to us as our employees spread the message that we are a great place to work."
The company also has started offering signing bonuses for well-qualified hourly candidates. "If somebody is teetering between working for us or somebody else, we will use a signing bonus as an incentive," she says. That sometimes comes in the form of paying for the new employee's cosmetology license if they're relocating from out of state. For example, if a Great Clips employee from the Midwest relocates to Georgia, they already know the system, but their state license will cost them $100 to $300. Competitors aren't offering this, she says.
The requirements for their T-Mobile stores are simpler: a sales background and familiarity with the technology. For Smoothie King, she says, "We're just looking for the walkup applicants because we can train a wide segment of the population." However, she says, "We are seeing the low unemployment rate affect the number of walkups."
Allan Boomer and Tiffany Hawkins, franchisees of four Retro Fitness gyms and two ZIPS Dry Cleaning stores with a third opening soon, say the low unemployment rate hasn't affected them yet. One reason is they're looking for a niche group of experienced dry cleaners for their ZIPS stores. And at Retro Fitness they've worked hard to create a culture that keeps employees happy.
"We view culture as part of our competitive advantage. If you can create a strong culture, it will attract the right people and repel the wrong people," says Boomer. "It may seem like an insignificant thing, but if you have people who know that you care about them, they'll work harder for you."
Minimum wage blues
While minimum wage hikes are putting more money in workers' pockets, it's tough for even the most generous franchisees to watch their labor costs continue to rise as a percentage of their cost of doing business.
At their gyms, the biggest expense used to be rent, says Boomer, followed by labor. The minimum wage has risen steadily in the past 3 years in Maryland, where all but one of their Retro Fitness units is located. Again, good for employees, not so good for employers. Today labor is their biggest expense.
"The unfortunate part," says Boomer, "is that the employees don't get any better, you just have to pay them more." He says the rationale was that higher wages would bring higher-quality people into the labor force, but he isn't seeing that.
"This really squeezes franchisees whose prices are set at the franchisor level," he says, and has put a lot of pressure on the gym business. "It's one reason among a million we went into the dry cleaning business," he says. At Retro Fitness the monthly price is set at $19.99, and while prices at his Maryland ZIPS are up from $1.99 to $2.29 per item, he's still feeling pressured by higher labor costs.
At LSGF, "We are having to increase base pay and decrease variable pay," says Lalinde. With this change we are having to performance manage to an even greater extent since variable pay is not as large and not as motivating a factor."
"It definitely affects our business model," says Kennedy. "It's more money up front, at a higher cost to the business than we used to have to offer to compete and hire, so there's less money for other things we'd like to get to."
Today, she says, "We have a retention goal more than a hiring goal. We want people to stay while they pursue their outside interests, like school or family. So we've built our pay system around that. We pay more than minimum not because we have to, but because we should."
Expansion takes a hit
The shortage of entry-level workers is having an effect on some franchisees' expansion plans, says Kennedy. "It does slow us down," she says. "In 2017, we opened a restaurant that we had knocked down and rebuilt. Now, a little more than a year later, we're not fully staffed. I could not be more thrilled by the response from the community, but we are challenged to meet the fast, friendly service standards we're known for."
Probably the biggest takeaway, she says, is having to backfill from other stores to staff the new one. "We used to put up a sign, 'Opening a new store,' and the applications would flow in." Not today. "I can see how it would be a struggle for somebody opening their first restaurant. We're lucky to have other restaurants to draw from and train in."
Nevertheless, she adds, this limits her growth model because the new units must be in close proximity to her existing restaurants.
"We have heard some of our peers have had to reduce operating hours and are struggling to keep the doors open because of staffing challenges," says Lalinde. "While our group has not yet encountered this, we are very aware that the trend could hit us, so we are trying to be as proactive as possible. It is definitely something we need to be cognizant of moving forward."
Technology--a mixed bag
Raising prices can help, but you can only do it so much before customers begin to seek out lower-cost competitors. As minimum wages rise, turning to technology and automation to reduce labor costs has become an increasingly attractive option. But there are tradeoffs, and some industries are more suited than others to benefit. For instance, it's not currently an option at her company, says Lalinde. Haircuts by robot still feels like bad science fiction. And despite advances in artificial intelligence, the T-Mobile stores need live, tech-savvy sales people. There might be some room for automation at the Smoothie Kings, but she can't see it happening any time soon.
For their new ZIPS store, Boomer and Hawkins have purchased a $14,000 machine that will automatically recombine a customer's items after they've been dry cleaned. "It now pays to look into automating processes to cut your labor hours," says Boomer. "We spend about $400,000 year on labor, so if we can save 5 or 10 percent a year it will be a really strong ROI."
Investing in the automatic sorting machines has an additional benefit--on the human side, says Hawkins. Being a presser is hot, demanding work and anything to improve the working environment can go a long way to both retain good pressers and attract new ones to their stores as they expand.
"It is, literally, a sweatshop," says Hawkins. Even so, they do their best to provide the best working environment possible, she says. "We treat them well and have been able to get a lot of good professional pressers, which can cut labor costs by 30 or 40 percent." She says they strive to do the same at their Retro Fitness locations, resulting in a very low turnover based on the culture they've created at both brands.
"We'd love to invest more in technologies around the workforce, but we need to generate more profit," says Kennedy. One recent step is paying off, she says. "We have just invested with our brand in a new training technology." The video-based online training platform is working well, she says. "Our team enjoys it. We're already seeing positive results compared with reading a traditional manual. We're excited to have done this."
She's also continuing to explore other technologies to save time and money, including digital recruiting platforms and finding ways to use social media more efficiently to recruit employees. But when it comes to the quality of the food she serves her customers, Kennedy thinks automation may hurt more than it will help.
"We still hand fry our taco shells and cut our tomatoes and onions," she says. "I could buy pre-cut, but it loses on quality. I still say the best food is made by hand. But if there aren't people, we'll have to go to automation. That worries me."
On the other hand, she says, "I'm excited about online ordering or ordering at a kiosk. Customers like to choose how they want their food built, and if you're ordering at a kiosk you can add or subtract ingredients. We don't have them yet, but I'm eager to learn more as they become available. That would take a spot that would normally go to a human being."
Employer of choice
"We treat everybody like human beings," says Hawkins. "We want them to have a good time at work as much as possible." This includes scheduling flexibility, days off, a holiday party at a local hotel with their families, even taking employees to a baseball game. "From what we hear from employees, those are the types of things that make them not want to leave," she says.
"We've learned it's not just about pay and benefits," she says, especially for Millennials. "It doesn't seem to be about money. They really want to like their workplace; they appreciate recognition and knowing that somebody knows their name."
And while the $2.29 price and one-day service are important at ZIPS, it's very much about the people, says Boomer. "Any business needs to differentiate itself in one way or another. We've gone into an industry that is notoriously bad at people." Their hospitality background on the Retro side has helped greatly in creating a positive work environment at ZIPS, he says. "Happy employees will smile at the cash register."
At LSGF, providing that personal touch also is important in attracting and retaining employees at all three brands. "Ownership and senior-level management know many of the employees by name and reach out directly," says Lalinde. "Leadership sends notes of encouragement to employees facing challenges such as medical issues, and when employees have had critical hardships the company has provided personal loans. We really keep the employees front and center in the organization."
In one of their brands, says Lalinde, "We recently rolled out a 401(k) plan specifically to be more competitive in our recruiting efforts." And looking forward, she says, "We are discussing tuition reimbursement and employee hardship funds as future potential benefits. We ensure that we are continually rewarding and recognizing employees for their achievements." The hardship program under consideration could provide grants of $500 or $1,000 that don't need to be paid back.
Entry Level as Apprenticeship
"If you're interested in learning about business, or have a dream of your own," says Tamra Kennedy, "there are three things we can teach you: how to manage money, how to manage people, and how to manage inventory. If you master those three, you can run any business in the world--and you can learn all three on any given day in our restaurants."
Kennedy then adds a fourth: learning to work well with others. For many young people, she says, a job in a fast food franchise is their first opportunity to work as a team with others they did not necessarily choose.
"They're walking into a group of people they really don't know anything about--it could be seniors working to augment their income, professional adults (managers), and young people from all walks of life." She contrasts that with going online to form their own, self-selected communities. Onboarding, she says, is not just the paperwork, but introductions and finding comfort and things in common with people different from yourself--an important life skill that will serve that young person for the rest of their life.
Kennedy, an IFA Board member and Vice Chair of the Franchisee Forum, also is Minnesota's state captain for FAN, the Franchise Action Network--and a tireless advocate for the value of franchising as the number-one job training resource for young Americans. "From an apprenticeship perspective, I would love to see the fast food business lead in talking about what we offer," she says.
"I believe that as an industry we need to do better at tooting our own horn. We offer so many good foundational lessons. If we spent more time talking about them, clarifying them with the public, and proving that we're a good place to begin your working journey," she says, people would have a greater appreciation for--and attraction to--franchising.
"I've been doing this a very long time and I'm always proud to say I work in the fast food industry, specifically because we offer those very first steps in a person's career. Our goal is that when they leave they take all they can with them."
Published: September 27th, 2018
Share this Feature
Recommended Reading:
Comments:
comments powered by

Disqus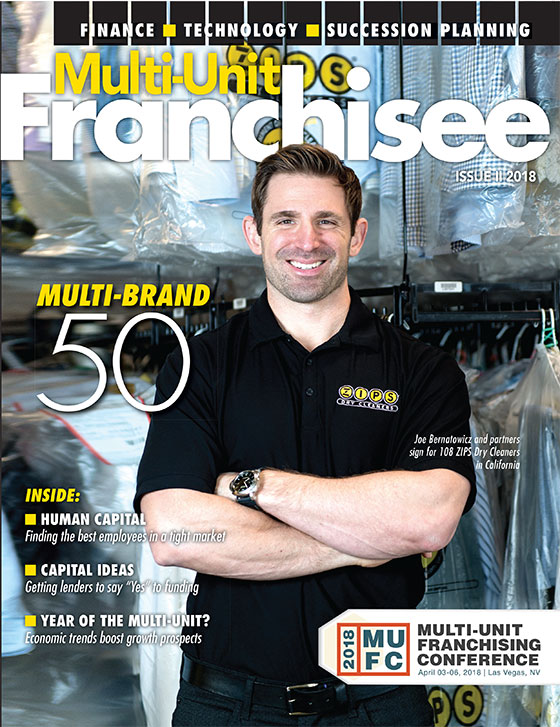 Multi-Unit Franchisee Magazine: Issue 2, 2018
With over 2,000 locations globally, Midas is the auto repair and service shop people know and trust. Multi-unit ownership with Midas is a terrific...
Boring breakfast food? Never heard of it. Bring the savory flavors and colorful personality of the South to your neighborhood with the Biscuit Belly...
Cash Required:
$500,000