Capital Pains & Capital Gains: 7 multi-unit operators share their thoughts
Whether you're in food, services, or any other franchise segment, you've been affected by the Covid pandemic. Some brands have pivoted successfully, some are still finding their way, and some are gone. Franchisees have flocked to federal, state, and local loan and grant programs to get through the worst of it. As entrepreneurs and survivors, many have leveraged longstanding relationships with their financial partners, while others have been forced to find innovative relationships with new or additional lenders, private investors, and others that have proven to be lifesavers—and for the more fortunate, sources for expansion and acquisition.
We asked seven multi-unit franchisees about their financing struggles and victories during Covid, and how well their franchisor supported them during this challenging time. Their real-world insights and experiences may provide lifesaving lessons for you as well.
Shehzaan Chunara is vice president of development for the Chunara Group of Companies. He oversees the expansion of the family's partnership with Dunkin' Brands, Checkers, Popeyes, Church's, Take 5 Oil, My Eye Lab, and most recently Kale Me Crazy. He also oversees the expansion of the family's real estate holding company and the family's diverse portfolio of private equity investments.
Our most pressing financial needs have been for new projects. In this uncertain environment caused by Covid, that's an area where banks have been hesitant to lend. Banks are never sure when regulations might be released requiring the closure of businesses and that has heighted the risk for lenders. Additionally, many banks are starting to have lending limits to diversify their risk portfolio, so many aren't as willing to extend lines of credit as they had been up until the start of the pandemic.
Traditionally, we had done our banking with two to three banks, whether it was new projects or remodels. With the pandemic and a very busy 2020 in which we made several aggressive expansion moves, we added several new banks to our portfolio of lenders. Many of these lenders are community-based and hungry for fairly large businesses with good credit. It has been a perfect match. Before the pandemic, we may not have even considered these lenders because their cost of capital is a little higher than what we are used to, but meeting with these new banks has allowed us to funnel certain deals to certain lenders.
For example, some of the more difficult deals that may be new pro forma–based projects with no past financials and no real estate involved may go to some banks that don't mind taking a little more risk to earn our business. Even then, we have had to inject significantly more than the 20 percent we are used to on many of our projects, or have had to provide banks with clean and free real estate as collateral to get deals done.
Finally, there are certain deals presented by the Covid business environment that simply require us to close in cash, and then look for refinancing afterward. Between the creativity of holding some of our real estate as collateral, injecting more, and shuffling through new banking partners so that we have several lenders to choose from at any given time, we have found ways to push through what can be a challenging financing environment.
Saagar Grover was most recently CFO and operations director for Twisters Burgers and Burritos, a 20-location fast casual chain based in Albuquerque with additional locations in Denver. He is an active CPA who spent 3 years with Ernst & Young and a year in commodities trading before getting into the restaurant business. He transitioned out of his Twisters role in November 2020 and now works on new projects in the virtual brand space. He also serves on the advisory board for the University of Houston and the Bauer College of Business Customer Experience Certificate Program, and is an advisor for the Asian Business Collaborative.
It was relatively simple getting a PPP loan and securing what we needed that way, but we just didn't know where the floor was. We were 10, 20, and 30 percent down week after week. The whole country was challenged. We were fortunate in that we owned the real estate in half our stores and our mortgages were less than rent. We had to adjust quite a bit. Our workforce contracted, but those who remained worked more hours, even though we focused more on takeout and shortened our overall open hours.
Be prepared—develop a close relationship with your bank. In the pandemic, people have recognized the value of their community. Before, people were looking outward. They always had their eyes on something else. This last year has focused us more inward, and we saw a lot of support from our community. We partnered with the Chamber of Commerce because we wanted to do something to support front-line workers, and soon there were other chamber members sponsoring meals from us for front-line workers. We did it at a discount and expanded it so anyone could donate to the program. It was great—we opened it up to the community to support the community through our restaurants, and that supported our restaurant employees, too. That, to us, was big.
Jeff Klein bought his first Capriotti's Sandwich Shop in 2008 and within a decade had acquired 13 units in two states. His franchise holdings in Nevada and California also include The Gents Place, Auntie Anne's Pretzels, and Baskin-Robbins.
My pressing issue is always finding capital to grow. It's always a challenge, but it's something I've been very good at, whether with a bank or a private lender or a partner. I came up with a family business in Ohio and learned it's all relationship-based. My wife and I moved to Las Vegas in 2000 and she started her medical practice. We went to the Bank of Nevada to a loan officer who financed 90 percent of the doctors in this town. "You'll need a lot of credit," she said.
It has gotten tougher over years. During Covid, I've also successfully gone to the SBA and to the disaster loan program. That will allow me to build a couple more stores.
Our business is in the right sector. The catering business fell off a cliff, but I have two stores up more than 40 percent with foot traffic and third-party delivery systems. We have taken all the seats out of the 14 locations, which has allowed me to operate with fewer employees. At the end of April 2020 we decided to put out a heavy advertising campaign in a TV ad that was more than half our annual ad budget.
Josh Fogarty owns three Tijuana Flats in Florida, with one more in construction. He recently expanded his portfolio to include a Jeremiah's Italian Ice location.
We have found capital with our existing private investors who are familiar with our business. That familiarity was imperative to expedite the process. It's not something you can do with a cold handshake or introduction. We have a five-store development plan over the next 5 years and we feel we'll meet our deadlines. We've been able to find great locations because of Covid—there are deals out there. And most of our landlords have been very open to working with us as partners, understanding that something is better than nothing.
Lenny Siers is a U.S. Air Force veteran and multi-unit franchisee of Benjamin Franklin Plumbing, One Hour Heating & Air Conditioning, and Mister Sparky. After serving active duty for 8 years, Siers opened his own HVAC contracting company and decided to convert his business into a One Hour Heating & Air Conditioning franchise. He later opened a Benjamin Franklin Plumbing and Mister Sparky. Siers now manages more than 140 trucks and 180 employees for Benjamin Franklin Plumbing alone.
While my businesses, Benjamin Franklin Plumbing, One Hour Heating & Air Conditioning, and Mister Sparky were deemed essential during the pandemic and able to continue servicing the homes of our customers, we did experience a few challenges. The pandemic reduced employee availability, along with consumer confidence for home services at the start of Covid-19.
Luckily, we were provided great support during this time. We received assistance from the PPP loan program, and through the amazing relationships we have with our local banks and CPA team our financial needs were handled promptly and professionally. We were also thankful to have support from our franchise system. Authority Brands kept us informed on all the necessary steps to follow to address our Covid-19 related challenges and we felt stronger facing these times together.
As customers started to take notice of our enhanced safety protocols and dedication to safe service for both our technicians and customers, business started to stabilize, and by June we were operating close to normal conditions.
Eyal Reich is a franchisee of four Wetzel's Pretzels, one at Fort Hood Military Base in Killeen, Texas, one at the Cross Border Xpress (CBX) airport terminal on the U.S.-Mexican border, and two in San Diego's Belmont Park beachfront amusement park.
Most of my locations were in areas that experienced a big impact from the pandemic. One of my Wetzel's Pretzels locations is in an airport at the U.S. border. The border shut down at the height of the pandemic and is still not fully open. We've lost about 50 percent of our customers from 2019 to 2020. Most landlords weren't willing to offer discounts. Some were allowing deferral for rent, but there were no discounts. Luckily, we were able to secure PPP loans, which gave us some wiggle room to pay the landlords and our employees. The rest, unfortunately, we had to pay out of pocket.
We secured a Covid-19 Economic Injury Disaster Loan (EIDL) through the SBA as well. Because it's a 30-year loan with a 3.75 percent interest rate, it has been very helpful to our team. Normally, business loan interest sits around 6 to 10 percent, so the lower rate is a huge support. It's what's keeping us afloat. Our team is hopeful that with the vaccine rolling out, things will go back to normal. It's hard to know for sure, but we're hopeful.
Thankfully, our franchisor was very helpful throughout this time. We had weekly Zoom calls about all of the loan offerings and where to get them. From the CEO to the vice president of operations, it was clear that all hands were on deck. The support has helped all the franchisees. I believe that more than 90 percent of franchisees were able to secure a PPP loan.
Ron Reger is a franchisee of one Wetzel's Pretzels location with four more in development in Southern California. He also owns three Circle K franchises.
Even as an essential business, we've been hit by the effects of the pandemic, as we all have. At the start of 2020, before the pandemic, we began the process of refinancing a lot of our properties. Low interest rates meant underwriters were struggling to keep up with the demand, which caused many delays. The pandemic forced the process to move online, which translated into less efficiency. Whether someone is a buyer or seller, it's taking a long time.
Underwriters are also digging a lot deeper into finances. Before the pandemic, they were concerned about cash flow. The pandemic has caused them to take an even deeper dive, and they are comprehensively reviewing business revenue and previous years' revenues as well. The extended process has produced a slowdown even in the simplest aspects of financing.
I've been blown away by the support from the Wetzel's Pretzels corporate team. They continue to hold Zoom calls on lease negotiations and PPP loans. If they aren't expert, they bring in third-party companies to provide more information. We launched our first Wetzel's location in June. They were still supportive and arrived that first week to get us set up and help out. We're planning to open four more Wetzel's locations before the end of the year.
Published: June 19th, 2021
Share this Feature
Recommended Reading:
Comments:
comments powered by

Disqus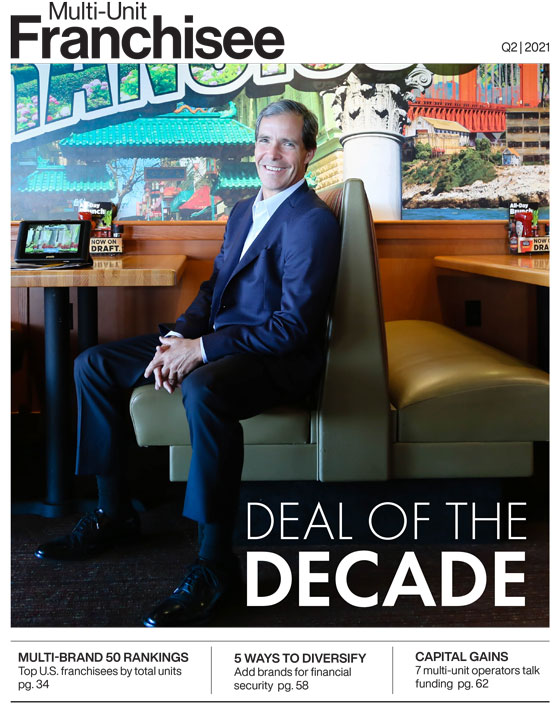 Multi-Unit Franchisee Magazine: Issue 2, 2021
Another Broken Egg is an upscale breakfast, brunch and lunch restaurant that specializes in Southern-inspired menu options and signature cocktails....
Cash Required:
$250,000
Invest in a legacy brand with 40 years of experience serving up crave-able food in a fun environment. Here's all you need to know
Cash Required:
$1,500,000