5 Ways to Diversify: Add new brands for financial security
After nearly 25 years as a Two Men and a Truck franchisee, Jamie Scott decided it was time to trade her single-brand status for the multi-brand life.
The Michigan-based franchisee, who recently signed a multi-unit development deal with LunchboxWax, is no stranger to operating through uncertainty, but Covid-19's economic fallout was different.
"The pandemic really opened my eyes. I realized I had all my eggs in one basket," says Scott, who has four Two Men and Truck locations within two franchises. "The moving industry has always been somewhat recession-proof, and we've been able to survive many different things, starting with 9/11, and then the crisis in '07 and '08—and now this. It's a good, steady business. But I just felt I needed more financial security after the panic of the first few weeks of the pandemic."
Scott has loads of company in her move to mix things up as part of a sound investment strategy. As we continue to move toward a post-pandemic reality, operators large and small are rethinking their growth strategies with a diversification mindset. The multi-concept franchise portfolio of the future is all about minimizing risk and maximizing opportunity. Here are five ways to do it.
1) EXPAND WITH A RESILIENT BRAND
For better or worse, Covid-19 has raised the stakes and the focus on franchise performance. A brand's current financial snapshot will vary, of course, based on industry and sector—soaring home services versus hard-hit fine dining, for instance—but it also provides invaluable insights for prospects seeking a transparent value proposition.
Andy Johnson, owner of Mr. Rooter and Mr. Appliance franchises in Memphis, recently added Mr. Handyman to his portfolio of Neighborly companies, the world's largest home services franchisor with 28 brands and more than 4,500 franchises in 9 countries.
"We had our best year ever with Mr. Rooter and Mr. Appliance in 2020," says Johnson. "On one hand, you almost feel guilty saying that; on the other hand, you feel proud. Everything we do is essential. We keep sanitation going, food fresh, and ovens heated. We help better people's lives and have kept their lives going as normally as possible when everyone has had to stay at home."
While franchises such as cleaning, maintenance, restoration services, along with food brands offering drive-thru, carryout, and delivery have stepped up safety protocols and thrived, other companies rebounded with innovative strategies to keep customers coming back.
How nimbly a franchise adapted its business model with technology to create new revenue streams, delivery systems, and franchise-friendly supply lines to meet customers' needs reveals plenty about a brand's resiliency. Also, the way brand leadership communicated during the darkest times and backed up those promises with support and resources provides invaluable insight into whether—or not—theirs is a franchise network worth joining.
2) GROW WITHIN A FAMILIAR FRAMEWORK
There is no longer a cookie-cutter approach to multi-brand expansion. Whether your goal is to balance out a single concept facing an uncertain recovery or add an emerging brand to a lineup hampered by oversaturation, alternative holdings can provide economic stability and new avenues for growth.
Multi-brand franchisee Chris Klein, an authorized dealer of 40 Cricket Wireless locations, turned to franchising to diversify from the competitive wireless industry, opening the East Coast's first Kolache Factory in 2015.
Three years later, Klein and his wife Erin added Fit Body Boot Camp to the fold. The couple, who both have a background in sales, is set to open their third boutique fitness gym site in July and are seeking a location for a second Kolache Factory, the fast-growing brand serving fresh-baked, high-quality "on-the-run" breakfast fare. While Klein didn't know much about the food industry, he believed in the system's strength and its founders.
"In my conversations with them, I got comfortable with the fact they were not only franchising, but had started the business from the ground up, lived it, and would understand and help a person new to the food business," says Klein, whose prime Virginia Beach site and drive-thru has served the location well throughout the pandemic.
Choosing a franchisor and management team that has demonstrated hands-on leadership for franchisees has been critical to ensure a fast start to success, says Klein.
"We looked for businesses that provided the infrastructure for the member experience and what the customers are going to see," he says. "We have a separate company that runs all the back offices for these businesses to take the day-in and day-out stuff out of the hands of the store and gym managers. They are totally focused on the customer experience. We think that gives us sustainability and continued growth."
This centralized approach to back-office systems also provides both economies of scale and an economic snapshot of their portfolio to create operational efficiencies and drive growth by adding value. One example: "We are selling more merchandise with Fit Body using an ordering practice that comes from Kolache Factory," says Klein.
3) SEEK SYNERGIES
Synergies can be found in all sorts of ways—shared real estate, target markets, referrals, and marketing support. Expanding with complementary brands is one way to benefit customers and boost the bottom line through cross-promotion. Johnson's path to expansion came in part because he didn't like missing out on clear-cut opportunities to serve his existing customers in additional ways.
"We want to own the home," says Johnson, a second-generation Mr. Rooter franchise owner. "Basically, if anything in your house breaks, I want to be able to fix it."
Adding brands instead of more territory with a single franchise also has allowed Johnson, a father of four young children, to grow the business in a single market and still be close to home.
"As you add another concept, there are going to be more challenges, but it also gives you more resources to divvy up marketing costs, office expenses, and salaries in the offices," he says. "It allows you to do more things because you have a broader revenue generator."
4) FIND A NEED AND FILL IT
Franchisees facing a maxed-out market or other roadblocks to expansion often find paths to growth with an emerging concept or an existing brand that fills a need in an untapped market.
Long-time Little Caesars multi-unit franchisee Robert Zarbock, owner of three restaurants in Montana, always has his eyes on alternative investment opportunities. He recently found one with Edible Arrangements.
"I knew that I wanted to franchise with Edible when I was trying to order a gift for my wife and there was nothing in the area," says Zarbock, who has two Edible stores in development and plans for up to 10 more throughout Montana.
The decision to join the fast-growing brand of fresh fruit arrangements and all-natural fruit snacks and dipped treats was the perfect operational fit—and "right up my alley as a health-conscious concept," says Zarbock, who is on the hunt for an additional concept to open in the Billings market.
Klein became familiar with Kolache Factory from his days in broadcast sales in Houston, where he regularly brought the brand's fresh-baked treats to customers. The Kleins, parents to four boys, discovered Fit Body Boot Camp when visiting friends in Atlanta. After experiencing the brand's group training class two days in a row, Erin says she started the paperwork process on the 12-hour ride home.
Both the Kolache Factory and Fit Body Boot Camp were unique and missing from the Hampton Roads area market. "You also have to be super passionate about it," she adds.
The fallout from the pandemic has also opened doors of franchise opportunity in other ways. "Right now is a great time to find real estate vacancies for a new salon. Landlords are more willing to negotiate," says Scott. "I'm also hoping to take advantage of the labor market as I'm headed into the health and beauty industry where there has been job loss from the pandemic."
With her Two Men and a Truck operations humming, Scott was ready for a new venture that would provide professional growth and meet her lifestyle and financial needs. She didn't even have a chance to start researching brands when a fellow Two Men and a Truck franchisee told her about LunchboxWax, a fast-growing salon brand that offers a full range of hair removal services.
Drawn to the profit margins and the "somewhat recession-proof products and services," Scott purchased the rights to five salons to be located primarily in suburban Detroit. She is currently developing a LunchboxWax in Troy, Michigan, and scouting a second site for Ann Arbor.
5) FIND A BRAND WITH SUCCESSFUL FRANCHISEES
Franchise support and a vibrant network of franchisees have never been more critical in franchising. Klein attended two Kolache Factory franchisee meetings before he signed with the brand. He was encouraged to speak with other franchisees, which allowed him to learn about "the real things that go on in their business."
Johnson says you can't put a price tag on the resources available within his franchise network. "If you want to be successful, go hang out with successful people," he says. "I found the best of the best and drove to their office and asked them questions. I said, 'I'm not good in this area. How do I fix this?' Some of those are hard conversations."
No matter how you choose to diversify, internal support is also paramount to multi-brand success. It is vital to surround yourself with the right people. "I learned some hard lessons in that I can't do everything," Johnson says. "I had to learn to trust, I had to learn to delegate and teach people and empower people to do their job. If you don't, you are going to run yourself ragged."
While challenges remain, access to labor, low interest rates, favorable real estate, and attractive incentives are expected to lead to a boon in franchise development. Seasoned pros say managing well-positioned multiple brands can provide an even bigger payoff—if you're prepared to roll up your sleeves.
"What you put into it is what you get out of it," says Zarbock. "This is key when people are looking to diversify because they have to be ready to put in the work early to set themselves up for success in the future. You never know until you try it. Without risk, there is no reward."
Published: May 28th, 2021
Share this Feature
Recommended Reading:
Comments:
comments powered by

Disqus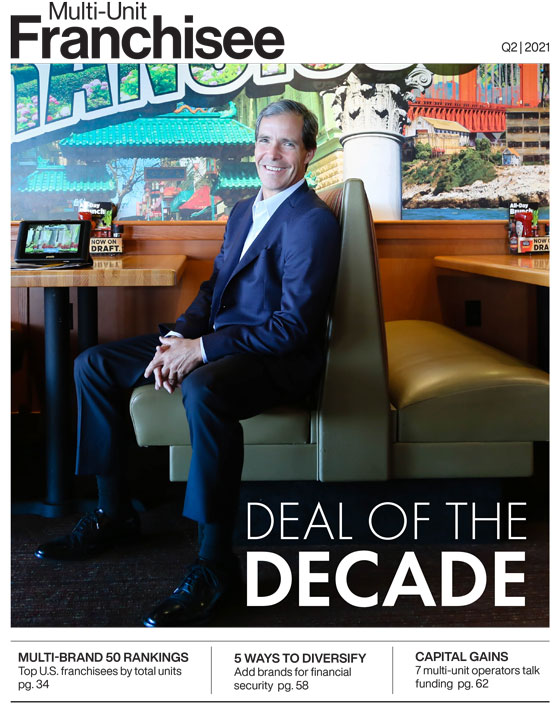 Multi-Unit Franchisee Magazine: Issue 2, 2021
Vitality Bowls specializes in acai bowls, smoothies, juices, salads, grain bowls, wraps, toast & panini, made with unique superfoods like pitaya,...
Blend opportunity with success and join the nation's #1 health and fitness smoothie brand today!
Cash Required:
$100,000