How important is a conversion strategy to your development plans?
Mike Hawkins
Vice President of Franchising
The Dwyer Group
Conversion franchising is the foundation for The Dwyer Group development plan. A franchise conversion program has allowed us to be proactive in generating leads for our franchise development team, rather than hoping enough leads come in through normal lead generation channels.
The key to implementing a conversion franchising program is for a franchise to have good systems, training, and support programs in place to offer existing independent business owners. With these three things in place, a franchise can look at what types of businesses and industries they want to do conversion with.
One type of franchise conversion is to find independent business owners already in their industry who can benefit by implementing better systems that can help their business grow. Most independent business owners don't have good systems, business skills, and usually don't have coaches to assist them in growing and managing their business. Another is to look for compatible businesses that can add your franchise as an additional division or profit center. Because of today's economy, many independent business owners are open-minded about finding additional ways to bring revenue into their business.
The principles for building a more successful business are the same whether it is a franchise or not. If a franchise has better systems than an existing business owner has, the business owner should see the value of joining a franchise company. They should determine that they don't have the time, money, or expertise to develop these systems on their own. If the franchise has a good vendor program for their current franchisees, these vendors can help an independent business owner bring more to their bottom line. Once a franchise identifies where they would like to do conversions, they can begin to take an aggressive marketing approach through direct mail, industry trade shows, and advertising in industry magazines.
There are special benefits that come from converting independent business owners to franchisees. First, the business owner already has a business generating revenue and income that is normally supporting their current lifestyle; they don't need the franchise to support their living standards. Second, many times they have existing sales volume they can roll in and begin paying royalties immediately; many conversions can have very large roll-in sales volume.
In addition to all of the current lead generation methods franchises have available today, adding a conversion program provides another avenue for finding and adding great franchisees. Also, a franchise's systems can change and improve an independent business owner's business and personal life for the better. It's a win-win for everyone.
Ken Hutcheson
President
U.S. Lawns
Conversion franchising played an important role in the early development of U.S. Lawns. The conversion "pioneers" and our customers validated our business model and were instrumental in testing the sales and operational systems unique to commercial landscape management. They were already committed to the industry and armed with a high degree of confidence.
The only hurdle to transitioning their business from an independent operator to a franchise was trust. Trust that the business model would take their business to the level they desired. Trust that the individuals involved would follow through with their commitments. It's an effective recruiting strategy if you can deliver on the trust factor. Conversions can still be challenging, however, if you cannot provide significant ongoing value to these formerly independent operators.
Today conversion franchising remains one of several important components of the U.S. Lawns growth strategy. Our vision 25 years ago was to be the industry leader. We succeeded, and it remains our vision today. We have respect for the independent operators who are the backbone of the fragmented landscape industry. We also see opportunity for them. Our market provides high-volume, year-round revenue, as opposed to seasonal or cyclical income available from residential market segments. For many independent operators, moving into the commercial management market can be the key to reaching their personal and business goals.
The transition from residential to commercial can be difficult if they don't have access to the resources required to satisfy the needs of the market and the customer. We supply these resources, such as the ability to efficiently serve multi-site customers nationwide, which will provide immediate impact and continued value to the independent operator's business.
Our challenge, then, is not in attracting conversion candidates--it's selecting the individuals who own these businesses who have the drive, passion, values, and personal skills to build the business at the pace, to the size, and with the values that fit the culture of U.S. Lawns and align with our overall development plans. This selection process, designed to "weed out" the complacent, unqualified operator, has become far better refined in our most recent phase of growth.
How important are conversions to our future development plans? As we move through the next phase of growth, they'll be as important as they have been in the past. They are only one component of a complex and magical mix of franchisees, home office team members, and customers that create the culture of our company and lead us to our vision.
Published: May 25th, 2011
Share this Feature
Recommended Reading:
Comments:
comments powered by

Disqus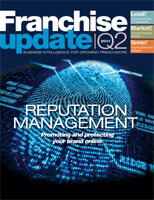 Franchise Update Magazine: Issue 2, 2011
Our accounts payable automation platform combines technology with simplicity & affordability. Save time and money, and automate your ap workflows...
Gravity Software is a cloud-based, multi-entity accounting solution that simplifies inter-company transactions and financial reporting. Built-in...