Challenge the Pros: Applying key Customer Data in your Franchise Recruiting and Development Efforts
How do you analyze, integrate, and apply key customer data in your franchise recruiting and development efforts?
Jim DiRugeris
Vice President, Franchise Development
Goddard Systems
When working with current and prospective franchisees, a great deal goes into recruiting and development efforts. A major obstacle for many franchisors is identifying the right franchisees who will help grow the brand. As a franchise, it's crucial to comprehend what makes a franchisee successful and then apply that information to development efforts.
The Goddard School uses a wide variety of tools to analyze key customer data that assists us in future recruiting efforts. Recently, we introduced a Predictive Index Survey to the franchise awarding process. We survey our existing franchisees to get a better look at what characteristics are common among our top-performing franchisees. We then have the ability to pair these findings with prospective franchisee characteristics to see if they match up. Furthermore, if a prospective franchisee is lacking in a certain area, we are always willing to provide additional support to help fill any gaps. While we do not rely solely on the survey, it does give us additional information to review. This is one of the ways that we are able to integrate the information we have found into our development efforts.
Another way we ensure that we are getting to know future franchisees on a personal level is by organizing a "Meet Our Team" day. This in-person event allows prospective franchisees to meet with the extended leadership team and provides an excellent opportunity for questions and answers.
Location is also extremely important in our development efforts. For our team, it is imperative to review and follow current trends, including construction, real estate, licensing, and regulatory trends that may affect a potential location. Goddard has deep knowledge in other areas of interest that are crucial for the success of a new location, and we really strive to educate our potential franchisees in the areas of real estate, construction, and state licensing trends.
Additionally, we have a few key areas that we are focusing on growing this year which include Los Angeles, San Diego, Manhattan, Long Island, San Antonio, Boston, Florida, and Illinois. To expand our market presence in cities where young, Millennial families are starting to migrate, we have adapted our suburban model to fit a more metropolitan landscape.
Jeff Salter
Founder and CEO
Caring Senior Services
We profile each franchise owner and then monitor their individual location results. We categorize the locations based on size of staff and other factors to give us a useful gauge based on a results profile. We then profile each franchise prospect based on both personality type questions and in-house criteria. Once we have this profile, we compare it with franchisee profiles from existing locations and try to get some sense of likely success based on the information we've gathered.
We share this information with franchise prospects so they can use the information in their decision making. We try not to use it to make a decision, but as a discussion point, and then let the candidate know of any profile items they may have to overcome to meet success. This way both parties use an "eyes wide open" approach.
Our goal isn't to eliminate candidates, but rather to allow candidates to opt out if they feel their personality, style, and drive won't be a good fit for senior care. We don't focus on whether they are right for Caring Senior Service, but on if a senior care business is right for them.
Published: November 10th, 2016
Share this Feature
Recommended Reading:
Comments:
comments powered by

Disqus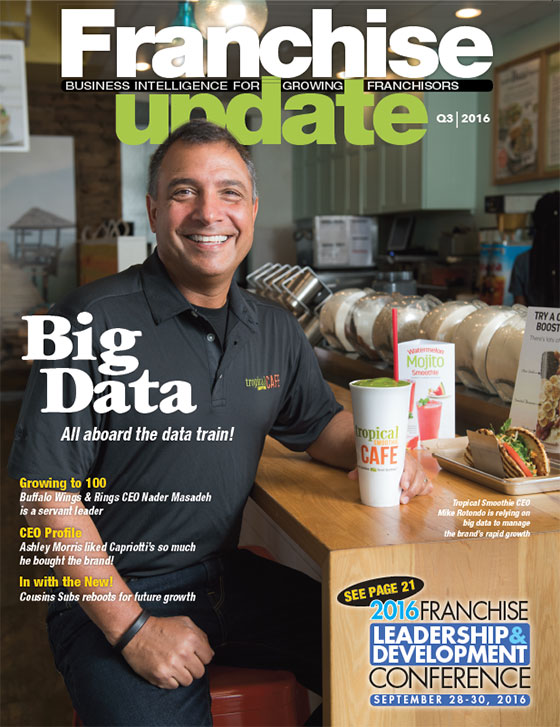 Franchise Update Magazine: Issue 3, 2016
Conferences
InterContinental, Atlanta
OCT 18-20TH, 2023
The Hungarian Franchise Association was founded in 1991 as an interest representation organization of the franchise business community.
In 2022 Empower Brands emerged when Lynx Franchising and Outdoor Living Brands united. Empower consists of JAN-PRO, Intelligent Office, FRSTeam,...