Challenge the Pros: Diversity In Your Brand's Recruitment And Development Process
What role does diversity play in your brand's recruitment and development process?
Chris Cheek
Chief Development Officer
Toppers Pizza
Essentially doubling in size since 2010, Toppers Pizza is one of the fastest-growing pizza chains of the past 3 years. At 50 stores, we are at the beginning of a period of even more accelerated growth. Our goal, to reach 500 pizza stores by 2020, can only be realized by our focus on recruiting new franchisees that, among other things, are able to win the pizza delivery competition at the local community level.
If you look at the changing population of the United States in the last 12 to 15 years, we understand and embrace the strategic imperative that, to be successful in the growth of financially successful new stores, our franchise owners must be able to bring it with passion and build something special at the local level. Franchise owners with strong ties to their local communities should be better operators of those businesses, better recruiters of talent, and better at understanding cultural norms. Our development philosophy is based on recruiting the best local owners we can identify. As our business communities continue to grow more diverse, our franchise recruiting must follow suit.
There is an additional aspect of diversity as it relates to our target franchise candidates. Toppers targets franchise candidates who desire single units, as well as multi-unit franchise candidates. Moreover, we don't require restaurant experience to become a Toppers' franchisee. As such, we cast a wide net when advertising our franchise opportunity, and we process franchise candidates across a wide spectrum of business backgrounds.
The intended outcome of this approach is to develop a franchise community that today and in the future will be composed of owners who bring a diverse collection of previous business experiences and success to our brand and franchise community. In fact, we currently have in place a program to match Toppers' experienced managers as partners with new franchisees who have passion, local knowledge, and capital to invest, but lack pizza or restaurant experience. We call this the "Topperator" program and it will further expand the types of franchisees we can recruit.
For franchisors looking to grow big by successfully winning at the local level, it is a strategic objective to develop a franchise community of individuals with diverse backgrounds, experiences, and size of companies. Our brand will benefit from the learning and innovation that naturally follows, putting us on the path to build something special... together.
Mike Pearce
Chief Development Officer
ServiceMaster Clean
At ServiceMaster we highly value diversity. Diversity has been a key ingredient for our successful growth. Our corporate diversity statement reads as follows:
"Working with associates and franchisees from diverse backgrounds improves our thinking, makes us more creative, and allows us to better achieve our collective goals for our associates, our customers, and our communities.
Diversity is every way that we reflect and share our unique experiences. Guided by our corporate values, we believe diversity and inclusion allow us the best possible chance to succeed both individually and as a company.
Embracing a diverse work environment is key to how we treat our associates, customers, and suppliers. Diversity embodies all the differences that make us unique, including, but not limited to, race, color, religion, national origin, age, sex, familial status, disability status, veteran status, genetic information, gender identity, and sexual orientation."
We have a high percentage of franchises that are women- and/or minority-owned. We also have a large international base of franchisees representing countries and regions all over the world, including Japan, Russia, the Middle East, and Europe. Some of our franchises with the highest sales volume are owned by franchisees who bring the greatest diversity. We believe that through developing a diverse family of franchisees we are better positioned to serve the most diverse groups of customers. The insights we gain from minority and/or women-owned franchisees are invaluable to our efforts in gaining market share and dominating the service industry segments we perform in.
We would be missing so much of what is possible without the knowledge and culture of many different groups. We make concerted efforts both corporately and through franchise marketing to ensure that the company and its franchisees are represented by every point of view in our society and in countries throughout the world.
Published: June 19th, 2014
Share this Feature
Recommended Reading:
Comments:
comments powered by

Disqus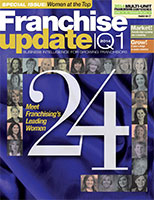 Franchise Update Magazine: Issue 1, 2014
Prisma has reinvented the marketing supply chain with an end-to-end solution that makes it easy to design, customize, order, download, print, kit,...
Oct. 18-20, Atlanta, GA. An exclusive event for franchisor CEOs, Presidents, COOs, CDOs and Franchise Development Executives.