Challenge the Pros: Inside Info From Those In The Know
"Are you using social networking (MySpace, Facebook, YouTube, Twitter, blogs, etc.) to recruit new franchisees?"
Rob Goggins, Vice President of Franchise Development
Great Clips, Inc.
Our primary sources of new franchisees are franchisee referrals, salon staff referrals, and customers. These lead sources get the bulk of our attention and efforts.

With that in mind, we've dabbled in some of the social networking arenas over the last year in an effort to recruit new franchisees. Some of the recent efforts we've undertaken include creating a YouTube "GreatClipsFranchise" channel; populating a weekly blog on our www.greatclipsfranchise.com website; contributing to some online franchise-oriented Q&A forums; and placing ads on Facebook and LinkedIn. We're also currently reviewing some targeted direct networking services on LinkedIn. The reason we're exploring LinkedIn further is because we feel it targets our experienced white-collar corporate executive candidate.

This summer, Great Clips is hiring an MBA student intern to assist us with our social media and networking efforts. In particular, this intern will be helping us review our existing social media activities and results in the areas of franchisee recruitment, consumer marketing, and overall corporate communications and branding. They'll then help us develop plans to better utilize the various social resources to communicate with our audiences and accomplish our goals.

As it relates to franchisee recruitment, I'm not entirely sure there's a significant ROI in these endeavors. We survey our qualified prospective franchisees regularly. We always ask them how we should find more people like themselves. I've yet to read a response that encourages us to use social networking methods. Of the many franchisors I've spoken to in the last year, very few are having success recruiting new franchisees through social networking methods. Those that have found some mild success usually share that it took a fair amount of time and effort to generate just a few franchise sales. They also seem to have difficulty quantifying their return on investment.

We'll continue to learn more about this field and continue to dip our toe in the water while also keeping in mind where our best leads come from presently.
Mary Kennedy Thompson, President
Mr. Rooter Corp.
We truly know that social networking is a great tool for sharing information about our Mr. Rooter Plumbing brand. Right now, you can find Mr. Rooter on Twitter, YouTube, and Facebook. By having a presence online, we can reach more people--from recruiting new franchisees to communicating with our customers.

Through Twitter, we are able to get our message to a large group of people in an fast and effective way. Our franchise development department sends tweets about areas in which Mr. Rooter Plumbing looks to expand. A link in the tweet takes prospects to a press release on our parent company's website, www.leadingtheserviceindustry.com. These releases have details on the areas Mr. Rooter Plumbing has available.

Twitter also allows us to share the publicity Mr. Rooter receives from TV stations and newspapers. Our latest tweet is about the Mr. Rooter Plumbing franchise in Salem, Mass., where a plumber recovered a customer's wedding rings that were accidently flushed down the toilet. We put in a link to the TV station's website, so people who are interested can see the story. Sometimes our customers don't know the full extent of the services we provide, and this is a good way to show them in a manner they like.

Facebook gives us another way to share the fun stories written or aired about Mr. Rooter. It's also a good venue to communicate corporate news, such as information on new franchisees who recently attended our basic training. It's exciting to see our friend list grow by the day.

In addition to finding our TV commercials on Facebook, they're also on YouTube. Since more people are turning to the Internet these days, we want to provide them with the same opportunity to see the Mr. Rooter Plumbing ads as those watching TV. Our appearance on The Learning Channel's Designing Spaces also can be found there. While these clips show some simple plumbing tips for customers, we also hope they grab the attention of business owners and/or plumbers who are looking to join our franchising network.

Thanks to social networking, we can expand the options Mr. Rooter Plumbing has to recruit new franchisees. While we're still using the traditional methods of recruiting, we're finding that, as more people move to the Internet, social networking must also be part of our outreach. In fact, we are always looking for ways to increase our online presence.
Published: August 17th, 2009
Share this Feature
Recommended Reading:
Comments:
comments powered by

Disqus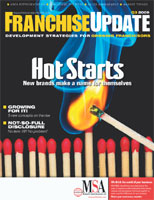 Franchise Update Magazine: Issue 3, 2009
Find the support you need to find success with your small to mid-sized business. Explore the PEO services offered by Integrity Employee Leasing.
MSA provides domestic and international franchise advisory services to franchisors and companies seeking to establish franchise and licensing systems.