Challenge the Pros: Measuring Performance in Sales and Development Departments
"How do you set standards and measure performance in your brand's sales and development department?"
Taylor Wiederhorn
VP, Franchise Marketing & Development
Fatburger
Fatburger sets development standards based on a variety of different types of target markets and development standards designed specifically for those markets. In domestic markets where Fatburger already has a footprint, the criteria are based on a calculation of factors including the existing number of units and how much room there is in that arena for new restaurants to develop.
In existing domestic markets, Fatburger allows single-store and multi-unit operators to develop new units after determining that market's ability to handle additional units. We also allow development of alternative venues in current markets, which in some cases allows for additional units in an already "full" market. The development standards in existing markets are based on the unit growth percentage that we believe can be achieved without oversaturating the market.
In areas where Fatburger has no footprint, the company will enter the market only after it finds the appropriate multi-unit franchisee to develop it. Development standards for initial and new developments are not based on unit growth percentage, but instead on the number of total units determined by the franchise development team and the multi-unit franchisee.
Fatburger measures franchise sales performance using metrics based on the development of new units by existing franchisees, the development of new units by new franchisees, the number of new markets sold for development (domestic and international), the number of units sold for development (domestic and international), the number of co-branded units sold for development (domestic and international), and by revenue from the sale of franchises in domestic and international markets. We also gauge sales performance by the type of unit sold (food court, free-standing, in-line, end-cap, drive-thru, airport, college, train station, etc.).
An additional way we quantify franchise sales performance is by comparing ourselves with the competition. By measuring our franchise growth against the growth of direct and indirect competitors across the domestic burger markets, we are able to determine our own performance within the sector. Then, to obtain a broader view of Fatburger's sales performance, we measure our franchise sales relative to the performance of franchise sales for the entire food and beverage industry.
Jeff Platt
CEO
Sky Zone Indoor Trampoline Park
We first pay close attention to our leads to determine how many we are driving and where they originate. Most important, we evaluate the effectiveness of our marketing initiatives by conducting a comprehensive analysis of the results achieved in comparison with the amount of money spent. For example, if we spent $100,000 on franchise marketing and closed 50 deals, that's an average marketing cost of $2,000 per license sold. We compare last year's marketing spend and cost per deal to ensure that we continue to improve on the efficiency and effectiveness of our marketing initiatives.
In terms of where we develop, we do not have one specific plan we use for saturating each market. Instead, we create a strategy for each market by analyzing the total population through a mapping program that uses address data provided by the customer. Overall, we place a high importance on developing a strategy that focuses on target marketing that uses our candidate profile and, when appropriate, key geographical areas. This strategy allows us to effectively develop a lead generation marketing plan that provides the most return in terms of contributing to overall growth. We prefer to have higher-quality leads that equate to a higher probability of converting to a franchise sale. We use print and online publications that have a proven record of interaction with our typical candidate profile. We also have an active referral program for our current franchise partners, targeted digital campaigns, in-store information, website access, and multi-faceted public relations campaigns.
Conversions are reviewed within each of these avenues at various stages of the development process to evaluate the effectiveness of each initiative and help determine where we should continue spending marketing dollars. Comparing year-over-year cost per deal data maintains consistency and allows for further analysis of our efforts. Our development process has checkpoints for following the system, aligning with our culture and brand, and providing opportunities for us to see if the franchisee is the right fit for a place within our system. We have high standards when awarding a franchise in order to maintain brand integrity and gain a franchise partner who is as excited and dedicated to the brand as each individual within the Sky Zone team.
Published: February 13th, 2014
Share this Feature
Recommended Reading:
Comments:
comments powered by

Disqus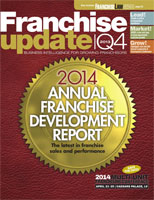 Franchise Update Magazine: Issue 4, 2013
Qiigo unifies digital marketing for national brands and their locations, building brand unity and success helping businesses get found locally....
Slick Marketers is reinventing franchise marketing with a hyper-customized and ultra-localized marketing approach with measurable results and growth...