Changing Places: Trading the Corporate Life for Franchising
The remarkable change in his life is not lost on John Betz. It seems one day he was wearing a three-piece suit and hopping a private jet to meet with telecommunications industry clients, and the next thing he knew he was wearing shorts and rolling pretzel dough behind the counter of his first Auntie Anne's Pretzels.
His first brush with the brand came when he grabbed some of the soft pretzels in Philadelphia and took them back to the office. Pretty soon, he didn't dare face his colleagues without them. "You don't forget those pretzels, and I recognized the uniqueness of the product when I saw the reaction of the crew at the office," Betz recalls.
In 1990, he struck up a relationship with the owners, first as a guest, and later got to know them better. About a year later, when the brand started franchising, he and his wife Anne opened their first store in the nearby Cherry Hill Mall.
Like many new franchisees, Betz kept his corporate job at MCI Telecommunications for a time, while Anne left MCI to open their first store. "She worked Monday through Friday, and I worked there on Saturdays and Sundays when I wasn't at my day job," he says. As the business began to grow, they opened another Auntie Anne's, this time in the Philadelphia International Airport.
Later, as they prepared to open their fourth store, Betz left the corporate world and dove full-bore into the life of a franchisee. "My salary decreased initially, but that was all right because we knew this was ours. We were in control of our destiny and no longer had to worry about downsizing, right-sizing, or promotions that would move us out of the area," he says. "I have five sisters and one brother here, and our families are all very close, so this is home."
Over time, Betz & Associates grew to encompass 11 Auntie Anne's Pretzels, including the one they opened in 1999 on the boardwalk in Atlantic City, N.J. Starbucks came along in 2000, when Trump Plaza in Atlantic City asked Betz to be a licensee for Starbucks there. The new Starbucks Coffee opened in Trump Plaza on the boardwalk in 2003, and three others have followed in the Pennsylvania/New Jersey area, says Betz, who says he is wowed by the concept.
"Their core belief is that your first place is home, your second place is work, and your third place is somewhere you can congregate with family friends or co-workers and feel at peace. Starbucks wants to be that third place," Betz says. "I can't believe the attention to detail involved--the color selection, the material, the layout, the music. In doing our fourth store, we were involved in the design with strategic teams looking at locations and how the environment can create something special."
Recently, as part of a strategic plan to sell off his Auntie Anne's stores, Betz signed a contract with Swiss Farms for three units in New Jersey's Camden County, becoming the first franchisee for the company, which describes itself as "America's Drive-Thru Grocer."
"Swiss Farms is 42 years old and two of my sisters worked at one in my neighborhood when I was growing up, so I've been going there since I was a kid," Betz says. "Their products are great, they're located in high-traffic, high-density areas, and the support from the franchisor is fantastic. There's nobody better than Rocco Fiorentino ."
Betz is happy with his franchise portfolio and "blessed" with the support of his wife Anne; his assistant of 14 years, Liz Robinson; and his team. "Our people really care," he says.
It's also important for company management to know what's in it for them, he says. "Every GM and manager within our company is tied to profitability with bonuses based on the profitability of the stores. Several things can enhance or detract from those bonuses: payroll costs, secret shoppers, and surveys. We want our people to feel emotionally appreciated and also financially appreciated."
Name: John G. Betz
Title: President
Company: Betz & Associates
No. of units: 4 Starbucks Coffee; 1 Solé Mex/Baja Breeze (dual concept); 1 Worldwide Beverage; 3 Swiss Farms (first one opening in October); partner in Tony Luke's Philly Cheese Steaks (a new concept, with the first opening in September).
PERSONAL
Age: 49
Family: Lovely wife Anne; 3 sond and 1 daughter
Years in current position: 20
Years in franchising: 18
Key accomplishments:
First, I have been able to surround myself with exceptional people that stay with me for many years and care about their work. Second, I have made the transition from the corporate world to the franchise world and maintained my enthusiasm for the guest. And third, we've been able to grow our family business to, at one point, 15 stores between three different brands.
Biggest mistake:
I had established an objective very early on for franchising. Three factors needed to be present to be successful and each is equal in importance: 1) the product needs to be exceptional and unique; 2) the location where you'll sell that product needs to be strong; and 3) the support you receive from the franchisor needs to be extraordinary. We got involved in a franchise that had the first two and lacked the third. At the time, I knew it was lacking but felt I was experienced enough to bridge the gap. Bad idea--we died a slow death.
Smartest mistake:
Trying to have regional managers handle multiple brands. I learned that it is difficult for the person in that key position to have the impact that warrants the salary with spreading them across brands.
How do you spend a typical day?
Two days in the office; five in the field. Work week: Monday through Saturday to whenever. I try to save Sunday for the Lord and the family.
Favorite fun activities:
Anything with my kids.
Exercise/workout:
Five days a week, three on cardio and two for weightlifting.

Favorite stuff/tech toys:
My iPhone--just incredible.
What are you reading?
Think and Grow Rich by Napoleon Hill... again. Do you have a favorite quote or advice you give?
God's delays are not God's denials.
Best advice you ever got:
You can always adjust yourself to an unpleasant situation so it does not break your spirit!
Formative influences/events:
Tony Robbins. I am a huge fan, have been to several of his events, and have appeared with him on QVC twice.
How do you balance life and work?
I plan and stick with the regimen as best as I can.
MANAGEMENT
Business philosophy:
There is no limit to the degree of quality you can add to any product, regardless of what it is.
Would you say you are in the franchising, real estate, or customer service business?
I know it might be over-used at times, but I'm in the people business. I am all about the guest experience, and that is why I love the Starbucks brand so much. They have created an environment that makes the guest feel extraordinary. Why? Because if I don't have the guest, I don't have a business.
What gets you out of bed in the morning?
The opportunity to get better in every aspect of my life, as a husband and father as well as an entrepreneur and Christian.
What's your passion in business?
Making people on both sides of the counter feel special and appreciated.
Management method or style: I pay great attention to detail, bring areas of improvement to light, and provide a means or suggestion for change.
Greatest challenge: Keeping our team focused on the multiple objectives one must have in this day and age to be successful.
How close are you to operations?
Very close but not too close to get in the way.
Personality: Enthusiastic, energetic, focused.
How do others describe you?
Passionate and driven.
How do you hire and fire?
With care and feelings.
How do you train and retain?
Consistency, never wavering.
How do you deal with problem employees?
Straight-on in an all-business way.
BOTTOM LINE
Annual revenue:
Not disclosed.
2010 goals:
$6 million
Growth meter: How do you measure your growth?
Weekly sales, year to year, and net sales per guest.
Vision meter: Where do you want to be in 5 years? 10 years?
I'd like to have multiple stores with the three brands: Starbucks, Swiss Farms, and Tony Luke's.
How has the most recent economic cycle affected you, your employees, and your customers?
We're seeing lower purchase amounts and less frequent visits.
Are you experiencing economic growth/recovery in your market?
In Atlantic City, absolutely.
What did you change/do differently during the recent tough economic times that you plan to continue doing into the future?
Refocused on making the guest experience exceptional.
How do you forecast for your business during trying times? Can you even forecast at all?
You can drive yourself nuts trying. I focus on making my team the best it can be and making them feel appreciated--and, of course, the guest experience needs to be exceptional.
Where do you find capital for expansion?
The trusted relationships we have with lenders come from honest dealings and following through on commitments.
Have you used private equity, local banks, national banks, other institutions? Why/why not?
We use a local bank with national bank-experienced people involved.
What kind of exit strategy do you have in place for your business?
God willing, I'll pass it on to my kids. However, that's only if they have a passion for it. Otherwise, I will find someone who does.
Published: January 18th, 2011
Share this Feature
Recommended Reading:
Comments:
comments powered by

Disqus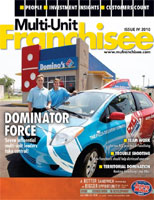 Multi-Unit Franchisee Magazine: Issue 4, 2010
With a passion for creating happy 'Human Beans', the company's drive-thrus have established a reputation for friendly baristas, high-quality coffee,...
Cash Required:
$200,000
Grab Hold of the Bold with the legacy brand that is backed by 50+ years of experience, a fresh look and feel, and outstanding menu innovation, all...
Cash Required:
$500,000