Changing the Narrative
Franchising: the best little training program in America
This past June, the White House announced a program intended to widen the scope of the government's apprenticeship and skills training programs. According to news reports at the time, a senior White House official said that third-party entities such as companies, unions, and trade associations would be tasked with establishing specific criteria in their industries for these training programs. The Department of Labor (DOL) would then consider them for approval. The DOL also announced the formation of the Task Force on Apprenticeship Expansion to solicit additional input from the private sector on skills training.
In September, the Bureau of Labor Statistics reported a record high 6.2 million positions went unfilled as of July 31. While overall unemployment is low by historical standards, for unskilled labor it is still high. The rising number of job openings suggests structural challenges beneath the cyclically improving labor market. Simply put, we have a skills gap and not solving that gap has long-term political, economic, and social consequences.
In the U.S., we are predominately a service-based economy. What sorts of skills training would open the door for unskilled people to qualify for, or at least get onto the first rung of, skilled positions? I'm not an employment expert, but as an employer I can offer a list of some of the more obvious non-technical soft skills we look for when hiring in service industries:
Sales. Almost all service-based jobs require some level of salesmanship, so let's start there. This begins at the interview level, when we want to see if candidates have the ability to sell themselves.
Communication. We prize employees with good communication skills, regardless of the level of the position.
Customer service. This skill is closely aligned with sales. After all, the very description of a service industry job implies providing services to people. Attentiveness, patience, a calming presence, and an ability to persuade are but a few of the attributes needed to pass our interview test in this category.
Multitasking. Most service industry jobs require performance of many individual tasks involving some level of judgment about which tasks to perform when, and how best to perform them.
Teamwork. Almost all service industry jobs are performed in teams. Learning to work in teams is an acquired skill. We tend to value this skill highly and judge candidates on this from the start of the interview.
Technology. We would be hard-pressed to identify a service-based job today that doesn't involve the use of technology. We have moved from a time when computer and social media skills were nonexistent to now, when they are necessary and expected.
Attitude. Most employers agree that a service employee's attitude is among their most highly appealing attributes. Attitude can be an acquired skill that training can improve.
Franchising already's done it!
A significant component of the administration's proposed solution to the jobs gap is to emphasize experiential learning through apprenticeship programs. The concept of experiential learning is an answer to this mismatch between workforce demand and workforce supply, Secretary of Labor Alexander Acosta said in June: "I think if we get this right, we are going to do so much for the American worker."
I'm sure the administration would like to show that a million people benefited from its apprenticeship initiatives. But here's the punch line: the franchise business model does this every year.
Today there are nearly 8 million people employed by 750,000 businesses using the franchise business model. A reasonable estimate is that at least 1 million people a year are given the very experiential learning that Secretary Acosta is seeking to provide in service industry jobs. Go back and look at the list of soft skills I listed. Every one of them is built into the training programs required for the successful execution of the franchise business model.
Last year's IFA Chair Aziz Hashim pushed to "change the narrative" during his term. He articulately described the upward mobility of the franchise business model, where an unskilled minimum-wage employee can rise to become a manager and even a business owner. The model provides the path. It just takes employee initiative. However, the emphasis was on the upward mobility, which is terrific and real, but that involves only a small subset of the millions of franchise employees.
Hidden in plain sight was one of the strongest attributes of the entire franchise business model: skills development for every employee who walks in the door. In that context, the more people franchising touches, for however long they stay, the better it is for the economy. Franchising provides the vital first career-rung skills missing for so many Americans today.
If the DOL is looking for an apprenticeship home run, it needs to look no further than franchising. By redefining franchise training programs as skills-based apprenticeship programs, we can truly change the narrative--from a business model associated with dead-end minimum wage jobs to the premier apprenticeship program for the service economy.
Darrell Johnson is CEO of FRANdata, an independent research company supplying information and analysis for the franchising sector since 1989. He can be reached at 703-740-4700 or djohnson@frandata.com.
Published: March 15th, 2018
Share this Feature
Recommended Reading:
Comments:
comments powered by

Disqus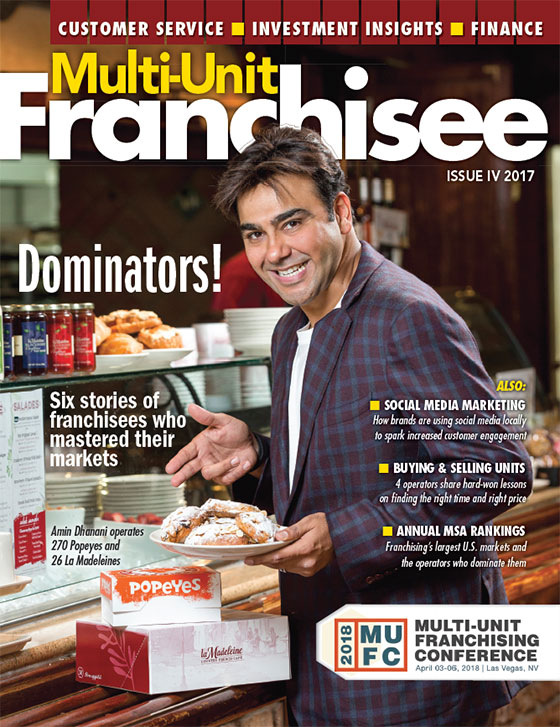 Multi-Unit Franchisee Magazine: Issue 4, 2017
Build a Future with the Computer Service Industry Pioneers. NerdsToGo is paving the way as innovators, entrepreneurs, franchisees, and successful...
Cash Required:
$70,000
Get more than 35 years of experience behind you and the opportunity for years of success ahead of you as a Jackson Hewitt franchise owner. Our...
Cash Required:
$50,000