Chicken and Eggs: Southern Strategy Pays Off for this Growing Duo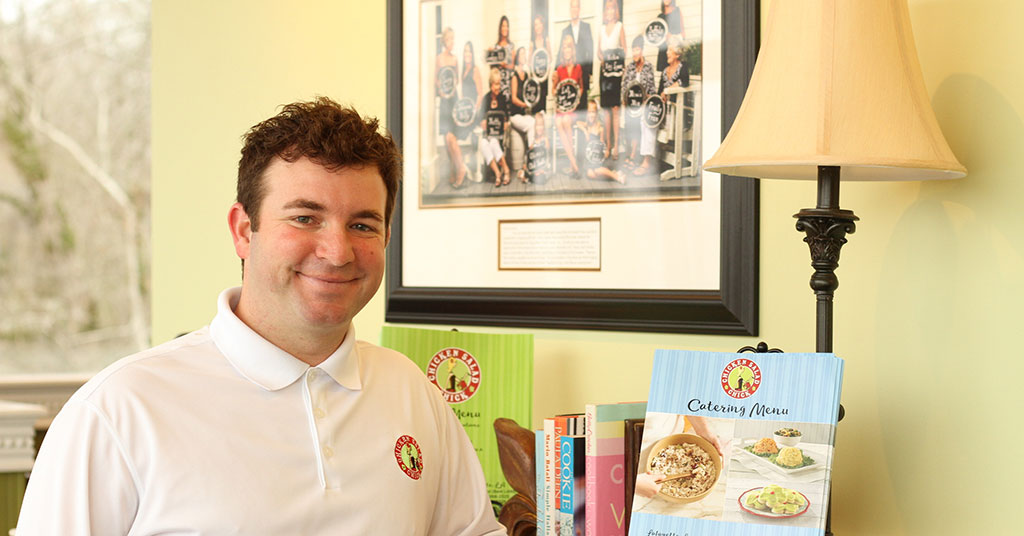 Jake Alleman considers himself lucky for the success that has come his way. Yet when opportunity knocked, his ability to respond has been a driving force in building an expanding portfolio for the Cojak Restaurant Group, where he serves as COO. Based in Lafayette, La., Cojak is a franchisee of Another Broken Egg Cafe and Chicken Salad Chick, two Southern-inspired concepts poised for growth.
Alleman, who worked at the original Broken Egg Cafe in Mandeville, La., nearly 20 years ago, was the first franchisee to sign with the brand. Today his company owns and operates 13 of the brand's cafes, stretching east from Louisiana to Winter Park, Fla., with plans to add five more in the next three years.
His roots with Another Broken Egg Cafe run deep. In 2001, Alleman worked as a busboy and server at the brand's first location while attending Louisiana State University. When the brand geared up to franchise, he was approached about buying into the concept. He turned to his friend Cody Gielen (now president of their company), who scheduled a meeting with his grandfather, the late John Dan Gielen, who died this past February at 79.
John Dan Gielen was a local legend who built the ShopRite and Tobacco Plus convenience stores, as well as Church Point Wholesale, into a Louisiana empire. Yet before Alleman even had the chance to try selling the elder Gielen on the venture, the businessman agreed to partner with the young entrepreneurs, saying he was eager to return the favor for all the support he had received when starting out in business, Alleman recalls.
In 2007, Alleman and Cody Gielen, both 25 at the time, had just opened the doors of their first Another Broken Egg Cafe in Lafayette, when word that an existing restaurant in Panama City Beach, Fla., was up for sale.
"The landlord of the complex decided he was going to try to take on the restaurant and keep it open," Alleman says. "When I found out, I called him 32 days straight before he actually picked up the phone. The only thing he said was, 'You can have it. When do you want to meet?' That was six months after we opened our first Lafayette location. It was the craziest thing we have ever done."
For three months, the newly married entrepreneur drove six hours to Panama City to oversee the restaurant during the week, and then drove back home on weekends to pitch in at the busy Lafayette location.
"That is about the time we decided that if we were going to grow this thing and these restaurants, we had to figure out exactly what it takes," says Alleman, who would wait four years before expanding again. "We didn't want to grow too fast. We wanted to be smart about it. Another Broken Egg was also new to the franchise process. Once they got their infrastructure in place, we decided to grow as well."
Those early years, says Alleman, taught him the value of managing growth by staying ahead of the expansion curve, instead of putting out fires caused by expanding too rapidly. This lesson would serve him well when the company sought a new, complementary brand.
So, with a solid infrastructure in place, Alleman and Gielen set out to find a second, complementary brand to invest in. From his first taste, Alleman believed that Chicken Salad Chick's "edgy twist on a Southern classic" was a winner. When he and his partners attended the brand's discovery day they were sold.
"We loved the culture," says Alleman. "We loved everything about it, and the family feel that makes you want to open stores with them." (The brand was launched in the Auburn, Ala., kitchen of founder Stacy Brown in 2008.) With one Chicken Salad Chick open in Louisiana, they are shooting to become the largest franchisee of the emerging fast casual concept and are hatching plans to add 16 more restaurants over the next five years.
Culture is key for Alleman, whose life pursuit is a perfect fit for Chicken Salad Chick's stated purpose to "Spread Joy. Enrich Lives. Serve Others." His leadership focus now is on slow and steady growth that begins with having the right people on board from the start.
"We try to hire happy people," he says. "If our employees are happy, they are going to just turn it on, and over, to our guests. It's a hard thing to find. The way we look at it, it is about hiring the right people, because we feel we can train them to do anything we want them to do."
Alleman sees a bright future for both brands. "For us, as long as we are doing it in the right way, and we can continue to grow, the people who work for us are happy, and my family life is still what it is today--as long as the train is rolling we are going to ride it."
Name: Jake Alleman
Title: COO
Company: Cojak Restaurant Group, and Cojak Investments
No. of units: Another Broken Egg Cafe, 13; Chicken Salad Chick, 1
Age: 35
Family: Wife, Katie, daughters Charlotte and Alice
Years in franchising: 10
Years in current position: 10
Personal
First job:
Busboy at the first Another Broken Egg Cafe.
Formative influences/events:
would have to say the loss of my son Will, and adopting my daughter Alice. It made me appreciate the value of life, and I don't want to waste a moment of it.
Key accomplishments:
Having the support of my family to get to do what I love. I also host a golf tournament in memory of my son. We donate all proceeds to Dreams Come True of Louisiana, an organization that grants dreams to children with life-threatening illnesses.
Biggest current challenge:
Finding the right people to fit our culture while we grow two different concepts.
Next big goal:
To be the largest franchisee for Chicken Salad Chick.
First turning point in your career:
I had an amazing mentor and business partner in John Dan Gielen, who believed in me and gave me an opportunity to do something I've always dreamed of doing. I'm the luckiest guy in the world to have had the opportunity to work and learn from someone who had already given me so much. To have someone like him at my disposal was truly a blessing. He played a huge role in who I am today.
Best business decision:
My best business decisions always revolve around hiring the right people to assist with our growth.
Hardest lesson learned:
Experience costs money. This was something John Dan would tell us. One example early on was after opening our first location. We had great sales but weren't making money. Finally, I'd had enough and went to John Dan for guidance. He looked at me and said, "I've been waiting for you to ask." As you can imagine, I was puzzled. So we went through the P&Ls and it felt like we improved overnight. Once we finished our meeting I said to him, "If you would have said all of this sooner, we wouldn't have lost money." He said, "Experience costs money." That phrase stuck with me. Every time something happened and we spent too much money, that's what he would say. I can also promise we didn't make the same mistake twice.
Work week:
Around the clock, 24/7. When you own a business, you work every day.
Exercise/workout:
I enjoy tennis and golf.
Best advice you ever got:
Keep moving forward!
What's your passion in business?
My passion in business is to succeed and watch our staff be successful in turn.
How do you balance life and work?
I'm very fortunate to have the team that I do. They allow me to balance life and work. I also have a very supportive wife who allows me to be away when necessary.
Guilty pleasure:
Blue Bell ice cream.
Favorite book:
Good to Great by Jim Collins.
Favorite movie:
"Gladiator."
What do most people not know about you?
I'm color-blind. What did you want to be when you grew up?
I'm still trying to figure that out. Last vacation:
Chicago with my wife to celebrate our 10-year anniversary. Person I'd most like to have lunch with:
Drew Brees.
Management
Business philosophy:
To be focused on quality and hospitality by spreading joy, enriching lives, and serving others.
Management method or style:
Participative and affiliative. I always try to build teams that feel connected to each other, creating a positive and upbeat work environment and culture.
Greatest challenge:
Hiring the right people to fit our culture.
How do others describe you?
Fair, appreciative, caring. I don't ask anyone to do something I haven't done or won't do myself. I treat others as they want to be treated. I listen.
One thing I'm looking to do better:
Staying on task.
How I give my team room to innovate and experiment:
I don't get involved in my employees' day-to-day operations, but I act as their safety net if they need one. Ultimately, I'm their biggest cheerleader. That's my main role. I absolutely encourage experimentation and innovation within the guidelines of my franchise agreement. I know that most innovation in our industry comes from the field and from the franchise community. If I find a way to build a new restaurant with a lower budget, deliver quality food to guests more efficiently, or to cost-effectively reduce turnover I can certainly benefit from that, and our home office wants to hear about and capitalize on it. Franchisors who encourage franchisees to innovate and experiment ultimately benefit the entire system. It's a true win/win, but requires trust on both sides.
How close are you to operations?
Very close. It's important to me that I know the nuts and bolts of the operation so I can help lead and advise our operations team. I never micro-manage. My director of operations and I talk religiously. She keeps me in the know regarding all aspects of the business, which allows me to focus on my role. In our business, and with the metrics we have at our fingertips, like guest counts, Net Promoter Scores, and turnover, it's easy to see when a location is struggling and needs assistance.
What are the two most important things you rely on from your franchisor?
To operate flawlessly and to hire the best talent possible to support me and to grow my business.
What I need from vendors:
I consider our vendors our partners. Treat them well and with respect and they'll treat you well. I do want our vendors to be profitable, for in turn they are stronger partners who want to support me and ensure I'm growing. My success is ultimately their success.
Have you changed your marketing strategy in response to the economy? How?
Yes and no. My definition of marketing is much broader than just "promotion." Marketing to me also includes people and place. I focus a great deal of time and attention on both, no matter the state of the economy. This business is so cyclical that I know to invest during the good times so I'm better prepared for the bad times. In the good times, I increase my development spending and budgets to improve and update my existing locations, so we're better prepared for the bad times. I learned very early to not sit back in the good times and expect them to last indefinitely, to never become complacent. While today might be great, tomorrow might not. One of my passions is community involvement and giving back to the communities in which I do business. I think of community involvement like deposits in a trust bank that, in bad times, can help carry me through. That is the business reason to give back, but my reasons for doing so are personal. I will never stop giving back in good times or bad.
How is social media affecting your business?
Social media has had a very positive effect on my business. To me, it's priceless. Through social media, I can easily share our programs and initiatives with our customers. They read it, react, and share it. It also allows me to see the impact of our sales. The impact is immediate and measurable.
How do you hire and fire?
We perform at least two interviews when hiring and always call their previous employers and references. I'm usually the last one to interview the prospective team member. We look for people who will spread joy, enrich lives, and serve others. We also look for people who are motivated and willing to share and spread that motivation. As for firing, we send everything to our HR director and director of training for correct documentation and coaching. Everything is documented and has a process. We coach all employees on all situations, but sometimes they fall short of our expectations and culture. If we have to make the tough decision and let them go, it's always done face to face, with a witness present and our HR director on the phone listening.
How do you train and retain?
All team members go through a very detailed orientation on culture, which we believe is the most important aspect of our business. Once they understand our meaning of culture, the team member is partnered with their trainer. We are also fortunate that Chicken Salad Chick and Another Broken Egg Cafe have invested in an online training and testing program that focuses on each position. Our managers meet with the trainee daily to evaluate and give feedback based on how the shift went.
How do you deal with problem employees?
We follow our three methods of documentation and action: counseling, disciplinary, and termination.
Fastest way into my doghouse:
Any action that might have a negative impact on a guest.
Bottom Line
Annual revenue:
In 2017, Another Broken Egg Cafe averaged approximately $1.45 million per location--an increase of $76,000 on average. AUV multiplied by 13 equaled $19 million and the average cafe increase multiplied by 13 equaled $988,000. For Chicken Salad Chick, we haven't completed a full year, but in our first six months we had more than $1 million in sales.
Growth meter: How do you measure your growth?
I measure growth, or overall success, two ways. First, I measure turnover at both the management and hourly levels. Lower turnover means my "people first" focus is working. It also reduces my recruitment and training costs. But more important, lower turnover means I'm ultimately able to provide a better overall experience for my guests and drive repeat visit frequency as well as positive word of mouth. Second, while I do closely monitor increases in top-line sales, a steady increase in guest counts truly validates the health of my business. If I can increase guest counts and PPA simultaneously with an emphasis on hospitality, higher-ticket LTOs, and brunch cocktails (versus driving incremental guest counts with deals and discounts), then I know my plan is working. We closely watch our Net Promoter Scores to ensure we're generating more 5-star reviews than 1- to 3-star reviews. There is a very strong correlation between 5-star ratings and guest count growth.
Vision meter: Where do you want to be in 5 years? 10 years?
I had no idea when I started in my first restaurant job 20 years ago that I'd own 13 Another Broken Egg Cafes, with plans for five more over the next two to three years, and one Chicken Salad Chick with 16 more in development over the next five years. I'm invested in both businesses and am confident that I won't be ready to retire in the next 5 to 10 years. I guess I really do need to figure out what I plan to do when I grow up! In all seriousness, I do want to run great restaurants, provide a great guest experience, and be the best leader I can be. I want to support the two brands that support me because I truly believe that when you give, you get back tenfold. For now, I plan to take it day by day and see where the future takes me. With the team we have in place I know it's going to be great!
How is the economy in your regions affecting you, your employees, your customers?
My cafes are located in Alabama, Florida, and Louisiana. Unlike a few years ago, the economy in the Southeast is booming. Our visit frequency is very high, with our heaviest users visiting 10 times per month, so our employees really get to know guests and their families. I believe the recent tax cuts are already starting to have an impact on my business. People are taking home bigger paychecks, which means they're more likely to travel. Many of my cafes are located in tourist areas, which no doubt will benefit from increased travel for spring break and the summer months. Additionally, we're seeing increases in our higher-ticketed items as the economy is improving. People are trading up from the two-egg breakfast to a Lobster & Brie Omelette. They're also now more likely to order a mimosa or Bloody Mary in addition to that cup of coffee. I'm also lucky my cafes are located in Southern states, as we do like to drink.
Are you experiencing economic growth in your markets?
Yes, and we're capitalizing on it. We know this is a cyclical industry and what goes up will eventually come down. That's why it's so important to focus on the overall guest experience. We make it a priority to treat our guests as our friends, thank them for their business, and invite them to return. Those core customer service strategies never change, in good times or bad.
How do changes in the economy affect the way you do business?
I'm not going to say that the state of the economy doesn't affect the way I do business, but I learned very early in my career that if I stay focused on "people first" I'm ultimately going to be successful. We've found in tough economic times that consumers might not dine out as much for dinner, but they still want to eat out, and dining out for breakfast or lunch is typically less expensive.
How do you forecast for your business?
We sit down every year and figure out how much money we want to make for the year, per location. Then we move on to expenses. We are constantly trying to figure out how to cut costs without affecting our guests. We then forecast sales based on how we think each location will perform. We also look at our 8-week trends and adjust the budgets throughout the year.
What are the best sources for capital expansion?
Yourself, banks, and private investors.
Experience with private equity, local banks, national banks, other institutions? Why/why not?
We've been very fortunate to partner with a couple of regional banks in Louisiana. Luckily, we have been successful in our restaurants and they have allowed us to continue to open new locations.
What are you doing to take care of your employees?
I'm lucky to be in the breakfast/brunch/lunch category, open only from 7 a.m. to 2 p.m. My employees know they will always have their afternoons and evenings free to do what they want, or to hold down a second job if they need to. I make an effort to monitor the competition and their pay scale for managers and employees, to be certain that we're staying competitive. Based on my personal experience working in a restaurant, I know that employees also want to be acknowledged and appreciated for a job well done. I recently hired a director of training for our restaurants because I know how critical great training is to retention and overall job satisfaction. The individual I hired doesn't focus solely on the nuts and bolts of training, however, she also is the biggest cheerleader for our teams and is constantly coming up with ideas and initiatives to acknowledge and reward a job well done. We recently developed our High Five program, which consists of a card our managers complete to acknowledge strong performance above the norm.
How are you handling rising employee costs (payroll, minimum wage, healthcare, etc.)?
My "people first" strategy requires that I find other ways to manage sales and profits that don't require layoffs or reductions in benefits or training. Happy employees correlate strongly with happy guests and increased guest frequency. I also realize I must continuously prioritize my focus on top-line sales growth, versus bottom-line cost cutting. Of course, this isn't always easy to do. The three most important things I do to drive top-line growth are: recruit the best talent I can, pay them a fair wage, and treat them with respect and appreciation. In turn, they treat our guests with respect and appreciation. I also make sure we're identifying and acknowledging our first-time guests, which equate to almost 20 percent of our business, to ensure they feel welcomed and appreciated. The lifetime value of just one new guest equates to thousands of dollars, so ensuring a great first-time visit is critical to our long-term success.
How do you reward/recognize top-performing employees?
Along with our High Five cards, we've also implemented an employee incentive program with "chick cash" and "egg dough." It allows employees to redeem their "cash" for uniforms, meals, etc.
What kind of exit strategy do you have in place?
Our exit strategy is to one day sell our restaurants. But we all know opportunities change daily. Maybe my daughters will want to follow in my footsteps one day.
Published: June 7th, 2018
Share this Feature
Recommended Reading:
Comments:
comments powered by

Disqus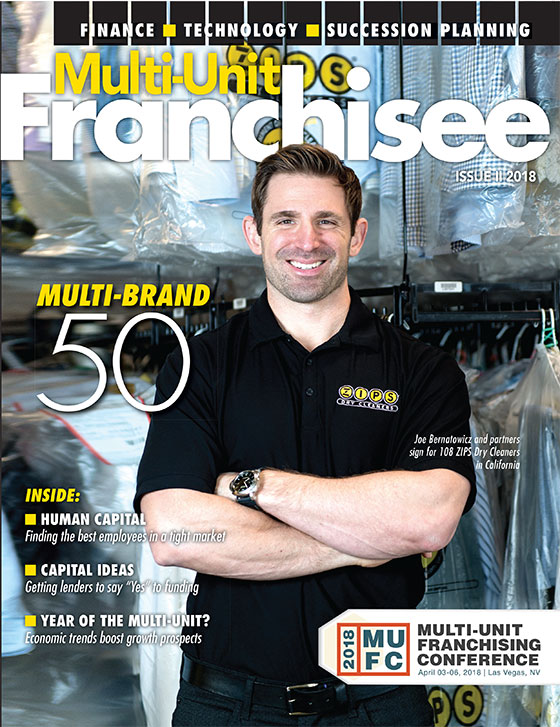 Multi-Unit Franchisee Magazine: Issue 2, 2018
Founded in 1959, Ziebart provides premium automotive appearance and protection services to extend the life of vehicles. Recently ranked #1 in its...
Cash Required:
$150,000
Einstein Bros. Bagels is the largest fast-casual bagel brand, known for its freshly-baked bagels, made-to-order hot sandwiches, signature shmears...
Cash Required:
$564,300