Giving and Growing: Eric Holm continues his quest to help others
Eric Holm has graced the pages of this magazine before. We first profiled him in these pages in 2013, then recognized him with our 2015 Noble Cause MVP Award and profiled him again. He has built a $165 million empire, garnered numerous awards, and is Golden Corral's highest-volume operator. But it's perhaps his own experience with poverty and his compassion and response to those in need today that he is most proud of.
"I've been broke before in my life and it was no fun," says the 62-year-old. "But I'm proof that you can work your way out of it and have a better life, and that sometimes it helps to have a little help along the way."
In 1992, he founded "Helpings from the Heart" as a way to give back to the community and thank The Salvation Army, which provided a Thanksgiving meal to his own family when he was a child growing up in a single-parent home. Over the past 25 years, Holm and area nonprofit organizations, corporations, and local businesses have helped serve alongside more than 1,000 volunteers, dishing up more than 25,000 free Thanksgiving meals each year at the Orlando Salvation Army.
On the business front, Holm has been busy growing and diversifying since we last spoke with him in 2015. "I've added three more Golden Corrals and have another scheduled to open later this year," he says. He's excited about the new location because it will feature the brand's new restaurant design.
In May 2016, Holm ventured into a second brand, Krispy Kreme, purchasing four of the donut shop's locations. That same year, he also purchased land near his Golden Corral in Celebration, Fla., where he built and opened a Marriott Fairfield Inn & Suites. "Each of these brands offered me a great opportunity to get in and grow," he says. In fact, he says, he's planning to open additional Krispy Kremes and says he will continue to expand his Golden Corral portfolio.
Meanwhile, he continues to operate his own barbecue restaurant, and recently renamed it from Daytona Pig Stand to Colt's Pig Stand. He says the name change is part of a plan to expand the concept.
From his humble beginnings, Holm has found success on many levels. Whether it's offering quality food for his customers, providing jobs to more than 3,000 people, or serving hot meals at Thanksgiving, he understands that one of the keys to life is helping people. That, he says, is the measure of true success.
Name: Eric Holm
Title: Owner/Manager
Company: Metro Corral
No. of units: 33 Golden Corral, 4 Krispy Kreme, 1 Marriott Fairfield Inn & Suites
Age: 62
Family: Wife Diane; daughters Danielle, Erin, and Erica; grandsons Kyle and Eric
Years in franchising: 21
Years in current position: 21
Personal
First job:
I was a busboy at Sonny's Barbecue in Gainesville, Florida, where my mother worked as a waitress.
Formative influences/events:
Getting into franchising. That helped change my career for the better.
Key accomplishments:
Having a successful marriage and raising our daughters.
Biggest current challenge:
Maintain growth for our team across all of my businesses.
Next big goal:
Opening the new Golden Corral restaurant prototype in Gainesville, Georgia later this year.
First turning point in your career:
Turning around two underperforming Golden Corral restaurants shortly after I bought them.
Best business decision:
Joining the Golden Corral family in 1996.
Hardest lesson learned:
Having two of my businesses fall into bankruptcy.
Work week:
I work as long as needed to serve our guests and get the job done.
Exercise/workout:
Need more.
Best advice you ever got:
James Maynard, founder of Golden Corral and a business partner of mine when I was an independent restaurant owner, told me I should never run out of cash.
What's your passion in business?
To be able to provide career opportunities for others.
How do you balance life and work?
Cautiously. It can be a challenge managing both. I'm not sure if I do a great job of it, but my wife helps me quite a bit.
Guilty pleasure:
Riding in my Challenger 350 jet.
Favorite book:
The Bible.
Favorite movie:
"It's a Wonderful Life."
What do most people not know about you?
That I serve on the National Advisory Board of the Salvation Army.
Pet peeve:
Mean people.
What did you want to be when you grew up?
Nothing specific, but I knew I wanted to be successful in whatever I did.
Last vacation:
We took a trip to London, Barcelona, and the Amalfi Coast in May 2017.
Person I'd most like to have lunch with:
President Trump.
Management
Business philosophy:
There is no finish line!
Management method or style:
Fair but firm.
Greatest challenge:
Being able to increase sales in a saturated market.
How do others describe you?
A good person who wants to give back and help others.
One thing I'm looking to do better:
Take more quality time off.
How I give my team room to innovate and experiment:
By asking questions and listening to my team's suggestions.
How close are you to operations?
Very close. I love to visit our teams in the field.
What are the two most important things you rely on from your franchisor?
Innovation and marketing of our business, and field operations.
What I need from vendors:
Honesty is my top priority. I also want them to follow through on what they say they will do.
Have you changed your marketing strategy in response to the economy? How?
The company has changed strategy slightly in response to increased competition by elevating the buffet experience.
How is social media affecting your business?
Social media can have both a positive and negative effect on the business. Positive reviews on Facebook or Yelp are great for the restaurant, but negative reviews can be hurtful and just plain ugly.
How do you hire and fire?
Very carefully. We use several different pre-screening tools and e-verify all candidates. We have hired HR staff to assist us with terminations.
How do you train and retain?
We provide the best training tools available for this business and we have a very attainable bonus program to earn more.
How do you deal with problem employees?
Every solution is different and requires a great deal of thought and consideration. Each employee is different and we deal with them on a case-by-case basis.
Fastest way into my doghouse:
Failing to live up to company standards and take care of our co-workers and guests.
Bottom Line
Annual revenue:
$165 million.
2018 goals:
Continue to grow my three businesses: Golden Corral, Krispy Kreme, and Marriott. Successfully open Golden Corral's new restaurant prototype in our new location in Gainesville, Georgia.
Growth meter: How do you measure your growth?
By profit dollars.
Vision meter: Where do you want to be in 5 years? 10 years?
God willing, still be in the saddle operating each of my businesses.
How is the economy in your region affecting you, your employees, your customers?
It has been a tough few years recently, but things are improving.
Are you experiencing economic growth in your market?
Yes. There is a lot of construction in the Orlando area. If wages follow, restaurants will feel the economic growth.
How do changes in the economy affect the way you do business?
When the economy is booming, we will spend more money on building our business and hiring and training employees.
How do you forecast for your business?
There is a lot of optimism about business right now, and that is why we are predicting an increase in sales this year.
What are the best sources for capital expansion?
Regions Bank and Wells Fargo Bank.
Experience with private equity, local banks, national banks, other institutions? Why/why not?
We do not have experience with private equity, but we do have good experiences with the local banks.
What are you doing to take care of your employees?
Giving them a safe and friendly place to work and offering a generous benefits package.
How are you handling rising employee costs (payroll, minimum wage, healthcare, etc.)?
We are optimistic that there will be positive changes in the healthcare plan. We are also cross-training our employees to make them more productive and using software programs to assist with scheduling.
How do you reward/recognize top-performing employees?
We provide them with personal recognition and bonuses. We routinely give cash bonuses and gift cards to our top performers.
What kind of exit strategy do you have in place?
It is a work in progress. We are currently in negotiations to add more Golden Corrals and Krispy Kremes to our portfolio. Any plans for an exit strategy will have to come at a later date.
Published: June 21st, 2018
Share this Feature
Recommended Reading:
Comments:
comments powered by

Disqus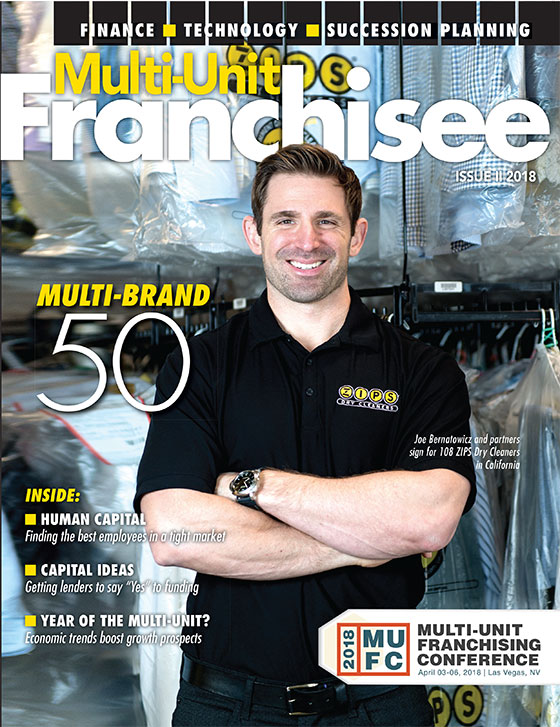 Multi-Unit Franchisee Magazine: Issue 2, 2018
Phenix Salon Suites is awarding our scalable, semi-absentee opportunity to motivated entrepreneurs. With no salon experience required, franchisees...
Cash Required:
$300,000
Be in business for yourself as an owner of Sweet & Sassy
Cash Required:
$75,000