CMO Roundtable - Franchisee Satisfaction In Overall Marketing Strategy
What role does franchisee satisfaction play in your overall marketing strategy?
John Dillon,
Denny's Vice President, Marketing
Denny's has nearly 1,700 restaurants worldwide, nearly 90 percent owned by our franchise partners. Our franchisees, composed of a diverse group of men and women who work tirelessly to satisfy our guests on a daily basis, represent the essence of the Denny's brand. They are on the front lines every day speaking directly with our guests, and their input is invaluable in the development of our marketing strategy. We strive to work in a collaborative manner and have developed a brand committee composed of a mix of franchise partners and corporate team members, who work together to determine the best marketing strategy for the brand.
We solicit the input of our franchisees very early in the marketing process to create a true partnership. For example, as we worked to develop our $2 $4 $6 $8 value menu, which we rolled out in 2010, we solicited the input of our brand council and franchisees early on to determine the most appropriate way to introduce the value menu to help stimulate sales in a way that would be manageable at the restaurant level. The feedback we received was invaluable in determining what products to offer and how best to market the value menu in our restaurants.
In 2011, we introduced our new diner positioning, which reminds consumers that "America's Diner is Always Open." We have incorporated that messaging into each of our product modules that rolled out this year, working collaboratively with our franchisees through this process. Our brand council also plays a key role in providing input into our marketing calendar for the following year, helping to prioritize what our key initiatives will be and providing insight on what they believe will work best in the field.
Involving your franchisees in brand decisions is critical for the success of a brand. A company's franchisees are in the field operating a brand's restaurants on a daily basis and see and hear firsthand how marketing initiatives are received by the guests. Their voice is not only needed, but desired. For Denny's, inviting our franchisees to provide input and advice has played an important role in driving our marketing strategy. The satisfaction of the franchise community is crucial to the development of a cohesive brand and something that is front of mind at Denny's in all brand decisions. We'd like to extend a heartfelt thank-you to the franchisees who sit on our brand council to represent the opinions of their peers, as well as to the franchise partners and field team members who regularly provide input and advice on the brand's direction. We look forward to a collaborative and rewarding relationship for years to come.
Reid Travis,
Panchero's Mexican Grill
Marketing Director The satisfaction of franchisees in regards to a marketing campaign or strategy is crucial to the success of that campaign or strategy. Satisfaction can come into play during a few different points in a campaign. On one hand, the success of the campaign in the eyes of the franchisees is based on whether or not they agree with the campaign in general. This feedback and satisfaction come early on, in the strategy process. On the other hand, feedback and satisfaction also come at the end of the process, when it is ultimately decided whether the campaign was a success.
In the early stages of a campaign, when the details are still malleable, satisfaction and feedback can mesh together and alter the eventual outcome. I value the knowledgeable insight I get from my franchisees. However, in some situations I need to be the guiding hand who insists on keeping it about the brand and the consumer. In doing so, finding the middle ground can be a bit difficult. Finding that sweet spot, where franchisees are satisfied with the product and I am satisfied with how consumers will interpret and respond, is something that takes a lot of practice. The overall success of the campaign is contingent upon both of us working together toward this common goal.
When it comes to evaluating a campaign, we can finally see if the decisions we made actually paid off. Here, satisfaction is directly affected by ROI. Was this campaign something that made money? At this point, the satisfaction of the franchisee and my own satisfaction are easily one and the same. If the campaign was successful, we are both happy.
The best example I have of this would be during the grand opening of a new store. We leverage a pretty heavy radio flight during the first few weeks to announce to the public "Hey, we're here!" I often seek some input from the new franchisees as to what key media they think would be good to use. Sometimes I get recommendations for media they personally like. In those cases, I have to be the voice of reason to suggest that 18- to 30-year-old males probably aren't partaking in the same radio stations or programs they are. This is only the first step of many in getting franchisees to think like a consumer, not like themselves. This training is vital to building expectations for future marketing endeavors.
All in all, I would argue that franchisee satisfaction is key to marketing endeavors in a franchise system. All it takes is a little work with education, managing expectations, and being willing to take and respond to constructive feedback. When all of those points come together, a campaign has the ability to run more effectively.
Jodi Boyce, Camp Bow Wow
Senior Director of Marketing
We know from experience that if we don't have franchisee buy-in on a marketing program or promotion, the execution will fail and we won't get the results we want. Our marketing strategies are based on the business goals set by our corporate team, but for 2012 we looked only at marketing programs that require little or even no active participation by the local franchisees for the promotion to be a success.
Although it's difficult to satisfy every franchisee, we feel that our new direction of optional participation marketing programs will satisfy the majority. Optional participation, however, refers only to the amount of local promotion the franchisee is required to do. It does not excuse them from honoring the rules, offers, and program parameters that we set. They are part of the national promotion even if they don't have to do much other than know the details, and can reap the benefits of the national campaign with little or no effort on their part, apart from their marketing ad fund contribution. However, for those who want to participate further, we do provide all the local marketing materials, tools designed to enhance the results in their market. But the national promotion and results will not rely on them.
In 2011, we ran a promotion called the Furry Fitness Challenge, where pets and their owners had to lose weight together and the team with the greatest combined percentage of weight loss won. It was very involved and required a lot of work on the franchisees' part, including scale rentals, partnerships with local vets, database management, and more. We got a ton of PR exposure from the promotion. However, the franchisees and corporate team agreed that this particular promotion relied too heavily on franchisee participation.
For 2012, we are launching a contest called Bad to the Bone--the search for America's worst-behaved dog. Although all the same business strategies apply, the major component taken into consideration when planning this was for our franchisees not to have to actively contribute in order to participate. So far, their comments have been positive, and those who want to promote more to their customers and local market are doing their part and we are providing the tools.
So although our business goals will ultimately outweigh factoring in franchisee satisfaction, we are aware that it's a vital part of the planning process if we want the programs and promotions we create to be successful.
Published: February 20th, 2012
Share this Feature
Recommended Reading:
Comments:
comments powered by

Disqus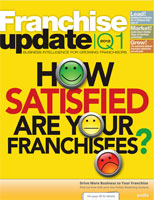 Franchise Update Magazine: Issue 1, 2012
Conferences
InterContinental, Atlanta
OCT 18-20TH, 2023
David Energy is a software-enabled retail energy provider bringing the power of visibility, savings and peace of mind to mid-market brands.
June 18-20, 2024 Marketing-Operations-Technology. Be a part of this ground-breaking new space for ideas, inspiration and networking for Franchise...