CMO Roundtable: The Role Of Diversity Inside Your Marketing Department
Discuss the role of diversity inside your marketing department and in your marketing strategies.
Annica Kreider
VP of Brand Development
Mellow Mushroom
Marketing to a diverse consumer base is something that we not only discuss often among our team, but that we also embrace internally from a talent management standpoint. From a leadership perspective I'm a huge believer in having a very diverse team in terms of demographics, psychographics, and lifestyle. If everyone on a team looks alike, dresses alike, and does the same things on the weekend I think you're really missing the boat in terms of creativity and brand advancement.
With most elements of our creative we like to push the envelope and be as provocative, interesting, and engaging as we can. This is particularly true of the digital space. Our team creates a lot of original art exclusively for digital consumer engagement. At our biweekly editorial meetings we have some very lively discussions about what the art and messaging might look like in an email message for example. The individual diversity that our team possesses has really allowed us all to free our minds a bit and see unique perspectives on how the message we want to give the consumer may end up being designed and articulated.
We also have a great diversity of backgrounds and core competencies within our brand development team. Some of our team members came from traditional, franchised restaurant marketing backgrounds, some have started out as servers and advanced through the ranks of our company, some have come from restaurant operations, and others have come from government entities or large retailers. This diversity of workplace experience allows us to capitalize on best practices with both our competitors as well as other industries. Sometimes as marketers we tend to breathe our own fumes in terms of how we think consumers view our brands, and I think it's important to do anything you can to open your perspectives.
In regards to consumer marketing, diversity is really the name of the game for our brand. We are a purposefully unique brand, with no two locations having the same exterior signage, interior design, or décor package. We are also able to be successful in a wide variety of environments ranging from urban to suburban, big city or small town, and everything in between. We have some great demographic reporting about the consumers surrounding our restaurants that allow us to really hone in on what the most common lifestyle attributes are for the guests of a specific restaurant. We approach almost all of our marketing on a community-based level, so our target can be almost anywhere on the spectrum of demographic attributes, depending on the location. We're very fortunate in this way, in that it makes marketing a whole lot more fun and interesting when you get to dive into all these different consumer purchasing behaviors.
Stacy L. Anderson
Chief Marketing Officer
Anytime Fitness & Waxing the City
As a global franchisor operating in more than 15 countries, embracing diversity in the marketplace isn't a choice for Anytime Fitness, it's a must. Simply put, developing offerings sought after by more people, both domestically and abroad, equals more opportunity to grow. With 20 percent of our clubs located outside North America and the greater part of our growth coming internationally over the next 5 years, developing marketing strategies that are relevant and compelling to a wide array of cultures and communities is critical to our long-term success.
To capture the revenue opportunity the complex global marketplace provides, we ground our marketing strategies in basic human truths – truths that go beyond borders, demographics and language. Truths like; all people seek to have personal connections with other people, everyone wants their lives to be made easier/better, and physical health is deeply connected to one's self-esteem. Those insights help us align worldwide on the role we can play in people's lives, both for consumers and franchisees.
But aligning on those global truths is only part of the equation. Bringing those strategies to life in a way that takes into account local values and lifestyles is even more important. To that end, we take a truly "glocal" approach to marketing, standardizing wherever possible, localizing whenever necessary. We are doing this by providing our in-country marketers flexible tools that allow them to reap the efficiencies of the global insight framework, but adapt to their own marketplace.
As we launch our new franchise concept, Waxing the City, cultural norms and ethnicity will play an even more important role in our marketing strategies. Understanding and developing services that cater to the specific needs of those markets will be paramount to our success.
So how does a company with roots in rural Minnesota stay relevant to the diverse communities we serve? It's because our company is founded on the core value that diverse opinions and richness of perspective lead to better business. In fact, the majority of our executive and marketing teams is made up of women, a rarity in franchising. We employ Millennials, Boomers, veterans, LGBT, franchise experts, and those who bring retail, services, and countless other experiences to the table. But most important is employing people who are curious about other people, dedicated to understanding each person's individual journey. It's that personal approach that's made Anytime Fitness the #1 Franchise on Entrepreneur magazine's 2014 Franchise 500 list, and one of the best franchises for minorities several years running.
Published: May 1st, 2014
Share this Feature
Recommended Reading:
Comments:
comments powered by

Disqus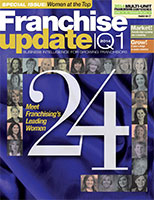 Franchise Update Magazine: Issue 1, 2014
Oct. 18-20, Atlanta, GA. An exclusive event for franchisor CEOs, Presidents, COOs, CDOs and Franchise Development Executives.
April 25 - April 28, 2023, Caesars Forum, LV. The Multi-Unit Franchising Conference is the premier annual event for the country's leading...