CMO Roundtable: Using Technology to Understand and Improve Your Customer's Experience
What technologies are you using to understand your customers, improve their experience, and keep them coming back?
Meredith Jurek
Chief Marketing Officer
Anytime Fitness and Waxing the City
The two main ways we use technology to help us understand and retain customers are through our retention and PLEASE scores.
Historically, gyms have measured retention risk by tracking visits, but we want to measure retention risk by overall engagement with the formula: Frequency x (Usage + Value + Digital) = Retention. For this, we look at group classes, email interactions, gym usage, and other activities. We bring all the research together by integrating technology tools like gym operating software and mobile applications.
What this technology has shown us is that the industry is plagued with two key issues: member retention and personal training income. Anytime Fitness has always been a team that can score (acquire new members), so now the focus is on playing solid defense (retention). Communication from fitness and reception staff is so highly valued that nearly nine in 10 members say they value fitness staff communication. We now know that if both reception and fitness staff always speak to all members, it's estimated that 44 percent of cancellations would be avoided. Additionally, if the fitness staff never speaks to them, the likelihood of a member canceling in a given month is around 3 percent. We've diagnosed the problem and have dug deeper into our research to find a solution.
In addition to our retention score, Anytime Fitness and Waxing The City leverage the Net Promoter Score (NPS) methodology to track the loyalty and satisfaction of active members and clients. The program started in 2013 for U.S.-based gyms and is currently rolled out to international gyms in various languages, making it a global program that hears from more than 250,000 members per year. When members/clients provide feedback, gyms and studios are alerted so they can follow up to thank them for their feedback and take any action on improving their experience. With more than two-thirds of Anytime Fitness and Waxing The City respondents being promoters, the brand takes advantage of activating their feedback on social media and review sites.
Drivers of high scores in our business stem from the quality of our people. The biggest drivers of high PLEASE scores/NPS include engagement of staff, communication with the gym or studio, and results provided to clients. While technology engagement continues to grow, our people will always play a leading role in the retention and repeat business of our members/clients.
Sarah Broadwater
Director of Marketing
Winmark Corp.
In marketing, you can't depend on one vehicle alone to ensure your message is being seen and heard by your customer base; you're always implementing a multi-channel approach. The same can be said with technology. You can't rely on a single piece of technology to give you the data you need to move the business forward.
At each of our resale brands (Plato's Closet, Once Upon A Child, Style Encore, Play It Again Sports, and Music Go Round), the key piece of technology that helps us understand our customers and improve their experience is our proprietary POS system. It's integrated with third-party software that tracks key information with each sale, so it tells us a lot about customer trends as well as other data that's important when determining customers' needs and what we need to do to meet those needs.
The email marketing and loyalty programs we have in place allow us to segment our customer base better for personalized messaging. Outside of competitors, there is still a lot of noise you need to cut through, so it's important that the messages you do send are relevant to the people receiving them. When it's not particular to them, the messages often get ignored, and you've missed out on an opportunity to engage your audience. Using these technologies and segmentation ensures the messages being sent are not only relevant, but timely to the person receiving them, which increases the likelihood they'll engage with you, respond positively, and return to one of our stores.
Further, digital marketing and website analytics help us to better understand our web and social media traffic and consumer interactions in a digital landscape. Regularly analyzing this data provides us with the opportunity to hone in on how people are responding to our messaging on the various platforms we use. This assists us in making the improvements and changes necessary to reach consumers more effectively.
One of the most exciting and challenging aspects of technology and marketing is that they are both ever-evolving. A thorough understanding of how technology affects your business and customer interactions with your business allows you to reach customers in new ways in a constantly changing environment. Thanks to technology, consumers have marketing messaging right at their fingertips any time of day. You need to make sure you're using a variety of tools to reach them so that you have a presence where they're spending their time.
Published: June 24th, 2017
Share this Feature
Recommended Reading:
Comments:
comments powered by

Disqus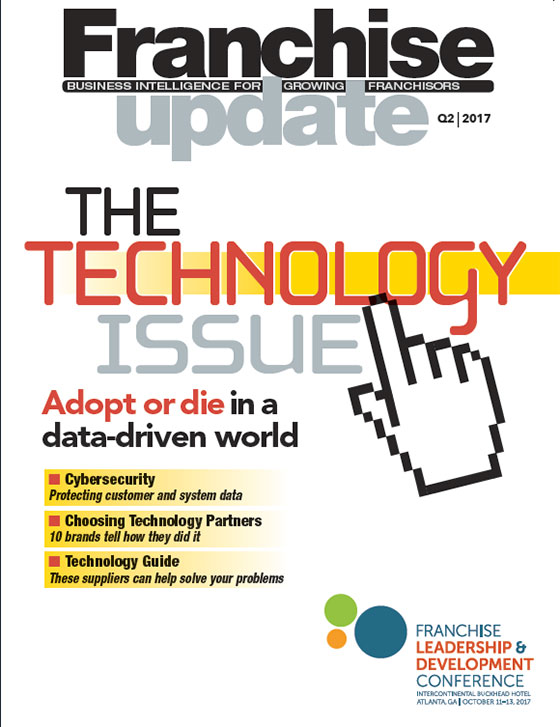 Franchise Update Magazine: Issue 2, 2017
Conferences
InterContinental, Atlanta
OCT 18-20TH, 2023
June 18-20, 2024 Marketing-Operations-Technology. Be a part of this ground-breaking new space for ideas, inspiration and networking for Franchise...
Hub by Thryv is an end-to-end client experience platform custom-built for franchises. Its ready-to-use business apps help franchisees view their...