Coming to America: South African Native Builds a New Life in Atlanta
Pierre Panos, a South African native of Greek descent, leaves little to chance.
When the violence in his country became too dangerous in the early 1990s, Panos--a former Coopers & Lybrand accountant who'd followed his father into the restaurant and real estate industries--wanted to emigrate to a country where he and his family could be safe and settle for good.
"Think of what my parents had gone through to get to a new world. They'd chosen South Africa because there was a great economic boom in the 1970s with gold, but because of the crime and violence, we had to leave," says Panos. "We wanted to go someplace where we'd never have to leave again."
The young restaurateur went about finding that place deliberately and methodically. He eliminated different countries for a variety of reasons, including their business and political climate, opportunities, and even the weather. In the end, the only country that fit the bill was the United State.
After researching schools, crime, growth, and weather (his wife Alexandra hates the cold) at the U.S. Embassy, the couple narrowed their choice to 25 cities. "At the time, Delta offered a $300 pass that enabled us to fly anywhere in the States during a full month. We visited all 25, then narrowed it down to 10 and visited those twice, and then visited the final three cities once more before our final selection."
In 1993, the Panos family settled in Atlanta. Panos says the decision turned out to be exactly the right one. "Atlanta has been an incredible town for us. It's a vibrant city, great for business. Hartsfield International Airport is the largest in the world, so we can get anywhere quickly, which makes it great for expanding our business," he says.
Panos set out to build a thriving business in the same way he'd approached finding his new home. Having sold the fine dining restaurant he owned with his brother in South Africa, he interviewed five different business brokers because he "didn't want to work for anyone." Through the South African broker he selected, he met David Rowe, a U.S. real estate developer who had opened a restaurant, the Brookwood Grill, to fill a vacancy in one of his shopping centers.
The restaurant, which he says was similar to the Houston's chain, was struggling. The broker thought Panos, with his restaurant and accounting background, would be perfect to fix things. "Rowe wanted me to use my numbers background to make it more profitable. That's what I did," he says, and eventually became a partner in the restaurant.
Meanwhile, Panos came up with an original concept, Stoney River Legendary Steaks, opening two local restaurants. Six years later, the partners sold the local restaurants and those under development in Chicago to the publicly owned O'Charley's.
Panos was then looking to diversify. "Even when we were growing Stoney River, I wanted to get out of fine dining and get into something with smaller units and less risk that we could grow more rapidly than big units that could cost $3 million if you made a mistake," he says.
Panos teamed up with brother-in-law David Steenekamp, to do something on a larger scale with a strong national brand. Papa John's Pizza fit the bill, he says. "We bought our first units in Chattanooga, and then in North Georgia. Ten years later, we are one of their top five franchisees, with stores in four states."
In 2011, Panos, founder and CEO of QS America, and his partner have 41 Papa John's, as well as the fine dining Brookwood Grill. But their U.S. success story, which they attribute in no small measure to their early adoption of social media, doesn't end there.
Always looking ahead, Panos developed Fresh To Order (f2o for short), a pioneering "fast fine" dining concept. "I've been in the fine dining realm for a long time and have always felt there had to be a way to take fine quality food and service and bring it down in a sense to offer a quality meal for under $10 in under 10 minutes," he says. "We knew there was a huge market out there for what we're offering."
In 2006, Panos partnered with his long-time executive chef Jesse Gideon to open the first f2o, which features American fusion salads, sandwiches, and entrees such as Almond Rosemary-Crusted Chicken Skewers with Crunchy Asian Slaw, in Atlanta. Daily lines out the door led them to open five more, including one in Chattanooga. In 2010, they began awarding franchises for the popular new brand.
"One of the main reasons we wanted to be great franchisees was so we could be the best franchisor. Franchisees like us because they see we've run our own units. We know the pain they've gone through, and franchisees do go through pain. It's hard, if you do it right," Panos says. "Because we've been through it, it's easier to be a sympathetic guide for our franchisees. And you've got to be sympathetic, because franchisees are not your employees. They're independent business people, and you have to treat them with respect."
f2o has already signed two groups serving Hartsfield International and another in Dallas/Fort Worth International Airport and the surrounding area. Projections call for signing at least five multi-unit franchisees in 2011 to open a combined 15 to 20 stores within three years. By 2015, Panos expects f2o to have 50 locations open nationwide and another 50 in various stages of development.
"We're in a position now, thank God, to double our size in the next four or five years, because we've been aggressive in paying down our debt and we have access to capital for significant growth," he says. "We never grow for growth's sake. All our stores are profitable."
Name: Pierre Panos
Title: Founder, CEO
Company: QS America
No. of units by brand: 41 Papa John's Pizza, 41; 6 Fresh To Order, 1 Brookwood Grill
Personal
Age: 46
Family: Wife , 1 son, and 2 daughters
Years in franchising: 10
Years in current position: 15
Key accomplishments:
Raising, with my beautiful wife, three accomplished, loving children in America. Emigrating from South Africa in 1994 with very little cash and building my first company, Stoney River Legendary Steaks, within six years, to a point where it was sold to publicly traded O'Charley's. Growing my new company to around 50 stores within the past 9 years across three brands and being in the position to double it over the next four or five years.
Biggest mistake:
There have been a lot, but none comes to mind right now.
Smartest mistake:
Selling an upscale steakhouse concept in May 2000 just before the tech crash when I really wanted to grow it.
How do you spend a typical day?
Wake up at 6 a.m. and work out till 6:30, shower, drive the kids to school. I'm in the office by 8:30. I focus on the three big things in the morning that will drive our business forward before getting into email response mode and other distractions. Then there are lunch store visits or business lunches and meetings the rest of the day. I wrap up with email just before I leave.
Work week:
Monday to Friday 8:30 a.m. to 6:30 p.m., but my phone is always on, even on the weekends.
Favorite fun activities:
Working out with my son, snow skiing, and traveling in Europe with my wife and children.
Exercise/workout:
Five days a week (30 minutes every morning during the week). Cross-training activities always keep the workout fresh.
Favorite tech toys:
iPhone, Kindle.
What are you reading?
I read almost every trade magazine electronically delivered. The rest I get on my Kindle, like Fortune, Forbes, and Forbes Life. My current fiction choice is Little Face by Sophie Hannah, and nonfiction is the George W. Bush autobiography Decision Points.
Do you have a favorite quote/advice?
Get into what you truly love, stay in it until you become the best at it, and that's when you make a lot of money.
Best advice you ever got:
If you win an argument with a customer, you always lose. Just don't do it.
Formative influences/events:
The work ethic learned from working in my Dad's restaurant when I was young.
How do you balance life and work?
I am very diligent and super-focused at work and accept very few distractions, although I always answer phone calls from my wife and kids. When I get home at night, I go to my home theater with a glass of wine, put on some relaxing music and chill for about 20 minutes. This relaxes me so that I can be the best dad and husband I can be when the family has dinner and through the evening before the kids go to bed.
Management
Business philosophy:
Always strive to see a deal from the other person's perspective--go for the win/win. Always have your moral compass on hand when making key decisions, or you may just go for the money instead of doing the right thing.
Are you in the franchising, real estate, or customer service business? Why?
Customer service. Everything is about people in this world where almost every business is commoditizing very quickly, so your only true differentiator is your people and culture. The rest can be copied.
What gets you out of bed in the morning?
I love what I do and I really like our office environment. My office building is a one-minute drive from my house, which makes it really easy to get out of bed and to work.
What's your passion in business?
I love creating and growing things to a certain size. When the creativity stops because it is becoming a larger machine, I always hand it over to one of my top guys to execute from that point onward. I know when it's time to get out of the way and I have a super-talented top management team who are all very vested partners in the different businesses and who have all been with me for a long time (10 to 16 years).
Management method or style:
Find, train, and retain the best people, offer the right incentives with a clear line of sight to those incentives, and then get out of the way and let them do their jobs. I am out there as much as I can be trying to enculturate our people during as many conversations as I can and letting them understand that, without our guests, we have no reason to exist as a company. We are extremely guest-focused, some may say to a fault.
Greatest challenge:
Ideating and growing new concepts from scratch, knowing what new concept the market needs at that specific point in time.
How close are you to operations?
Very. I get summarized dashboards showing the different businesses from all angles in number and graph format daily. I visit some of our Atlanta stores at least twice a week and am in direct contact with my direct reports daily.
Have you changed your marketing strategy in response to the economy? How?
We have never been heavily into advertising except for our Papa John's business. However, even that business is trending more toward the social media platforms. We were very early adoptors of social media, even when a lot of people thought it was just a fad. This is paying off for us at a time when most concepts are lagging in this discipline.
Personality:
Type A, but slightly introverted. I make the effort when needed, but I really prefer to be at home with my family rather than out in a crowd.
How do others describe you?
Intense, firm but fair. I do what I say I will do when I say that I will get it done.
How do you hire and fire?
I don't do much of that anymore as all our top people have been with me so long. However, I coach them if they are having trouble with a decision or terminating someone to ask two questions: 1) Knowing what you know about this person now, would you hire them again?; and 2) Has this person brought anything to the table that has added value to the business or that we didn't think about ourselves? If the answer to both is no, move them on humanely. If the answer to either one is yes, they are perhaps salvageable, so work with them for a limited time and let them know they are on probation. We don't want anyone who is ever let go to be surprised when this happens.
How do you train and retain?
Each concept has its own training guidelines and systems. I will just say that the better we hire and retain, the less we have to train, and that's our goal.
How do you deal with problem employees?
I don't have any as I only work intimately with four direct reports, and they have all been with me for many years. Our top guys take care of the rest.
Bottom Line
Annual revenue:
We are a private company, so I prefer not to say. 2011 goals: Sign five multi-store franchisees for f2o with a combined committed store count of 15 units, grow our Papa John's business by 20 percent, and buy some distressed commercial real estate.
Growth meter: How do you measure your growth?
Smart, profitable growth is our mantra. We won't grow just to get to a certain number of stores. All our stores are profitable and we want to keep it that way.
Vision meter: Where do you want to be in 5 years? 10 years?
I don't plan on retiring. I already tried that for a year when I sold Stoney River. I will always be involved in the two businesses that I really like--real estate and restaurants--as long as I can make a difference. I do plan on scaling down the hours that I commit to the businesses within 5 years to focus more time on giving something back. I am not sure yet what form that will take, but I will have worked it out by then.
How has the most recent economic cycle affected you, your employees, your customers?
We have been blessed to be more profitable every year during the past three years than the preceding year even during the downturn, and the start of 2011 looks to be following that trend. Our guests are being more selective where they eat, and I feel that this has helped us throughout our brands, spanning quick serve fast casual and finer dining. We have a great value proposition: people trust that they will get more than they are paying for, and this always drives business, especially when guests are looking for perceived value.
Are you experiencing economic growth/recovery in your market?
We never really felt the downturn, but since the economy has recovered slightly our stores are all performing well above industry averages.
What did you change or do differently in this economy that you plan to continue doing?
I've been a little more paranoid than usual since I realize that things can change quickly.
How do you forecast for your business in this economy?
Carefully. As mentioned, we are not a public company so we don't have to grow at any specific rate. We only want profitable growth in store count, and our business revenue stream is pretty predictable.
Where do you find capital for expansion?
Internally with some bank financing. Our 14-year bankers have continued to lend to us during this downturn.
Is capital getting easier to access? Why/why not?
Yes, absolutely. Whereas only our bank was willing to finance initially, we are seeing a lot more activity come back into the market. That being said, the lenders are being extremely picky in whom they work with and the reporting requirements are very different in this new economy.
Have you used private equity, local banks, national banks, other institutions? Why/why not?
Yes, local banks. We've used none of the others since we haven't needed them, and I don't want venture partners in my business at this stage unless it is part of an exit or partial exit.
What kind of exit strategy do you have in place?
We have one, including a very detailed succession plan if I wasn't around for some reason. I'll leave it at that. The guys who really run the company in any event are my partner David Steenekamp, who runs our Papa John's business, and managing partners Jesse Gideon and Matt Fairley, who run f2o and Brookwood Grill, respectively. I could never do this (and wouldn't want to) without these guys. They are the best at what they do in the industry. I would put them up against any team out there and want to give them all credit because of this.
What are you doing to take care of your employees?
Other than the profit-based bonus programs, we are very consistent with our people. They always know what to expect from us, and this certainty is much appreciated in these uncertain times. This has resulted in our turnover rate in the top ranks of our company being almost zero, and less than half the industry average for our hourly employees.
How are you handling rising employee costs (payroll, healthcare, etc.)?
Our people just need to produce more with the unemployment rate out there. Bumping prices slightly also helps and cutting in any area that does not affect the guest is paramount.
How do you reward/recognize top-performing employees?
Our people are paid on a percentage of the store profits, from a manager to a GM to area supervisors to district managers, so everyone is aligned. We obviously have safeguard components in our bonus program that prevent them managing the business down just to have great short-term profits. Public recognition of a job well done also always works.
How is social media affecting your business operations?
Since we were very early adopters, it is benefiting us more than our competitors. We have grown with it as guests have started using it. And operationally, we have incorporated it into our culture of responding to guest issues and marketing to them seamlessly. You can't sweep anything under the carpet with social media. Everything gets out there and you have to be very responsive. We like that, it fits exceedingly well with how customer-centric and customer-focused we are on guest satisfaction.
Published: April 1st, 2011
Share this Feature
Recommended Reading:
Comments:
comments powered by

Disqus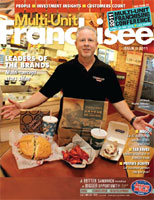 Multi-Unit Franchisee Magazine: Issue 2, 2011
THE FASTEST GROWING BREWERY IN AMERICA IS building more brew pubs and franchising throughout the US. BrewDog is a great investment that offers...
Founded in 1959, Ziebart provides premium automotive appearance and protection services to extend the life of vehicles. Recently ranked #1 in its...
Cash Required:
$150,000