Coping with Covid with Mitch Cohen
Mitch Cohen has been in franchising for more nearly 40 years. Today he operates 3 Jersey Mike's locations in Long Island, New York. He recently signed a 6-unit agreement with Sola Salon Studios. He also is a founding partner of PerforMax Franchisee Advisors, a team of experienced multi-unit franchisees who provide operator-focused strategies to improve franchisee performance, engagement, and trust.
How has Covid-19 affected your business?
Our 3 shops are down about 25% in sales since March 13. We've had a few employees go out on unemployment, but for the most part everyone is still working. April and May were a big surprise to us: we saw sales grow, and our comps have been either flat or down less 10% since March. We had all but one employee back to work before even reaching Phase 2 of reopening.
What are you doing right now to get through this?
We are working in the communities more now than ever before, using social media to let our guests know that we are following the CDC recommendations. We have calls with our staff on a regular basis to make sure they are doing alright at home, providing help there if we can, and making sure they feel safe working in our shops. We continue to work with our communities and have partnered with local service businesses and sport teams to provide meals to the NYPD, FDNY, local testing centers, and employees of senior living facilities, totaling more than 7,700 meals so far. We've added more safety and sanitation procedures to match the CDC and local requirements, and we've made custom-made masks a requirement to our uniform to ensure the safety of our employees and guests.
Is your franchisor helping keep you afloat?
Jersey Mike's has been helping with ad fund deferments, $1,000 per location, to offset donations of food. They've altered TV advertising and are sharing in the discounting programs they have run nationally. The company continues to be a great partner in helping us with daily communications on what is necessary for us to meet CDC requirements. And they've made sure that the delivery of our product was not interrupted while production plants were shutting down because of the virus.
What are you doing to help your employees through this?
We have given our employees bonus pay during this time. We have sent them home with food and made donations to family members outside their household. We continue to work with then to ensure they are safe, and if they need any support with food or PPE we have supported them—along with the extra pay to all those who have been working through this crisis.
What are you doing for your customers?
We have had 50% off Thursday to Sunday one weekend, 25% off Thursday to Sunday for another, and made a 20% donation to Feeding America food banks. We also offered free delivery for 3 weeks. More recently, we have offered double points for our loyal guests, along with family packs and opportunities to partner with us to feed first responders, and they have really stepped up to help the community.
How are you working with your suppliers?
We have only one major supplier and they have not offered any relief. The franchisor is working with our vendors to ensure we don't run out of product, so our supplier can deliver on a timely basis.
What are you doing about cash flow, PPP, etc.?
We have received PPP money and it has helped us make sure we have met payroll and our other expenses. I am happy to see that there was bipartisan support to fix the PPP. And thanks to all the hard work the IFA did to get PPP Flexibility Act passed. We also have worked with our landlords for some relief.
What else would you like to see from your franchisor or government?
I would like the PPP program to be more clear so we can understand it. I would like to see funding happen more easily, and for the government to lower the unemployment extra money so people will want to come back to work.
How are you planning to reopen and rebuild your business post–Covid-19?
We have been open through this crisis, so I wouldn't say we are reopening. What we are doing is welcoming back guests who could not get our product during the pandemic by offering take-out, curbside pickup, no-touch pickup, third-party delivery, and great offers along with our guest service. We added bounce-back coupons to every offer good for the months of May and June. We are preparing our locations with the proper PPE and cleaning supplies, and training our staff for when the dining rooms open back up. Our goal is always to make customers feel at home, whether they order take-out or have the chance to dine in.
Published: August 17th, 2020
Share this Feature
Recommended Reading:
Comments:
comments powered by

Disqus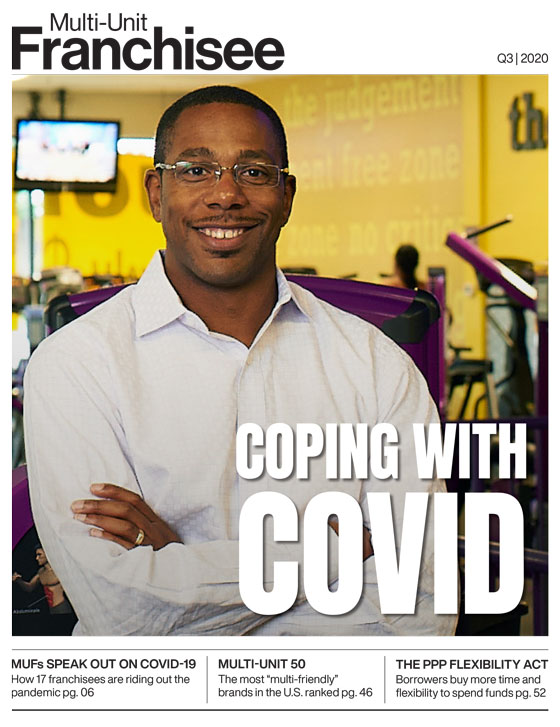 Multi-Unit Franchisee Magazine: Issue 3, 2020
Altitude Trampoline Park is the premier indoor trampoline park destination, bringing active family fun through its JumpLife(SM) mantra to the global...
Cash Required:
$600,000
Owning your own Pancheros restaurant is a chance to start a business without starting from scratch.
Cash Required:
$250,000