Coping with Covid with Greg S. Cutchall
Greg Cutchall, founder, president, and CEO of Omaha-based Cutchall Management Co., is a multi-brand operator with decades of restaurant experience. Today his locations include Sonic Drive-In, Domino's, Paradise Bakery & Café, First Watch, Jams American Grill, and Lo-Lo's Chicken & Waffles. The fallout from Covid-19 has his casual dining restaurants now doing only take-out orders while his QSR restaurants are carrying the load.
How has Covid-19 affected your business?
We are currently back open at 50% capacity limit with disappointing sales. Sales in the first week were 70% down from pre-virus sales, but they are slowly growing. We are currently 50% to 60% down, with take-out accounting for 50% of sales (formerly 5%).
What are you doing right now to get through this?
We received PPP funds. The timeline for forgivable expenses, at 60 days, was not realistic. The extension to 24 weeks was a significant improvement in keeping restaurants open long term. So was the shift in how we spend the funds from 75/25 to 60/40 to help support the continued large declines in sales and continuing overhead expenses.
Is your franchisor helping keep you afloat?
We currently operate under three franchise agreements. Two are quick service (Sonic and Domino's), and we have not requested assistance from them. First Watch has indicated they will review how we are doing in the coming weeks.
What are you doing to help your employees through this?
We have assisted furloughed employees to obtain unemployment and continue to pay for their health insurance as before. We are currently experiencing difficulty in getting some employees to return to work because of the $600 federal subsidy to state unemployment. Many are making the same or more by staying home.
How are you working with your suppliers?
Our suppliers and landlords for the most part have been helpful in working with delaying payments.
What are you doing about cash flow, PPP?
The PPP is currently keeping us from keeping our restaurants closed. Currently, with 50% occupancy limits and the public's concerns, we are actually losing more money being open than we would if we stayed closed. We feel it's better for our long-term success to stay open anyway so we don't lose longtime loyal guests and staff.
What else would you like to see from your franchisor or government?
For the government to extend the 60-day deadline and change the 75/25 percentage, which they finally did.
How are you planning to reopen and rebuild your business post–Covid-19?
As mentioned above, we have reopened. We are taking all measures to make our guests and staff feel comfortable coming to our restaurants. It will, in my opinion, be at least a year to return to former sales levels, and at least 2 years to recover profits lost to closings and slow reopenings (in addition to adding to our debt load). Fortunately for my portfolio of restaurants and our diversification in several segments (QSR, fast casual, and casual dining), we believe we will survive as a company. The QSR divisions have stayed strong throughout the epidemic, partly because of little reliance on dine-in business and a lack of competition, with 70% of the market restaurants closed or offering only limited services.
Published: July 25th, 2020
Share this Feature
Recommended Reading:
Comments:
comments powered by

Disqus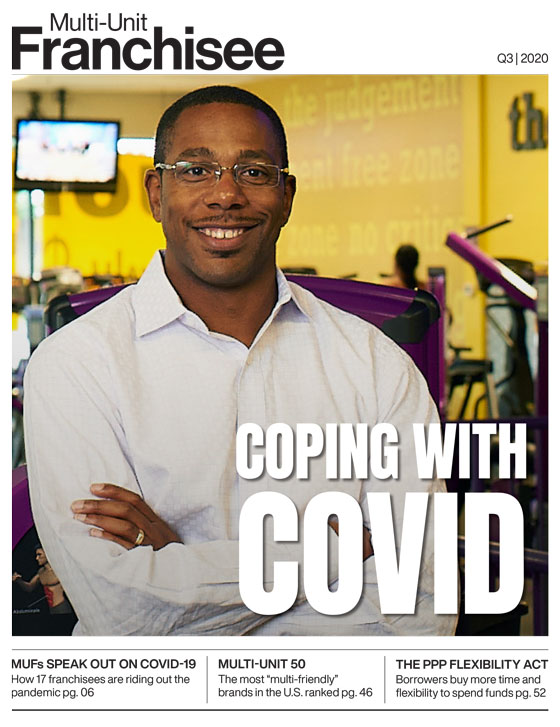 Multi-Unit Franchisee Magazine: Issue 3, 2020
Robeks is the preeminent leader in the juice, smoothie, and bowl category for over 25 years. With over 100 locations open and in development across...
Cash Required:
$100,000
With more than 250 locations (and more on the way!), MY SALON Suite is the #1 salon suites franchise opportunity in North America.
Cash Required:
$500,000