DEI: It's Time: Diversity, equity, and inclusion in franchising
If any franchise has an advantage in applying the principles of diversity, equity, and inclusion (DEI), it is Skyhawks Sports Academy. Since 1979, the franchise system has devoted itself to teaching life lessons, with sports as the platform. Its reach is expansive: the kids it welcomes are 1½ to 14 years old in 25 states and offered a choice of 11 different sports.
And it would be hard to find someone better suited than Brett Rountree to translate DEI ideals into the real world of Skyhawks. She grew up as a Skyhawks camper. "Our company was founded on the idea that every single child should have the opportunity to experience the joy and the benefit of playing sports."
Now Skyhawks' brand development director, Rountree knows the franchise has evolved. "We are talking about creating a truly inclusive environment for every child, coach, family, and community," she says, and has been applying her perspective to the DEI challenge shared by many, if not all, franchise businesses. Her experience so far has much to offer any franchise navigating the difficult path of implementing DEI at their company and throughout their system.
"All our changes started with creating a safe place within the company where we could talk about what was going on," she says . "We had people saying we need a place where we can talk. We saw that need and opened the door."
At first, the DEI team included Skyhawks' President and COO Jason Frazier, Vice President of Franchising Josh Kaiel, and Rountree. Now, a group of seven to 10 who are passionate about this topic have worked away at the how-to's, meeting biweekly, sharing reading of useful books, taking advantage of other relevant programs such as unconscious bias training, and inviting a guest speaker from the Positive Coaching Alliance to learn how they can better approach DEI through sports.
Typically, coaches go through two-part training programs led by franchisees, but starting in October with an anonymous survey to collect questions and concerns, that training has been modified.
"We've had a lot of conversations," says Rountree, which showed the team that a one-sized training would not fit all. Some basics also had to be included, for instance, What is the difference between bullying and intentional discriminatory speech? "It's heavy stuff and we've taken a gentle approach to getting people adjusted to their own biases."
The team is working on next steps, but first want to see how the initial version of their work plays out this summer before they tweak it. They are developing more resources for coaches and families that will aid them in having conversations about DEI, including some of the best books and podcasts available.
"I'm proud of our team and proud to work for a company that sees that what is going on is important and that it's not just a passing something," says Rountree. "It has to be a long-term something, in your DNA. I know we have much further to go, but we are making progress and that's what's important."
It's been an immersion, she says, "but I learned that there is beauty in taking a look at yourself in the mirror and learning where you need to grow."
Noodles & Company
Noodles & Company already has garnered a raft of awards in its 25 years, including 10 appearances on magazine's list of fastest-growing private companies. And while DEI may have been an unspoken part of its culture, the franchise's CEO recognized the value of a formal commitment.
In March, CEO Dave Boennighausen joined the CEOs of nearly 2,000 leading companies and business organizations from around the country in taking CEO Action's pledge to act on supporting more inclusive workplaces. That pledge includes the following:
1) We will continue to make our workplaces trusting places to have complex, and sometimes difficult, conversations about diversity and inclusion.
2) We will implement and expand unconscious bias education.
3) We will share best-and unsuccessful-practices.
4) We will create and share strategic inclusion and diversity plans with our board of directors.
In addition, the brand conducts regular listening forums across the company, has implemented an internal Inclusion & Diversity Advisory Council, and has created an inclusion and diversity resource library. The company also has earned Women in the Lead Certification for its investment in women-empowering initiatives for its female team members, and has partnered with the Multicultural Foodservice & Hospitality Alliance to build cultural intelligence within its teams.
"Inclusion and diversity are a really critical part of our culture at Noodles," says CFO Carl Lukach. "We want our guests to see that we are contributing to that not only in our business, but also externally in the broader society."
Hiring a vice president of inclusion, diversity, and people was important because that position centralizes a thought process, and having that person in place has already had a tremendous impact, says Lukach. Unconscious bias training has been added to the training required of all corporate employees. Other trainings, resources, and discussion boards will also be rolled out to build inclusion and diversity awareness and knowledge into core operating skills, he says.
Tom Shepard was working at a burger chain and headed for college when a new leadership team arrived at the company. "They were all Black men, and a couple of them took me under their wing," he recalls. "That was really my start."
He left his business administration coursework 2 years later to begin what is now more than 20 years in franchising, first as a district manager, then as a project manager. Today he is a vice president with Noodles & Company, and CEO of its Pasta per Trio brand. Shepard's own experience tells him that education is a crucial tool in incorporating DEI into a business culture.
One step is helping people understand the value of DEI as a driver of growth and, as Shepard puts it, "that diversity creates different ideas, that different people bring different attributes." Another essential, which he realized as a younger man, is offering opportunities to those "who may not see themselves in business based on where they come from."
Shepard also knows that allowing people to find their own way to understanding is also a powerful approach. During Pride Month, for instance, "We allowed team members to create their own ways to celebrate," he says, and the same holds for other months that honor different groups. "We created a recognition board and it really took off."
Shepard is part of a group exploring other DEI training methods and looking to apply ideas from the Inclusion & Diversity Advisory Council at the local level across the system. "We are constantly looking at how to build in DEI," he says.
On the personal level, Shepard has found another way to pay back the leadership team from his college days: he recently took some time off to finish his college degree.
The power of hiring right
For Murad and Crystal Fazal, co-owners of four franchise restaurant brands in Chicago and Albuquerque, DEI has never been far from their thoughts. "The key to success is having people behind the counters who match or equal the people walking through the doors," says Murad Fazal, who serves as president and CEO of their Subway, Bar Louis, and Dunkin' locations. "We see such an increase in customer loyalty when people see someone who looks like them."
To accomplish their vision of DEI, the Fazals make sure they broaden their hiring advertising as much as possible, including letting current employees know they are looking. "We believe in referrals," says Crystal Fazal. "Good people know good people."
Nor can training programs be cookie-cutter alike, she says. "You have to respect differences, to work around people's needs and personalities."
Tide Cleaners
Tide Cleaners began franchising in 2011, providing convenient services through lockers, stores, college campuses, and delivery. With 190 stores open nationwide in more than 25 states, the franchisor is taking a serious look at how to empower its franchisees to meet the brand's DEI goals.
"At Tide Cleaners, our mission is to erase inequality within the walls of our organization and to influence progress toward equality outside the walls of our organization," says Chief Human Resources Director Maura McVey. "We're leaning into the right, tough conversations to solve DEI together, alongside our franchisees."
Among the brand's DEI tactics is being deliberate with the people included in its advertising. "We serve a very diverse group of guests, and our advertising needs to reflect this," she says. Other efforts include "doing the hard work to make Tide Cleaners franchise ownership more accessible to people of all backgrounds."
The corporate team also is focused on sourcing and recruiting diverse talent and seeking new places to engage with a wide range of franchisees. "Our support networks have been a source of camaraderie for employees throughout the past year, including hosting virtual events to educate and celebrate within our Tide Cleaners family," says McVey.
All of this DEI work stands on the shoulders of the corporate citizenship work going on at the brand's parent company, Procter & Gamble, says McVey. "Our internal action plan includes key actions on culture and accountability, including culture teams, support networks, and people processes; education and training; and community outreach, including both local and national activation in communities, advertising materials, and engagement with franchisees."
McVey is hopeful that the combined effort will be effective. "We're fortunate that we have an outstanding network of franchisees who walk the talk with DEI," she says. "They are the front line for our brand and run their business knowing that DEI is a competitive advantage. We're also balancing the fact that this journey for DEI will never end with the need to get better immediately."
Born to the work
Paul M. Booth Jr. has more than a decade of QSR franchise experience, but his awareness of DEI is lifelong. His grandfather was a prominent Baptist pastor who gave early and important support to the Rev. Dr. Martin Luther King Jr., and his father is a former Cincinnati NAACP president. "When Coretta Scott King decided to start the King Center, my father was one of the first people she talked to," says Booth, who recently earned his PhD in values-driven leadership from the College of Business at Benedictine University.
"I was just approached by the Cincinnati Chamber of Commerce to work with them to develop some kind of institute or academy to prepare training and partnerships that will get people into the initial franchise space," he says. "I'm at a place now where I have the skills and expertise to create something like that. It's a next level of leadership."
As Booth began his business education, he earned an internship at Jackmont Hospitality, a minority-owned food service management company in Atlanta. There, he says, "I saw people who looked like me in the franchising space—and a light bulb went on." Today, after a decade in QSR, "I have my own identity and I see business—franchising, specifically—as a catalyst for community impact. It all starts with presence and visibility."
Booth, who is mentoring incoming college students, recently spoke to an African-American group at the University of Cincinnati. "That's a key way to break down some of the barriers and have an impact," he says.
That kind of outreach is important, but Booth also wants others to understand that DEI must be authentic and part of an organization's basic fabric. "You have to take a look at your organization and be intentional," he says. "I think we have to identify and prepare qualified, high-potential minority franchisees, and right now there is nothing systematically in place to do that."
Published: August 14th, 2021
Share this Feature
Recommended Reading:
Comments:
comments powered by

Disqus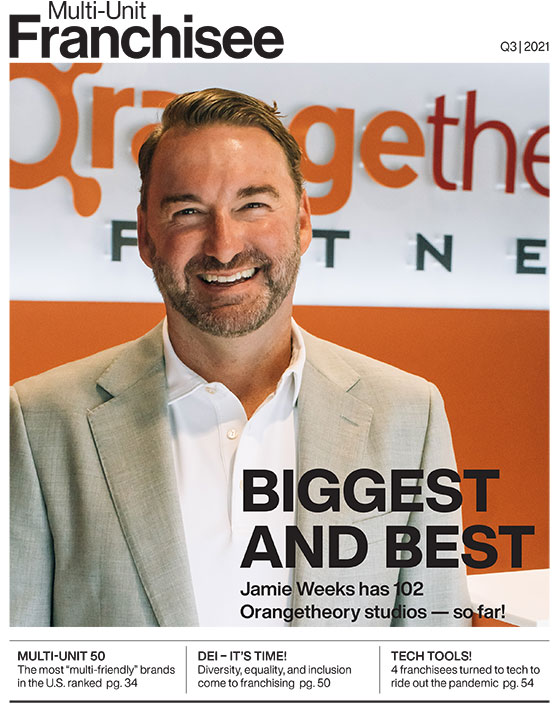 Multi-Unit Franchisee Magazine: Issue 3, 2021
Pizza Factory houses hardworking owners, family-friendly dining and high-quality products. Restaurant design options include a Pizza Factory Express...
Cash Required:
$90,000
Bad Ass Coffee of Hawaii brings an unforgettable brand, premium coffee products, and a proven business model to a booming coffee scene. We want...
Cash Required:
$200,000