Destined for Gymdom: Former
When Jeff Innocenti was a teenager in the Bronx, he and his brother James pretty much lived at the Gold's Gym in nearby Yonkers.

"Our mother bought us our first membership and we became gym rats," says Innocenti, now 40. "Working out with weights was pretty much all we did at the time. We may as well have lived there."

While he was pumping iron, Innocenti also figured out his future: he decided to become a personal trainer and own a gym. He couldn't know then that one day he would own 23 Planet Fitness gyms throughout the New York City area and be grossing $25 million annually.

Back in college, all he knew was that he wanted to be an entrepreneur and own his own business. Focusing on advertising and marketing, he came to understand that "owning a gym was the best thing for me."

Financing for their first Gold's Gym--in the Bronx--came from a 98-year-old aunt who told Innocenti she would help him out when he wanted to start a business. She gave the two brothers $250,000, which allowed them to approach the SBA for the rest of the financing. A high school buddy who became a CPA, Gino LaVerghetta, joined them as the financial arm of the business.

That first gym grew into three Gold's Gym properties, which in 2004 they converted to the Planet Fitness model. In the last four years, the brothers went on a purchasing spree, both buying up properties as well as building some from scratch, growing their business to 23 Planet Fitness gyms at the end of 2008. Each club has about a dozen employees, and 15 additional employees staff the company headquarters in the Bronx.

Innocenti, who scouts locations and handles all refurbishing and construction while his brother manages day-to-day operations, hopes to add 8 to 12 clubs a year if financing holds. He says they haven't been affected by the current downturn yet.

Ironically, for someone who once lived in a gym and runs 23 today, Innocenti no longer works out. "The best way to stop working out is to own a few health clubs," he jokes, adding that it's time to get back. The last thing he wants to be, though, is a lunk--gym lingo for "the big guy in the gym banging around the weights," he says.

"I just enjoy opening these clubs more than anything. It's what I was destined to do."

Name: Jeff Innocenti
Title: Co-owner, CEO
Company: Planet Fitness New York
No. of units by brand: 23 Planet Fitness
PERSONAL
Age: 40
Family: Married with three daughters, Mia, 11, Sadie, 5, and Emmeline James, born in November.

Years in current position: 13
Years in franchising: 13

Key accomplishments: Being the first in my family to open a business, and working with the same two partners all of these years. I also take pride in giving my customers an affordable way to work out. Without my franchises, many of them wouldn't have access to a health club.
Biggest mistake: I can't think of any major mistakes I've made over the years, but I do believe in admitting to mistakes when I'm wrong, and I work on being frank and honest in my approach.
How do you spend a day, typically? I work from 9 a.m. to 5 p.m., spending most of my time making deals with landlords and cutting leases.
Favorite fun activities: I play with my kids, and I ride a motorcycle.
Favorite stuff/tech toys: My Sonos ZonePlayer, which allows me to download music remotely.
What are you reading? Choke by Chuck Palahniuk, a story about a kid who's a practical joker.
Best advice you ever got: Leave something on the table for someone else when you're making a deal.
Favorite quote or advice you give? See above. Also, it's important to have fun with a business while you're making money, to be happy being successful.
How do you balance life and work? I work hard to do that.
MANAGEMENT
Are you in the franchising, real estate, or customer service business? This is more of a customer service business.

What gets you out of bed in the morning? Making sure I'm doing everything so that our employees and my partners can live and make money. This can weigh on me despite the joy of making the decisions I want for the business.

What's your passion in business? Building opportunities for others. I like knowing that the business is all in my hands and that I can give other people secure jobs. I also enjoy knowing that my decisions drive the company forward.

Management method or style: I like being open and honest with people.

How close are you to operations? My brother James deals with the locations and we connect on a daily basis. I scout new locations and oversee construction, but my brother takes over once they are open.

Greatest challenge: Running multiple franchises comes with many pressures, especially making sure that our well over 100,000 customers are satisfied with their Planet Fitness memberships. And keeping all relationships strong and positive given all the people we deal with.

How do you hire and fire, train, and retain? I put the potential for success and failure in my employee's hands. It's up to them what they make of it. I train employees and give them opportunities for growth. I have had to fire people over the years if they didn't keep up with their end of the bargain.
BOTTOM LINE
Annual revenue: $25 million

2009 goals: Strengthen operations and grow more units.

Growth meter: How do you measure your growth? By building a strong infrastructure and profitable clubs.
Vision meter: Where do you want to be in 10 years: I hope to have 75 locations and go fishing in Montauk whenever I want.

How is this economic cycle affecting you, your employees, and your customers? It's too early to tell. We haven't seen anything happen. There's been no growth or decline in terms of members.

What are you doing different in this economy? We're just thanking God we're low-priced. Our average membership cost is $13.50 a month.

Where do you find capital for expansion? We have a good finance division. Right now we're financing through different banks. We are finding a little tougher to get financing, but haven't had any major problems yet.
Published: March 23rd, 2009
Share this Feature
Recommended Reading:
Comments:
comments powered by

Disqus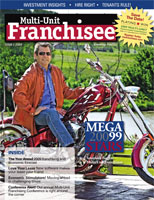 Multi-Unit Franchisee Magazine: Issue 1, 2009
Ace is #1 for convenience hardware! You pay no royalty fees. Instead, Ace pays you a year-end rebate based on your annual purchases. Enjoy the...
Cash Required:
$250,000
Demand for The Bar Method continues to grow as more people discover the benefits of a barre-based workout and feel the empowerment after each...
Cash Required:
$150,000