Did Someone Say "Profits"?: Understanding the Financial Operating Cycle
It happens every year, usually in February or March. Business owners across the country meet with their accountants to review the previous year.
The accountant says to the owner: "Congratulations, you made a profit." Of course, with the recession of the last four years, they are saying that less often.
Regardless, what are the two most common responses from owners? You're correct if you said the #2 response is: "If we made a profit... what's the line from Jerry Maguire? 'Show me the money!'" It's the profits versus cash flow issue...we'll discuss that later.
Consistently, the #1 response is: "Make the profits disappear... I don't want to pay any tax!" Of course, the accountant says: "Watch carefully, the fingers never leave the hands! Poof... No more profits, no more tax." Then you can join the ranks of thousands of business owners who call the above scenario "a good year... no tax!"
But wait. Fast forward to my next conversation with that same business owner: "What are the three uses for profits--NPAT (net profits after tax)?" The fact is, a good deal of business owners aren't really sure.
To answer this question, we need a picture. It's called the Financial Operating Cycle, and it's the best way I know to get a handle on exactly how money flows through a business and why businesses need profits. Your business, my business, any business.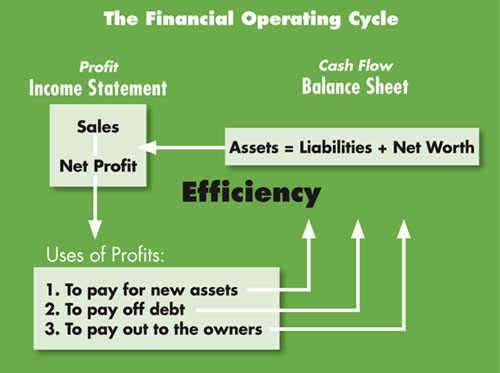 The diagram clearly depicts the Financial Operating Cycle. A trip through this cycle will unlock many insights into how money flows through individual businesses--and what's going on in our economy today.
So here goes, starting in the upper right of the diagram: the owners (net worth) and the creditors (liabilities) put up the money to buy assets. Why does the business buy or acquire assets? Unless you collect them, businesses acquire assets to create sales--and they make sales to produce profits. In that part of the cycle, they work very diligently to make a profit. Then, at tax time, owners tell their accountants to make the profits "go away" or to "hide them."
As it turns out, you can run, but you can't hide. So you pay some tax. At that point, you are left with NPAT. This is where it gets interesting.
Three uses for NPAT
As you can see in the diagram (but a lot of business owners are not aware of this), there are three uses for NPAT: 1) to reinvest, or "buy assets," 2) to repay debt, and 3) to "take them home."
Owners often ask me: "How much profit do I need?" The answer is really pretty simple. Think about it.
As you know, our "word" for the entire Profit Mastery process is "measure": What gets measured, gets managed. So, can we measure 1) how much we plan to reinvest, 2) how much debt service we have, and 3) how much we plan to "take home"? Of course. So, by adding up all three uses, we can accurately pinpoint how much NPAT we will need.
Profits matter
If the company does not generate enough profit to satisfy "all three masters," which one will "bite it"?
The answer depends on your personal priorities. So humor me and take this little test. Spend a couple of minutes, and rank order the three uses of NPAT for you... today... right now... in your world. Whichever is your highest priority, put that at number one; then two, then three.
Now take a look at what you just wrote down as NPAT priority three. If you don't generate adequate NPAT to cover all three uses, whatever you listed as "number three" will be the one that doesn't get covered.
Period. What's the message? Profits matter to you, to your banker, and to the growth and survival of your company.
Steve LeFever is the chairman of Business Resource Services (BRS). He guides business networks from "Profit Mystery" to "Profit Mastery." For more than 10 years, franchisors and franchisees have improved their financial performance by following the BRS Profit Mastery process: financial training, performance benchmarking, and accountability/bankability modeling. Contact him at 800-488-3520 x14 or lefever@brs-seattle.com.
Published: November 2nd, 2011
Share this Feature
Recommended Reading:
Comments:
comments powered by

Disqus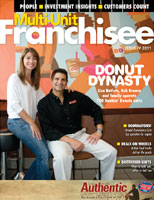 Multi-Unit Franchisee Magazine: Issue 4, 2011
Born from a desire to bring classic, home-style comfort food and unparalleled service back to American diners, today's...
Cash Required:
$500,000
The Joint® Chiropractic is reinventing chiropractic care. Our vision is to become the largest, most respected provider of chiropractic services...
Cash Required:
$100,000