Disciplined and Relentless: Global Basketball Player Transitions to Franchising
K'Zell "Zelly" Wesson took his pro basketball career global more than 17 years ago. He currently plays in Turkey as a forward for Afyonkarahisar Belediyespor, a team in the Turkish Basketball League. But the 6-foot-7-inch Wesson is also making sure he's got game as he nears the end of his playing days--by investing in and growing a chain of Workout Anytime fitness gyms in the USA.
He and his wife Neesh (Tanesha) opened their first Workout Anytime franchise in March 2013 in Stockbridge, Ga. The brand's hallmark is its price point and 24/7 operating hours. The couple now has three units open and another in the pipeline. Naturally, he says, it makes sense for him to operate a business in the fitness sector as a way to help others get fit, stay fit, and enjoy a better quality of life. And, he says, it will make a great business for him when he retires from basketball.
Wesson says that although playing professional sports overseas came with a unique set of challenges, he's thoroughly enjoyed the opportunity. "It's tough when you are on a team and don't speak the native language or fully understand the local culture, but you just have to adapt and overcome... or go home," he says.
Although he spends a lot of time overseas working out, practicing, and playing, he remains actively involved in his business back home. He says his wife and a great management team on the ground in Georgia ensure everything is running smoothly while he's 6,000 miles away.
Wesson says the franchise model appealed to him because of its simple structure and "follow the plan" approach. He's also relying on his ability to adapt to help him transition from sports life to business life.
"Being an athlete, you're always expected to take care of your body and stay in shape. So I was always studying and learning new things that allowed me to become the best athlete I could become," he says. "I still take that approach in business and use what I have learned, while continuing to learn, with my members, clients, and staff."
At 39, Wesson already has had calls to return for another year on the court, but he's not sure if he'll play an 18th season of professional basketball. Regardless, he knows that back in Georgia his franchise business is up and running, and that there's a place for him when he comes home.
Name: K'Zell "Zelly" Wesson
Title: Operations director
Company: Workout Anytime
No. of units: 3 open, 1 in progress
Age: 39
Family: Married, no children
Years in franchising: 8
Years in current position: 4
Personal
First job:
Grocery store stock boy.
Formative influences/events:
Reading books.
Key accomplishments:
Being the first in my family to graduate from college.
Biggest current challenge:
Being in multiple places at once.
Next big goal:
Parenthood.
First turning point in your career:
2008 economic collapse.
Best business decision:
Surrounding myself with a mastermind network to allow me to grow and see things from different perspectives.
Hardest lesson learned:
You will lose people over time.
Work week:
Monday to Saturday.
Exercise/workout:
I haven't officially retired, so I am very active like I'm still playing. You never know.
Best advice you ever got:
Be intent with your life.
What's your passion in business?
To make an impact on the lives of those in the communities I serve.
How do you balance life and work?
It's tough, and it will never be equal (as in 50/50), but by scheduling time for life, vacations, etc.
Guilty pleasure:
Peanut butter.
Favorite book:
The Bible. There are principle and life lessons for everything, including business.
Favorite movie:
"The Pursuit of Happyness."
What do most people not know about you?
That I'm a jokester.
Pet peeve:
A wasted life.
What did you want to be when you grew up?
A sneaker designer/fashion designer.
Last vacation:
Cabins in the mountains.
Person I'd most like to have lunch with:
Tony Dungy.
Management
Business philosophy:
Forward focus. Always improving. Committed to better. We should always be moving forward.
Management method or style:
Lead by example. If I'm improving, then we should all be improving.
Greatest challenge:
Understanding that people are human. There are always feelings involved. You must find common ground to communicate and find solutions.
How do others describe you?
Very driven.
One thing I'm looking to do better:
Simplify. The more you grow, the more complicated things become. I'm always looking for ways to keep it simple.
How I give my team room to innovate and experiment:
We meet regularly to discuss the vision and direction of the business. But through delegation and implementation my team and I work things out. It's a never-ending process. Some things we fail at. But we discuss what went wrong and what can we take away to move forward.
How close are you to operations?
I'm very hands-on. I'm in the trenches every day. I believe, as the operations director, it is my duty to understand each community we serve. I work with my team diligently to establish a culture that promotes improvement in fitness, as well in life.
What are the two most important things you rely on from your franchisor?
First, to continue to grow the brand. And second, to continue to improve, staying true to its core values but also staying current or ahead of the latest trends in the industry.
What I need from vendors:
To be informed and updated on any changes in their respective segment.
Have you changed your marketing strategy in response to the economy? How?
No. My strategy has always been to be genuine, to show real people getting real results, real people improving their lives through fitness.
How is social media affecting your business?
It's a double-edged sword. It's good for promoting fitness and increasing awareness of daily activity, movement, posture, etc. On the other hand, there are no regulations for quality information. There are no criteria for what can be considered good exercises or bad exercises, or what to eat versus what not to eat. There are times when you're having to combat what was found on social media. Nevertheless, it's an information tool.
How do you hire and fire?
We hire slow and fire fast.
How do you train and retain?
Education is an ongoing process. There's the initial training, but we also have daily procedures and weekly reinforcement trainings to make sure we are all on the same page.
How do you deal with problem employees?
We look to find a solution that is in the best interest of all parties. Sometimes it's a reprimand, sometimes we must move on. But we are always looking to move forward in the best interest of our members.
Fastest way into my doghouse:
Lack of respect for time or the members and clients of the business. It's about professionalism.
Sports & Business
What skills or experience from sports have carried over to operating a business?
Being disciplined and having a relentless work ethic. As much time as we put into becoming professional athletes--the hours, the sweat, the ability to bounce back from failure--we must apply that into being the best business person we can be.
Which do you find more competitive, sports or business?
Business, by far. In sports, you know your competition. You understand the game, as you have been playing it all your life. In business, you must stay abreast of the changes in your business or you can become a dinosaur. Technology is advancing daily. Social media creates a low barrier of entry. You have competition from everywhere, because people have more access to information, both good and bad. You must stay true to your principles. You must continue to learn and get better in your field. And you must never stop helping people.
Why did you choose franchising as an investment option?
Franchising is a proven system. You just have to find the one that fits who you are, or that aligns with your interests and goals. I wanted an investment that allowed me to bring out the best in people while doing something I enjoy.
How did you transition from sports to franchising?
It was a natural progression for me. The franchises I have been affiliated with have both been in health and fitness. Being an athlete, you're always expected to take care of your body and stay in shape. So I was always studying and learning new things that allowed me to become the best athlete I could become. I still take that approach into business and use what I have learned, while continuing to learn, with my members, clients, and staff.
What was your greatest achievement in sports, and what has been your biggest accomplishment as a franchisee?
In sports, it has been my longevity. Although I have won team championships and many individual accolades, it was the ability to endure for almost two decades. I have already received numerous calls to play an 18th season. And although I have yet to decide whether to continue playing or not, the fact that there is still interest is validation that I am doing something right. And that's what I would like to achieve in business: longevity. I believe I am on the right track in business. As a franchisee, to continue to open multiple franchises is a confirmation. However, the feedback I get from the members of the community is all I need. The fact that people thank you for coming to their area, or say they are so happy we are here make this business worthwhile.
Bottom Line
Annual revenue:
Seven figures.
2017 goals:
To open our fourth location and continue to improve the lives of our members.
Growth meter: How do you measure your growth?
I look at new members as well as retention. I look at where we are improving over this time last year. Are we in a position to open another location? Are we simplifying things and getting better as a staff? All these are things I look at as key areas of growth.
Vision meter: Where do you want to be in 5 years? 10 years?
In the next 5 to 10 years, I want to open 10 locations serving 10 thriving communities. I want to see the impact of the many people we are helping.
How is the economy in your region affecting you, your employees, your customers?
We lose people from time to time. That's the life of any business. Someone who has lost a job or has hit hard times may move out of our area or may decide to cancel their membership with us. We just have to continue to move forward. We continue to do our part and know that we can only control what we can control. The bright side is that we are a value-priced service for our memberships. Some people will keep their gym membership despite their circumstance. But for the most part, we have seen steady growth.
Are you experiencing economic growth in your market?
Yes, new businesses are coming into the areas we serve. We also have more people moving to our areas.
How do changes in the economy affect the way you do business?
Not much. We still market and advertise based on a percentage, so it's all relative. We know we are in a people business. It's all about understanding and communicating with people.
How do you forecast for your business?
In the fitness industry there are seasonal trends. We can project when sales will be higher and when they will be moderate. But we always have sales goals to continue to move us forward.
What are the best sources for capital expansion?
It depends. I like retained earnings. It's just saving and putting aside money until you're able to expand. There's also commercial lending for things like equipment. It's good if you have a lot of equipment needed. Just be careful not to bite off more than you need.
Experience with private equity, local banks, national banks, other institutions? Why/why not?
Traditional lenders are harder since 2008, but they are still willing to lend money. Just be prepared to have done your homework, researched your business, competitors, and have a business plan, collateral, and good credit. I believe a relationship with an institution is still good. But understand they can only do what they can do. If a business is risky, or you as a borrower are risky, then there's only so much they can do. On the other hand, there are industry lenders who understand certain business models more than a traditional bank. It may be wise to research those in your given field.
What are you doing to take care of your employees?
Team members are like family. It is important to get to know them and make them feel a part of what we are building. Whether it's holiday, birthdays, new babies, etc., we celebrate that. It's more than just sales goals and transactions. We are in a people business and we want to build relationships across the board.
How are you handling rising employee costs (payroll, minimum wage, healthcare, etc.)?
Employee costs are a part of business. We just focus on improving the business so these costs are covered.
How do you reward/recognize top-performing employees?
We have bonuses and incentives to recognize those who are performing well. Also, as we continue to expand we are always looking to promote.
What kind of exit strategy do you have in place?
In the next 20 years, to pass these businesses off to someone who has a passion for people and for fitness, someone who can improve the well-being of the people in the communities we serve. I'm not sure if that's one person or a group of people. But I know we can only go so far before it's time to let someone else take the reins. In the next 20 years, I hope to identify that person or group.
Published: March 2nd, 2017
Share this Feature
Recommended Reading:
Comments:
comments powered by

Disqus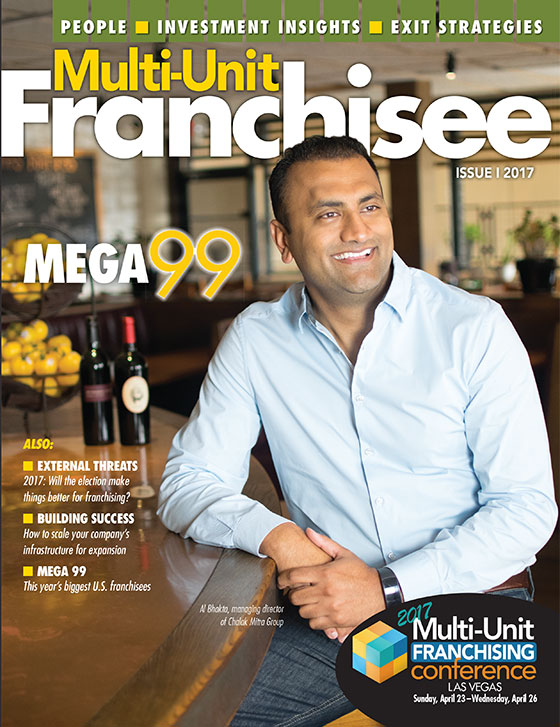 Multi-Unit Franchisee Magazine: Issue 1, 2017
PetWellClinic is a walk-in veterinary clinic offering basic health and wellness services to dogs and cats. PetWellClinic is the first vet clinic...
Cash Required:
$250,000
Pizza Factory houses hardworking owners, family-friendly dining and high-quality products. Restaurant design options include a Pizza Factory Express...
Cash Required:
$90,000