Doctor of Franchisology: Choosing Restaurants Over Medicine--and Loving It!
When Sunita Sagar was a teenager working as a part-time cashier at a Jack in the Box in California, she dreamed of the day she would become a doctor. The dream stayed alive as she worked her way through the University of California, San Francisco, simultaneously rising through the fast food world to assistant manager and part-time manager.
After earning a B.A. in science and working in hospitals for a few years, she realized that the last thing she wanted to be was a doctor. About then, it became apparent that her future already had been part of her life since she'd taken that first job at Jack in the Box.
"My husband and I wanted to go back into the restaurant business," says Sagar. Only this time, she wanted in as an owner-operator, where she could put everything she had learned firsthand to use growing a multi-unit franchise organization. Her first shot arrived in 2007, when she was given the chance to buy an underperforming Denny's in Campbell, Calif.
"That restaurant was going downhill," she recalls, "and we turned that restaurant upside down. We turned the people around, we turned the operation around, and we turned the sales around. We started staffing the restaurant with the right people, and then we had an opportunity to purchase more. So we bought three stores in Fresno in 2008."
Once again, Sagar stepped in on each, where she could see for herself what needed to change. "We took over those three stores and managed those stores for a few weeks," she says. "We made some staffing changes, found people right for the business, and took a few months to bring those stores around. That was our first experience running multiple locations."
In 2009, they began to diversify, buying their first Baja Fresh location. Cross-training managers so they could help each other turned out to be a key to boosting sales. They bought four more Baja Fresh stores that year, and built a new Denny's from the ground up.
"We were looking for more opportunities with Denny's," she says. As the business grew swiftly, she landed a deal to be the sole developer for Denny's in Fresno.
Sagar also has grown to appreciate the promotional end of the business--and she's good at it. In 2009, the local newspaper in Sanger, Calif., helped provide a splash when Denny's gave the first 100 people to come to her new Denny's the chance to have a free "Grand Slam" breakfast every morning for a year.
In just four short years, the couple has built an organization with 18 locations and three different concepts, including five Jack in the Box units, where she started out. It's a fast-paced operation that requires her to keep up a frenetic pace, but she seems to relish the unending stream of calls from her expanding organization.
Certainly there were mistakes along the way. Fast growth requires an ever-lengthening list of employees, and not all of them worked out as hoped. Maybe she trusted a few people she shouldn't have, or gave them more responsibility than they could handle. But employment mistakes can be fixed, and Sagar has become adept at handling an organization that has fast growth coded right into its DNA.
Sunita Saga may not have become a doctor, but she's living the dream. And one day she'd like to see her children explore the entrepreneurial side of franchising as they decide which dreams they'll pursue.
Name: Sunita Sagar
Title: COO
Company: Sagar Family Corp., Devika Restaurants Inc., Sagar Diner and Sahil Restaurants Inc.
No. of units: 8 Denny's, 5 Baja Fresh, 5 Jack in the Box
Personal
Age: 43
Family: Daughter, son, and my husband Dev.
Years in current position: 4
Years in franchising: 4
Key accomplishments: Leading and operating America's favorite brands.
Biggest mistake: Trusting people too quickly.
Smartest mistake:
We had an acquisition option at one point to acquire some stores out of state. With the way the economy turned, now we are glad that we did not do it.
How do you spend a typical day?
It varies. My schedule is very flexible in helping and improving management and operations from the home office by tracking daily numbers and constant coaching through conference calls and phone calls. We are there, wherever needed.
Work week:
We work 24/7. My phone never gets turned off. Whatever the time or requirements, I always answer my phone. Always.
Favorite fun activities:
I like to spend time with my kids, talking to them.
Exercise/workout:
Sometimes, I try to go to the gym, but that's often out of the question, taking time. I like to walk in the evening.
Favorite tech toys:
BlackBerry.
What are you reading?
I don't read novels. I do read a lot of articles, including Multi-Unit Franchisee magazine. And all the management books. Anything I can learn about management.
Do you have a favorite quote or advice you give?
One can achieve anything one wants to achieve with commitment and hard work. Don't give up fast. "Satisfaction lies in the effort, not in the attainment. Full effort is full victory." (Mahatma Gandhi)
Best advice you ever got:
Work for yourself.
Formative influences/events:
I would give a lot of credit to my husband and kids. I have great support from my family, and because of them I am able to manage to do all these things. My husband always encourages me to do what I want to do.
How do you balance life and work?
My work is very important and near and dear to me. Work is my passion, but my family comes first. I am involved with their school activities, helping them with their homework, and being part of their extracurricular activities. I love being part of their growth and enjoy that very much. I always answer calls from my kids.
Management
Business philosophy:
To be honest. To deliver what I promise and continue to grow guest services, employee growth, and the success of the people working with us.
Would you say you are in the franchising, real estate, or customer service business? Why?
We say customer service. They are the ones who are the core of the business. Number 1 rule: If you cannot take care of your customer someone else will.
What gets you out of bed in the morning?
To see what my opportunities are to run our business better. What we did yesterday, are we doing it better today?
What's your passion in business?
To run the operation as well as possible and take care of guests and customers.
Management method or style:
Fair and firm, with open communication; and lead by example.
Greatest challenge:
People, staffing, finding the right people who have the passion for customer service.
How close are you to operations?
Very close, as close as my husband.
How do others describe you?
People say I am a Type A person, always on the go.
How do you hire and fire?
Usually we don't get into hiring and firing. The general manager and area manager do the restaurant-level hiring and terminations and follow company guidelines. Of course for hiring we go through the whole process: background checks, work history, why they left.
How do you train and retain?
We follow the corporate training program they provide to the franchisees. We fully train people and make sure they go through training at the same time. When I go to the store I have my own way of analyzing how the manager is working. We clearly lay out our expectations when we're hiring so there's no shock. We have very low turnover in management. Retaining: We make sure we put everything up front and be honest. Everybody has a goal to achieve, bonuses, and annual reviews.
How do you deal with problem employees?
Most problem employees are dealt with below my level. They have to follow the procedures, disclosure policies, and documentation. Documentation is the key to my organization.
Bottom Line
Annual revenue:
$15 million to $20 million.

2011 goals:
To increase the guest count in our restaurants, profits of existing restaurants, and add more restaurants.

Growth meter: How do you measure your growth?
Positive cash flow.

Vision meter: Where do you want to be in 5 years? 10 years?
We would like to add 5 to 10 restaurants and increase revenue.

How has the most recent economic cycle affected you, your employees, your customers?
The double-digit unemployment rate has definitely affected the cycle. Customers want more for their buck. The pie is so big and people expect more than what they had in the past. Of course, people are looking for jobs, so it's easier to find employees now. People tend to perform better.

Are you experiencing economic growth/recovery in your market?
We have seen growth. Compared with last year we've seen an increase in the guest count and sales, and I hope it continues.

What did you change or do differently in today's economy that you plan to continue?
There's an ongoing effort to take care of customer service; above all else, listening to the guests and getting feedback. This has always been my business philosophy: to listen to the guest and respond in 24 hours about any concerns. Also, we have discounted more than before to get the guests in. And everyone has adopted the value meal. But the top line is getting better and that's a good thing. We also have a greater variety of foods to attract guests

.

How do you forecast for your business in this economy?
Forecasting is difficult, but you have to forecast to know what your goals are.

Where do you find capital for expansion?
Savings, friends and family, and local community banks.

Is capital getting easier to access? Why/why not?
It depends on the project you're presenting. The bank is looking at your portfolio with the project, backtracking on performance. We have not had difficulty getting capital.

Have you used private equity, local banks, national banks, other institutions? Why/why not?
Local community banks. It is easier to work with them.

What kind of exit strategy do you have in place?
I'm too young to exit yet. But as my kids grow up, they've started to learn the business. So maybe that's my strategy.

What kinds of things are you doing to take care of your employees?
To give growth opportunities to people who are performing.

How are you handling rising employee costs (payroll, healthcare, etc.)?
We are finding that the best people working for us are working in the best interest of the company, so we're targeting fewer turnovers. The cost of retraining goes down. We're looking for the company that can give the best solution for healthcare.

How do you reward/recognize top-performing employees?
Top performers can get a bonus. Depending on what level a manager is, they can get an additional store or move into a different position. Because we have three concepts, there are more opportunities to do better with more money.

Published: December 7th, 2011
Share this Feature
Recommended Reading:
Comments:
comments powered by

Disqus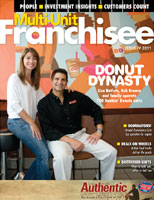 Multi-Unit Franchisee Magazine: Issue 4, 2011
The Habit Burger Grill comes equipped with its unique flavor created by chargrilling over an open flame and a diversified menu which appeals to a...
THE FASTEST GROWING BREWERY IN AMERICA IS building more brew pubs and franchising throughout the US. BrewDog is a great investment that offers...