Doing the Common Uncommonly Well: Florida Papa John's Operator Rises Above The Recession
Ricky Warman already knew a lot about finance when he left his job as an investment manager for Prudential Securities in Miami to start a life in franchising in the early 1990s.

Warman was a friend of Jenny Craig and started in franchising with nine Jenny Craig weight loss centers. He would go on to try other franchise brands, including Schlotzsky's. Today he's wholly committed to the Papa John's brand, operating 42 pizza locations. (He had 53, but recently sold 11.)

Warman's units are in South Florida, which has been hit particularly hard by the U.S. recession. The boom in the region's real estate market has gone bust, erasing the once high-flying projections of rapid population growth that spurred him to embark on an expansion plan in 2006. But by keeping a keen eye on costs, Warman says his pizza stores have performed very well, helped by consumers abandoning higher-end restaurants and scaling back to less costly fare.

There are other reasons Warman believes he's prospered. Despite his payroll of 1,200 people, he maintains an open-door policy for all employees. And he works hard, making a point of being first in the office and staying on top of a detailed, daily financial report for each of his 42 locations.
None of that approach to work and life may be particularly unique. But it does all fit squarely into his business philosophy: "The secret to success is to make a common thing uncommonly well."

Name: Ricky Warman
Title: CEO
Company: Pizzerias LLC
No. of units by brand: 42 Papa John's
PERSONAL
Age: 45
Family: Married 19 years, with twin daughters

Years in current position: 6
Years in franchising: 19

Key accomplishments: Growing from 2 Schlotzsky's to 53 Papa John's. I recently sold 11 of my Papa John's.

Biggest mistake: Growing the Papa John's business in 2006 at the beginning of the real estate and economic crisis. I was building a business in an area that was dependent on the growth of homes. I went out and did stores in other, smaller areas in Florida and they were all hit really hard with the economic and real estate turmoil, and the growth didn't happen.

How do you spend a day, typically? I start very early, around 8 a.m., and I look at the numbers on sales versus last year for all 42 stores, the percentage of orders, and all the details of the 42 stores: food, labor costs, and so on. I analyze data for all the stores and then I get in touch with the people under me. I get briefed on what we are doing that day, go to meetings. And then I'm in touch with different district managers.

Work week: I try to visit some stores every week. We have 1,200 employees and I'm always very much available and open to them.

Favorite fun activities: I play lots of tennis.

Exercise/workout: I have a cardio/tennis workout three times a week. It involves a lot of running and exercising and then we play tennis.

Favorite stuff/tech toys: My BlackBerry is very, very good for me. I'm usually visiting stores or trying to do business and I'm very much in touch every minute. I have the different alerts that can help me go through email and text messaging.

What are you reading? I'm a magazine reader. Books are not my favorite. I also view magazines through the Internet. I read restaurant magazines and financial magazines like BusinessWeek, Forbes, and Fortune.

Do you have a favorite quote or advice you give? I have one that I give to almost everyone, and that's on the back of my business card: "The secret to success is to make a common thing uncommonly well."

Best advice you ever got: To be patient and think things through whenever possible.

Formative influences/events: My parents always told me to do whatever I'm comfortable doing, but to do it with passion.

How do you balance life and work? I have a very, very, very close family. That obviously includes my wife and daughters, but also parents, brothers, sisters, and their families. We're very close all around. We travel together as much as possible, and I get home at an appropriate time to spend time with the family.
MANAGEMENT
Business philosophy: In running a multi-unit business, whether it's the same company or different restaurants, you have to be very organized and able to give clear responsibilities to everyone and expect everyone to implement them. And they need to respond the same way to their people. Whatever I spread out, they do the same to their people, who do the same. I believe I've created a culture that does that very well.

Would you say you are in the franchising, real estate, or customer service business? Why? Well, two: franchising and customer service. We're in the franchising business, which happens to be the customer service business. It's all about how well I serve the customer.

What gets you out of bed in the morning? Exercise, sports.

What's your passion in business? I'm an early morning person and I like to be early in the office. Most of the time I'm the first one there. I definitely enjoy what I do. Time flies.

Management method or style: I have a list of things I want to accomplish in a day. I delegate to the appropriate people depending on what task it is. I follow up by the end of the day, the following day, or the week.

Greatest challenge: The ups and downs in food costs. When commodities go up and down, it's something I can't control. Last year it was high and this year it's low. It's hard to hit budget sometimes on issues that are outside of my control.

How close are you to operations? I'm very close to my operations. I pretty much know what's happening.

Personality: I am a patient person who likes to teach and help others so they can be self-sufficient.

How do others describe you? I'm very fair to everyone and available.

How do you hire and fire? That I don't do personally. I have human resources people and my managers are in charge of their own people. Fortunately, I've been able to do it right the first time, and I don't have many changes. I've had the same management people for the last three years, and right below them for six years.

How do you train and retain? We have a training program run by the vice president of operations. We are constantly training.
BOTTOM LINE
Annual revenue: I'll give an estimate: over $30 million.

2009 goals: To get through this economic turmoil, for the last approximately 15 months we have been cutting costs smartly and across all the controllables of the company. In streamlining, we make sure that we don't hurt anything that has to do with service to the customer. We're actually doing quite well in the sales department, so if I can control costs it works well.

Growth meter: How do you measure your growth? It's revenue. The number of stores is not important. It's the number of profitable stores.

Vision meter: Where do you want to be in 5 years? I'd like to double revenues, as well as double the profit.

How is this economic cycle affecting you, your employees, your customers? The reality is that it's not affecting me or the business. Last year we were affected by the high cost of food. But our industry is not being hurt by the economic situation. The full-service restaurants are the ones people have left. They've gone to the quick-service side of the business, to pizza and burgers. We're not being hurt.

What are you doing differently in this economy? I'm not raising prices. I'm not lowering them either.

How do you forecast for your business during these trying times? Can you even forecast at all? I've learned through the years how to forecast and be careful with food costs.

Where do you find capital for expansion? For the last 18 months, there has been no capital. I have no access to capital right now, and all the expansions I've done or will do for the short term and during the last 18 months have directly been produced by me and my partners.
Published: December 7th, 2009
Share this Feature
Recommended Reading:
Comments:
comments powered by

Disqus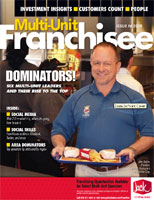 Multi-Unit Franchisee Magazine: Issue 4, 2009
PetWellClinic is a walk-in veterinary clinic offering basic health and wellness services to dogs and cats. PetWellClinic is the first vet clinic...
Cash Required:
$250,000
Robeks is the preeminent leader in the juice, smoothie, and bowl category for over 25 years. With over 100 locations open and in development across...
Cash Required:
$100,000