Dominant, Dazzling, and Delightful: Six Growing Multi-Unit Operators Tell How They Do It
One common thread linking this year's group of multi-unit dominators is how none planned a career in franchising.
Think about it: When you were young, how many kids did you know who said, "When I grow up, I want to be a franchisee!" In the seven years we've been profiling successful multi-unit operators, we've heard it again and again: after embarking on the career of their dreams, working hard, and succeeding at it, they found their way into (or, after a "starter job" at a fast food franchise, back into) franchising.
The individual reasons vary, but what all share is a passion for people, for business, and for running their own business--a burning desire to control their own destiny and to help others. And, as we've also seen, once they succeed at building a high-performance franchisee organization, they often want to "pass it on," mentoring their managers and employees on how to do it for themselves. And to give back to the communities--and the people--they serve. Here is a brief snapshot of the in-depth profiles that follow:
Michael Ansley was introduced to franchising as a teenager, helping his father with work at KFCs and Wendy's in Springfield, Ohio. After college, he launched a successful, but ultimately unsatisfying, career in sales for a large company. "I wanted to do my own thing," he says. He reunited with a college roommate to buy a Buffalo Wild Wings (then called BW3), and the partners were off and running. Today, as CEO of Diversified Restaurant Holdings, he operates 22 Buffalo Wild Wings units and has started his own franchise concept, Bagger Dave's Legendary Burger Tavern, with 6 open and big plans for more.
Robert Branca and his close family own 60 Dunkin' Donuts in New England. His extended family, including in-laws, their siblings, spouses, children, and cousins, own more than 700 Dunkin' Donuts in all and dominate the brand in New York and New England. "We're all multi-unit franchisees," says Branca, who is married to the former Lisa Batista and was the family lawyer for years before he joined the family business. Branca attributes the family's success to the ways in which they lean on each other. "We have our own independent franchisee association with strong educational components and other assistance," he says. "Profitability for us with this concept has been good. If you do it properly, it works."
Tom DiMarco was recruited 27 years ago as controller for Salo Inc., a 4-unit franchisee of Interim HealthCare. As Salo grew, so did DiMarco's career in franchising. Seven years ago he became president of Salo, and today the fast-growing business has 45 Interim HealthCare locations in 5 states with 8,300 full- and part-time employees. DiMarco says his seven years at the helm have been a lot of fun--and he plans to keep on doing it as long as it remains that way.
Rodger Head took a job at Burger King in 1969 when he was a high school senior. That's where he learned the value of giving back. "I was always so lucky with my mentors," he says. "I'm proud that I was part of the early days of Rally's Hamburgers with my great friend and mentor Billy Trotter." He's accomplished more than he'd ever imagined, including a 6-year stint as president of Shoney's (during which the brand had positive sales for the first time in 14 years). Today, he not only is a 12-unit Popeyes franchisee, he's also CEO of bd's Mongolian Grill, with 35 units in 13 states.
Sunita Sagar was a teenager working as a part-time cashier at a California Jack in the Box and dreaming of the day she would become a doctor. After pursuing that path through college and the start of a career, she and her husband, Dev, took a left turn. In 2007, given the chance to buy an underperforming Denny's in Campbell, Calif., they jumped at it. "That restaurant was going downhill," she says. "We turned the people around, we turned the operation around, and we turned the sales around." Today the couple operates 18 restaurants among 3 brands--with plans for more.
Bryan Selden was in the convenience store business, turning 30, and looking for ways to grow his business. He answered a blind ad for specialty retail, which turned out to be a Great American Cookies franchise. In 1987 he bought one location, built a second and three more followed in Dallas. When he became a father, he dialed it back for about 10 years to focus on being the best husband and father he could. When his eldest child graduated from high school, Selden, with the blessing of his family, re-entered franchising. He lined up two partners and today oversees 35 locations spread among 7 franchise concepts.
Following the six profiles, we've also included a list of the U.S. DMAs with the most franchised units, as well as the dominant franchisee organizations in each state and region. FRANdata provided the information. Maybe you can use it to help plan your next move!
Published: October 3rd, 2011
Share this Feature
Recommended Reading:
Comments:
comments powered by

Disqus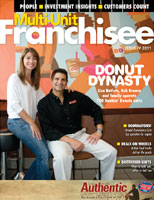 Multi-Unit Franchisee Magazine: Issue 4, 2011
Demand for The Bar Method continues to grow as more people discover the benefits of a barre-based workout and feel the empowerment after each...
Cash Required:
$125,000
Discover opportunities with Liberty Tax. As one of the nation's largest and fastest-growing tax preparation companies, there are tremendous...
Cash Required:
$65,000