Restaurateur and Loving It! His drive-thrus report record sales during Covid
Name: Dennis Ekstrom
Title: CEO & President
Company: Diamondback, LLC
Units: 11 Del Taco
Age: 65
Family: Wife Kay Ekstrom
Years in franchising: 30 (47 in the restaurant business)
Years in current position: 18 with Del Taco
Dennis Ekstrom has been in the restaurant business for nearly 50 years, 30 of them in franchising. At one time he was part of QK Holdings, where he served as COO of the largest Denny's franchise group in the country with 94 locations. Today he is the CEO and president of Diamondback LLC, a Del Taco multi-unit operator in New Mexico.
"The restaurant industry is a fast-paced, invigorating field that I never left," says the 65-year-old today. His experience and success have led him to rule the Del Taco market in New Mexico where his 11 locations rank in the top tier of the brand's comp growth.
The drive-thru lanes at Ekstrom's Del Tacos were paved with gold this past spring as Covid-19 ravaged the country's restaurant landscape. He says 90 percent of his sales during the pandemic have come from the drive-thru. "Right now, our sales are the highest they've been in months, and in some cases ever," he says.
Ekstrom is detail-oriented, competitive, and direct and makes no bones about the importance of being successful. But he's also driven by providing his people with opportunities to grow and improve. "It's important to empower our employees and provide them with an opportunity to visualize a career path," he says. "We promote from within, pay above-market wages, and treat everyone as a valued leader." Take care of your people, he says, and they'll take care of you, your company, and your guests.
The pandemic may linger into the fall and beyond, but that hasn't changed Ekstrom's mindset about growth: he's planning to grow into five more cities in New Mexico in the near future and is aiming for a 20 percent growth in sales next year. He's putting his money where his mouth is by investing in his infrastructure and hiring a director of operations to help move the needle.
"You must invest in front of what you are doing currently if you expect to grow at an unusual pace," he says.
PERSONAL
First job: Busboy at my local diner. The position introduced me to the restaurant industry—a fast-paced, invigorating field I never left.
Formative influences/events: I've had many influential people and experiences that helped to shape my life today. When I reflect on the commonalities, every one of my mentors had a winner's mentality, was competitive, and had ambitious goals. I admired their relentless determination and adopted a similar drive that made me the leader I am today.
Key accomplishments: Before Del Taco, I was an owner of the largest operator of an American diner franchise. Now, I take great pride in being the sole Del Taco franchise operator in New Mexico that's in the top tier of the brand's comp growth.
Biggest current challenge: In today's new normal, the biggest challenge is making sure everyone stays safe and protected, but also focused and inspired. It's extremely difficult to avoid the current distractions of the world, and you have to run interference to maintain balance.
Next big goal: In the short term, I'm planning to grow into five more cities in New Mexico.
First turning point in your career: The most pivotal moment in my career was choosing to leave the corporate life that I lived for 25 years. I resigned from a high-level executive position and used my restaurant industry knowledge to become a franchisee. I dove into the experience, not just getting my feet wet, but my hair too.
Best business decision: It turns out this courageous move from corporate employee to franchisee was the best business decision I made. Being in charge of success while creating opportunities for so many others at the same time is a remarkable feeling.
Hardest lesson learned: You can't change everyone or everything. I'm a loyal individual, so I don't like to give up on less than stellar employees or projects that aren't panning out. But sometimes you have to learn to let go sooner.
Exercise/workout: There's never enough time in the day to get a full workout in. However, I do try to make time for myself—just never seems like enough.
Best advice you ever got: Believe in karma. Taking advice from exceptional management, I was taught early on that if you take care of your people, they'll take care of you and your guests. If you expect your team to perform, prove that you believe in them.
What's your passion in business? Winning, growing, assisting, and providing others with opportunities to grow and improve themselves and their lives is quite rewarding. Recognition and passion for being the very best at what we do.
How do you balance life and work? That's tough. I'm just one of those guys who's wired differently. I don't have a great or normal work/life balance because my work a major part of my life. I truly love what I do.
What do most people not know about you? Outside of the restaurant world, I love collecting coins and other odd, rare items. It stems from my love for anything old, valuable, and unique. From time to time, I'll travel to several venues across the country looking for new treasures or gems.
Pet peeve: I'm a stickler for details—mediocrity drives me crazy.
MANAGEMENT
Business philosophy: If you take care of your people, they're going to take care of you, your company, and your guests. Allegiance and loyalty have a tremendous effect and are very powerful when properly placed with reciprocity.
Management method or style: Empower everyone. Communicate boundaries, yet provide tools and guidance they would need to "run" the restaurants as if they owned them. When presented with a situation, I often ask my employees, "What would you do if this were restaurant?" Almost always, they already know the answer and now feel authorized and empowered to make leadership decisions.
How do others describe you? Detail-oriented, competitive, and direct. But also consistent and predictable.
One thing I'm looking to do better: I'm always working on listening better. Sometimes a person's response becomes too routine or structured. By truly listening, I'm trying to break patterns and find real solutions for improvements. This applies not only to business, but in life too.
How close are you to operations? I'm a hands-on guy with operations. My team and I have our pulse on our operations daily. We're constantly in tune with our operations, our teams, and of course, our results.
What are the two most important things you rely on from your franchisor? Two of the most important aspects are 1) brand protection/marketing, and 2) technology/distribution. As a franchisor, the Del Taco leadership team ensures that our national brand image is secure, protected, and communicated in the right way. Plus, when it comes to marketing, they make sure that our fees are creative and effective. Operationally, we trust that our technology and development resources are running smoothly. After 18 years with the company, I can confidently say that the executive and senior-level leaders at Del Taco have our best interests at heart and are some of the best in the entire industry. They're supportive, creative, and collaborative, which sets the franchise system up for success.
Have you changed your marketing strategy in response to the economy? How? Recently we've put a lot of effort into local store marketing—even more so than before. Besides advertising with regional television stations and through social media, we understand the importance of being ingrained into our small-town communities. Our general managers have played a vital role in grassroots efforts, from dropping off meals for nearby churches to hosting fundraisers for local schools. We have a substantial portion of our budget allocated for local store marketing, and community connection is the core of our local marketing strategy. We are focused on "street fighting" in our local communities regarding marketing, as it always comes down to our team against the competitor's team.
How is social media affecting your business? Social media has been great for business, especially when it comes to reaching our fan base. We actually took a good piece of our radio spend and pushed it all toward social media advertising. It's amazing how much the platforms to support business growth have changed over the past few years to proactive versus reactive.
How do you hire? Talent attracts talent, so I've always invested a lot of time and resources in building an extraordinary team. If you have great people, you're going to have more great people seek you out. It's a ripple effect. And this year has been especially significant in terms of hiring: we went from 240 employees in January to nearly 300 today.
How do you train and retain? We're extremely deliberate in the way we train and attract talent. For us it goes back to empowering our employees and providing them with an opportunity to visualize a career path. We're known for promoting from within, paying above-market wages, and treating everyone as a very valued leader. Employee retention is huge; if you focus on retention your turnover problems improve. In an industry that typically sees high turnover, we are always well beneath averages. In fact, many of our employees in all levels have a superior level of tenure. This speaks volumes on the workplace culture we've built.
COVID-19
What are the biggest impacts of Covid-19 on your business? Unlike some concepts, our Del Taco restaurants have performed extremely well over the past few months. When Covid-19 hit, our company was quick to pivot and adapt to the challenge. While dining rooms in New Mexico remain closed, 90 percent of our sales are coming from the drive-thru. To increase efficiency, my VP/COO John Bissell has achieved remarkable results with all the key areas of our operations. We've introduced new and exciting incentives for restaurant teams who produce and create new benchmarks and who responded favorably, achieving results never seen before. Right now, our sales are the highest they've been in months, and in some cases ever.
What changes do you think will be permanent? A lot of the initiatives we introduced will stay for sure, including many of the incentive programs and key focus challenges, and the effort to keep everybody focused, motivated, and aligned. We'll continue to promote efficiency and order accuracy with great speed of service, which are all key for a positive customer experience.
BOTTOM LINE
2021 goals: In 2021, we are focused on achieving a 20 percent sales growth. We just recently expanded our infrastructure, bringing on a high-level director of operations Jeremy McKay, investing in our future and our growth. You must invest in front of what you are doing currently if you expect to grow at an unusual pace.
Growth meter: How do you measure your growth? In a variety of ways, but the most important measurement is real growth with guest counts and revenue increases. Customers used to vote with their feet, now they vote with their cars. Changing times for sure.
Vision meter: Where do you want to be in 5 years? 10 years? My vision is to double the number of Del Taco restaurants in the company 10 years from now, at the same time doubling the opportunities for all of our employees.
What are the best sources for capital expansion? Protect and maximize what you have currently. Incremental check average gains are twice as profitable as your base, and "pass through to the bottom line with an average of 50% or more to the controllable profit line.
What are you doing to take care of your employees? Employee health, safety, and happiness are always going to be a top priority for me. The safety of our employees and our guests is paramount for us, and every decision we make is with that top of mind. To survive and to grow with our new challenges we must be perceived as "SAFE" by all of our employees and guests.
How are you handling rising employee costs (payroll, minimum wage, healthcare, etc.)? Interestingly enough, in the middle of April (amid the pandemic chaos) we decided to change payroll companies. Everyone wondered why we would make such a dramatic change during such an unprecedented time. Well, I knew I had to look beyond the fear. After making the decision to switch to ShiftPixy, we've increased our efficiencies and we're saving significant money, at the same time offering increased services and better technology and tools for all our teams. With this, we're able to invest in our employees with additional incentives, benefits, and programs and, at the same time, mitigate increasing costs.
What laws and regulations are affecting your business and how are you dealing with them? One of the biggest restrictions affecting everyone's business are the Covid-19 regulations. As I write, New Mexico currently mandates that all restaurant dining rooms be closed, which forces customers to eat offsite and seek other options. Our restaurants have been a beneficiary of this policy, which continuously offers us the opportunity to serve never-before customers with the intention of earning their future business long term. With every challenge come learning experiences and new and better ideas. I'm thrilled to be working with such a talented and resilient team. I am very proud of the Del Taco brand and very proud and fortunate to have such an incredible team of people who make up our company.
Published: October 4th, 2020
Share this Feature
Recommended Reading:
Comments:
comments powered by

Disqus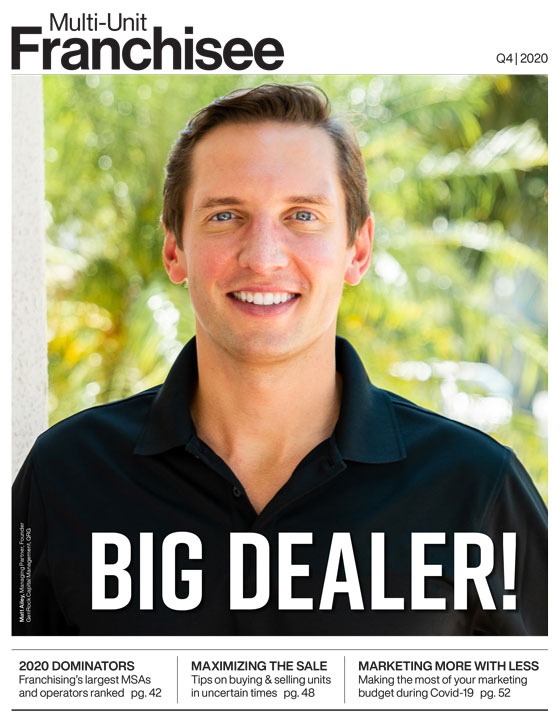 Multi-Unit Franchisee Magazine: Issue 4, 2020
At Twin Peaks, expect to enjoy scratch-made food, sports on TVs from every angle, frosty 29° beers, and the fun and friendly Twin Peaks Girls....
Cash Required:
$2,000,000
With more than 250 locations (and more on the way!), MY SALON Suite is the #1 salon suites franchise opportunity in North America.
Cash Required:
$500,000