Egg-ceptional Operators!: She Once Wanted Nothing to do With Restaurants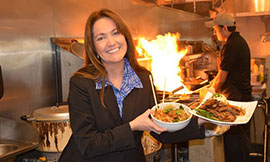 Rose Colarossi, a high-energy multi-unit franchisee from Frisco, Texas, likes to open remarks about her franchising career with this question: "Which came first: the mama or the egg?"
In this case, the egg--as in The Egg & I--came first with Colarossi and her husband, Rob, who today own three in the North Dallas area. Recently, along with partners, they signed on as area developers for Mama Fu's Asian House. They opened their first unit last October and have committed to opening 13 more in Dallas and Collin counties in Texas.
Colarossi admits that she was a reluctant restaurateur at first. "When my son tried to tell me about his work at The Egg & I during college, I told him running restaurants is the hardest job there is and one that I, personally, wanted nothing to do with," recalls the New York native and former Curves franchisee, whose past includes working as a behavior modification therapist for autistic children and a marketing research coordinator. But her son Ryan was persuasive, and today the woman who wanted nothing to do with restaurants co-owns four, with 13 more in the works.
In July 2008, she and her husband Rob, with son Ryan as general manager, opened their first Egg & I Restaurant in North Dallas, where they'd moved some years before to accommodate Rob's job. In October, the market crashed and "people stopped going out to eat," Colarossi says. "We started seeing our sales plummet. We had no brand awareness at all in our area, and it seemed there was so much stacked against us."
She rallied, using all she'd learned at Curves. "It was guerilla marketing. We knocked on doors with samples and introduced ourselves, we networked, we did everything we could think of to let the area know about The Egg & I," she says. The work required to get the restaurant off the ground was so intense that in 2012 Colarossi had to sell the Curves she'd purchased 10 years before.
Based on what seemed at times to be Colarossi's sheer will, the restaurant began to gain ground. Today, she co-owns and successfully operates three of the breakfast and lunch restaurants, using her people skills and intuition to create a "culture of respect."
When the Colarossis began searching for a second food brand (at that point, she says, they would not have considered another industry), they teamed up with partners Daniel Avery, head of operations, and Echo Liu, who handles finances, to study consumer trends.
"Asian food is definitely the winner as consumers look for healthy dining options that are both fresh and bold tasting," says Colarossi. "Mama Fu's is the only Asian-inspired concept in the marketplace that offers a contemporary flex-casual setting, transitioning from quick counter service at lunch to a full-service experience at dinner. Our Mama Fu's in Frisco offers guests dine-in, delivery, take-out, catering, and free meeting or party rooms, complete with audiovisual, free Wi-Fi, and a beautiful patio."
When they opened the first Mama Fu's in late 2013, they did it again without brand recognition in the market, so out roared the Colarossi guerilla marketing team. "Things are going very well, and we're looking carefully for the right locations for the rest of the Mama Fu's we'll be building," says the mother of four, adding that while she loves her work, she still puts her children and husband first.
Name: Rose Colarossi
Title: Owner/partner
Company: MFDC Partners
No. of units: 3 The Egg & I, 1 Mama Fu's Asian House (with a contract for 13 more)
Age: 48
Family: Husband, 4 children, 2 grandchildren
Years in franchising: 12
Years in current position: 6-plus
Personal
First job:
I was a head cashier and assistant bookkeeper at a local supermarket during high school.
Formative influences/events /key accomplishments:
Opened and operated a very successful Curves franchise for 10 years. This allowed me to be home when my kids were home from school and to offer something of value to women.
Biggest mistake:
Not moving to the town where my Curves franchise was located. My husband traveled Monday through Friday and we had no family support system in Texas. It would have made life a whole lot easier for all of us.
Smartest mistake:
Getting into the restaurant business. While our oldest son Ryan attended college at Colorado State University, he worked for the husband-and-wife team that founded The Egg & I. Initially, I wanted nothing to do with the restaurant business, but I was finally convinced and Rob and I purchased our first The Egg & I restaurant in July 2008. We minimized our risk by having Ryan as the GM and operations specialist. Here we are six years later, with Ryan and his wife now buying into the business with us, and we just opened our third location.
Decision I wish I could do over:
Again, I wish that we had moved to the town where my Curves was located. It was a long commute, my children were small, and my husband traveled. I will forever be indebted to the incredible staff I had at Curves. I could not have done it without them.
Work week:
I wish I could say that it's always a five-day work week, but that's just not possible right now. We opened Mama Fu's in October 2013 with our partners, and then our family just opened our third Egg & I restaurant on February 17. My 17-year-old will be home for only a little while longer, and she still enjoys doing things together. I have to take advantage of this time with her. I also believe that our bodies and our minds need rest in order to perform at our best.
Typical day:
There is no such thing in the restaurant business, especially when you are opening new locations. Any day could include dealing with emails, Facebook entries, potential client follow-ups, local store marketing, networking and networking follow-ups, staff meetings, fundraisers, licenses, bank meetings, chamber meetings, meeting with potential catering customers, staff issues, meeting with the builder or a vendor, touching tables at the restaurants to receive feedback from our guests, decisions regarding advertising, sponsorships, and, of course, always looking at the end-of-day sales reports. It's never boring.
Favorite fun activities:
I love to read. I belong to a book club that forces me to make the time. I also love getting together with my gal pals. I enjoy power-walking outdoors, paddle boarding, theater, and travel.
Exercise/workout:
I have gotten into doing the Bar Method, which uses a ballerina bar to elongate and strengthen your muscles. I like that there is no pounding involved. But if there were a Curves nearby, that is where you would find me. It's the best workout in the shortest amount of time.
Favorite tech toys:
iPhone, iPad, iMac, Nook, Kindle--when they're behaving.
What are you reading?
I just read Orphan Train, a novel by Christina Baker Kline. It's a fascinating story based on historical facts and firsthand accounts of Depression-era children, mainly from Ireland and Poland, who were sent to cities in the Midwest and taken in as foster children or indentured servants. Today there are more than 1 million descendants of the Orphan Trains. I had no idea this was part of our country's history.
Do you have a favorite quote?
1) Treat others as you want to be treated. If that doesn't work, treat them the way you would want your children treated. 2) Look to the left and then to the right and someone has bigger problems than you do. 3) It is what it is.
Best advice you ever got:
My mother told me that if I had to choose between spending quality time with my kids or worrying about having the house look perfect, the house could wait. If I could wait to answer emails until the kids were asleep, that's when I should do it. In other words, our children are our first priority and our time with them is precious. The best business advice came from our son Ryan. I went to use a to-go cup early on and he pointed out how much each cup and lid cost us. We then talked about the cost of using a paper towel versus an expensive napkin, and how over time, it really does add up. I've learned that you need to stop money from leaving your restaurant in terms of waste.
What gets you out of bed in the morning?
My kids, my faith, our dog, and our businesses.
What's your passion in business?
I love meeting new people and helping people. I believe that we can all learn from one another. I love introducing people to our concepts because we truly have fantastic food and service. I also love training the staff on customer perception. It's funny how long someone may have worked in the restaurant industry and not ever been told why things are done a certain way.
How do you balance life and work?
Sometimes I balance things better than others. Most important, my kids always know that they come first. For me it truly is a balance of family, faith, hard work, play time, exercise, eating right, down time, friendships, and giving back.
Last vacation:
Last August in Aruba with our 17-year-old.
Person I'd most like to have lunch with:
My mother. She passed away suddenly last May and we were very close.
Management
Business philosophy:
Produce a great product, keep your establishment clean at all times, and give the customers great service and a great experience. At the end of all that, make sure you give back.
Management method or style:
This goes back to the Golden Rule. We have a culture of respect: respect for one another and respect for the customer. I believe we should try to lift people up, not push them down. We also treat our staff like they are a part of our family. We are very fair, but they know we are running a business and there are, as in all of life, natural consequences.
Greatest challenge:
Realizing that some employees are just not cut out for the restaurant business, and that this is all right as long as you both figure it out before too much damage has been done.
How do others describe you?
Very friendly. I don't believe in passing another human being without acknowledging them. Saying hello to someone is so easy and can really make a difference in their day and yours.
One thing I'm looking to do better:
My friends and staff joke that there is an electrical force field around me. My iPhone and computer and emails are always giving me issues, so I'm working on that.
How I give my team room to innovate and experiment:
We have surrounded ourselves with great management, and as a team, we are always looking for ways to improve both front and back of house experiences. By talking to the guests and watching the restaurant from the guest's perspective, you learn a lot about what is working and what is not.
How close are you to operations?
Our son handles The Egg & I Restaurants along with our GMs and KMs . At Mama Fu's, we have a strong GM and KM, and one of our partners works in day-to-day operations. The remaining partners have specific roles based on their area of expertise. Though I've had to be hands-on in operations at various times, my strengths are in local store marketing/networking, customer relations, and guest perceptions.
What are the two most important things you rely on from your franchisor?
A successful model and the benefits that come from scale as we grow. Their model has been proven to work, and we expect to learn from and build on their experiences as well as our own.
What I need from vendors:
Reasonably priced quality products, quick response times, and consistency.
Have you changed your marketing strategy in response to the economy? How?
Absolutely. When we opened our first Egg & I in July 2008, we were an unknown brand. The stock market crashed 2½ months later. Most people stopped eating out, and the few that continued stuck with brands they knew. We had to rely on guerilla marketing tactics--knocking on doors, handing out menus, offering catering, attending networking meetings, starting our own network meeting, Facebook, etc. The Egg & I restaurants were not in the catering business. However, as a business owner, you must adapt and do what's necessary to keep the business thriving and food on your family's table. We continue to use these tactics in growing our Mama Fu's brand. Here we are, the first Mama Fu's Asian House to open in the Dallas area and people are not sure what we are about. We have had this challenge before, and thankfully we can use our experience to tackle a lot of these issues.
How is social media affecting your business?
We feel it is a critical component and work with multiple resources to ensure we continue to have a pulse on guest experience.
How do you hire and fire?
We hire and fire based on skills and attitude. It has been our experience that most skills can be taught, but attitude cannot.
How do you train and retain?
We are lucky because our franchisor training programs are very solid. Of course we continuously train and cross-train in house by assigning lead trainers in each job segment. Because we treat our staff with respect and never expect anything from them that we would not do ourselves, it's been easier to promote tenure.
How do you deal with problem employees?
This typically is handled by the GM.
Fastest way into my doghouse:
It takes a lot. However, four things will land you in the doghouse quickly: lie, steal, bully, or manipulate.
Bottom Line
Annual revenue:
$1 million-plus
2014 goals:
To grow both brands in their marketplace, to be the best in class in terms of food quality, service, and experience, and of course, to increase revenue.
Growth meter: How do you measure your growth?
We want to exceed the industry average or be best in class. Of course we look at P&L, labor costs, food costs, etc. However, revenue--money in the bank--is what pays the bills.
Vision meter: Where do you want to be in 5 years? 10 years?
I would like to see us expanding both brands as quickly as revenue, real estate, and funding allows; 20-plus stores would be great.
How is the current economy affecting you, your employees, your customers?
Customers are looking for a quality product for a fair price. They also want to know they are appreciated. They can spend their money anywhere they want, and they choose to spend it in our restaurant. We make sure they know we appreciate that.
Are you experiencing economic growth in your market?
Yes, North Dallas is booming. With that amount of growth comes a huge number of restaurant choices for our consumers.
What did you change or do differently during the economic downturn that you are continuing to do?
We plan to stay on course using the success model of our franchisor, but we are always willing to adapt to consumer demands.
How do you forecast for your business?
Being a franchisee means we have a model that the franchisor has assured us is successful. We use the P&Ls they provide and go from there. We also use best practices of past and fellow owners.
Is capital getting easier to access? Why/why not?
Yes. The longer you are successful in a particular business, the more receptive the banks seem to be. However, the restaurant business has the privilege of receiving the most scrutiny of all businesses, so you must also have a great debt-to-equity ratio.
Where do you find capital for expansion?
Local banks, investors, SBA.
Have you used private equity, local banks, national banks, other institutions? Why/why not?
We have used local banks because we like to develop a relationship with those we are banking with.
What are you doing to take care of your employees?
We continue to make sure we are offering competitive programs as well as a different culture in how we treat our employees.
How are you handling rising employee costs (payroll, healthcare, etc.)?
Like everyone else, we are trying to grow organically and reduce costs where feasible without hurting the quality of service, food, and experience.
How do you reward/recognize top-performing employees?
By treating our employees as family members. For example, we recently held a fundraiser for an employee who was diagnosed with late-stage cancer and needed help with medical expenses. We constantly praise our employees for good work and we promote from within at both our brands.
What kind of exit strategy do you have in place?
These are exciting times right now. We truly are focused on growth and more growth. With that said, we'll be looking at many exit strategy options as time goes on.
Published: May 27th, 2014
Share this Feature
Recommended Reading:
Comments:
comments powered by

Disqus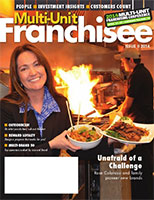 Multi-Unit Franchisee Magazine: Issue 2, 2014
With more than 250 locations (and more on the way!), MY SALON Suite is the #1 salon suites franchise opportunity in North America.
Cash Required:
$500,000
Bonchon is an internationally recognized Korean Fried Chicken concept. Bonchon means "my hometown" in Korean, and represents our...
Cash Required:
$250,000